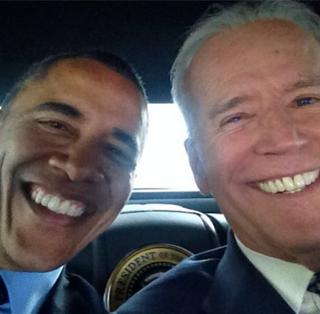 It seems that Vice President Joe Biden has retained selfie privileges with the president.
The personable right-hand man celebrated joining the popular photo-sharing site Instagram by sharing, among his photos, a selfie with President Barack Obama.
The two men are shown grinning in the back of what seems to be the presidential limo, presumably in a motorcade. "Found a friend to join my first selfie on Instagram. Thanks for following and stay tuned. –VP," the caption read. Naturally, it made more than a few rounds on Twitter. 
Just last week the White House said that it might end selfies with the president after Red Sox slugger David Ortiz snapped a photo with POTUS. It turned into an issue after it was discovered that Ortiz had a deal with Samsung to help promote its Galaxy Note tablet with publicity stunts like the now infamous selfie.
"Maybe this will be the end of all selfies," White House Senior Adviser Dan Pfeiffer said about the incident on CBS' Face the Nation. "[Obama] obviously didn't know anything about Samsung's connection to this. Someone who uses the president's likeness to promote a product … that's a problem with the White House."