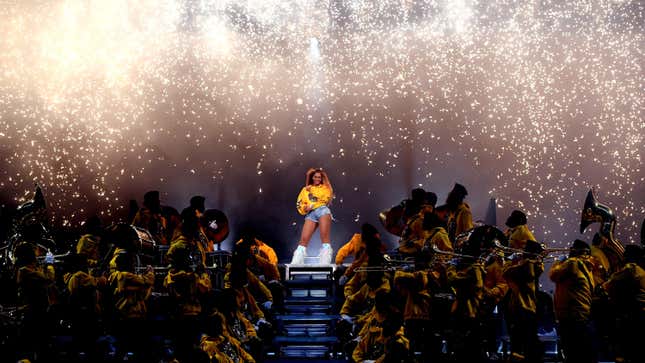 Before you let go of Beyoncé's Homecoming—okay, who am I kidding, you've watched it 50-11 times and counting to this day—let's crunch some numbers.
America's Got Talent Host, Terry Crews, Shows Full Gratitude For Writers On Strike
The Nielsen ratings for the popular Netflix special are out and just like its documentary subject, it's among the best of the best. On its premiere day, Homecoming reached 1.1 million U.S. viewers and scored an average per-minute audience of 828,000 viewers—and it's important to point out that this does not include phone or desktop viewership.
Though it didn't beat the premiere numbers of Bright (5.4 million) and Bird Box (3.5 million), Homecoming did break some other records for the streaming platform. Specifically, within the black and female demos.
Says Variety:
On premiere day, the film's audience was 63% African-American, Nielsen found. Within the first seven days of release, the "Homecoming" viewership was 55% African-American within its first seven days — higher than any other original streaming series or film tracked by Nielsen to date. "Bird Box"'s audience was the closest, with an audience that was 24% African-American. Hispanics were 15% of "Homecoming"'s audience and Asians accounted for 5% in the first seven days.

Beyoncé's Netflix special also skewed heavily female. Within the first seven days of its premiere, the film's audience was 70% female, more than Netflix's "Orange Is The New Black" season 6 (66%), "House of Cards" season 6 (54%) and "Bird Box" (57%). In addition, 43% of "Homecoming"'s audience 18-34, 12% were 2-17 and 27% adults ages 35-49, according to Nielsen.
That's right, the blackest moment in Coachella history garnered the most black viewership in Netflix's history. Of course it did. Black folks know how to gather for some black shit. See: Any of our cookouts.
It's been almost a month since the music documentary's release, but Homecoming isn't just a movie, it's a movement. A lifestyle. It's what you watch (and re-watch) when you're getting ready to go out or when you need an inspirational boost.
Of course, Homecoming broke the internet, too, racking in 757,000 impressions on Facebook, which is more than three times Netflix's Springsteen on Broadway social metrics. And most of that was organic content!
As Variety reported, Homecoming was part of a three-package deal with Netflix worth $60 million. Along with that nice paycheck, Bey has writing, executive producing and directing credits on the doc. Show Bey the money.