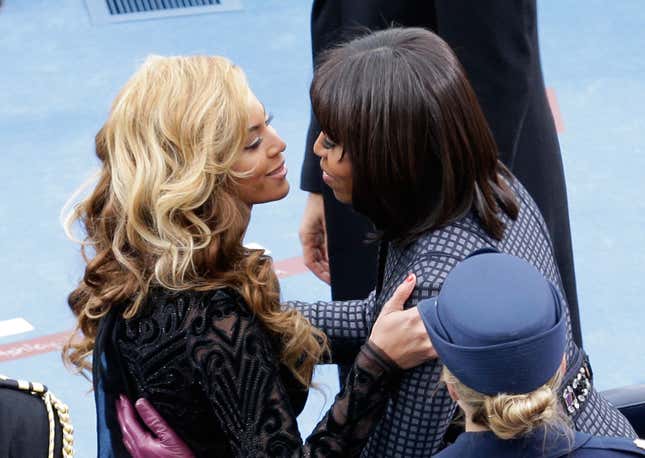 Beyoncé and Michelle Obama have been out in these streets hailing each other's praises and it's honestly the kind of content that makes paying my internet/phone bill worthwhile.
Caleb McLaughlin on Lebron James' Biopic Shooting Stars, Stranger Things, & First Big Paycheck
Our FOREVER First Lady and the King of Music have been sharing sentiments that will warm the coldest hearts amongst us.
Mrs. Obama has recently received a well-deserved honor by being named one of TIME100's most influential people. In a heartfelt post paying homage to the only first lady I acknowledge, Beyoncé wrote several paragraphs worthy of a queen. In the tribute, Bey stated that "loving Michelle Obama was never a choice," and honestly how could one not love Mrs. Obama? I mean, aside from racists but we really don't give a single solitary fuck about their thoughts on our greatness, do we?
Bey also pointed out how Mrs. Obama used her talents to change the world around her. While in the White House, Mrs. Obama was committed to the health of the next generation and fought hard to make an impact on their quality of life. Bey rounded out her tribute by stating how honored she is to know such a brilliant black woman.
Bey neglected to share what Mrs. Obama smells like, but I'm pretty sure it's like prosperity and good stock options.
The love continues when Mrs. Obama hopped on Al B. Sure's internet and started praising the King of Music. "HEY QUEEN," the Forever First Lady stated in her intro to her homie Beyoncé.
"Girl you have done it again, constantly raising the bar for us all," said Mrs. Obama. I translate this as her letting you all know that your fave could never, but I digress. Mrs. Obama said she's not surprised by this level of excellence from Bey, because she knows who she is. Imagine having that level of familiarity with either of these women? You really couldn't tell me a single solitary thing.
Mrs. Obama told Bey that she loved her and that she's so proud of her. Queens celebrating queens. I am pretty sure several angels received their wings after that segment was taped.
Mrs. Obama also neglected to share what Bey smells like, but I am guessing that she smells like a high credit score. I could be wrong, but I doubt it.
Honestly, I just feel blessed that God saw it fit to place me alive at the same time as Beyoncé and Michelle Obama. I honestly am not worthy, but I am grateful.