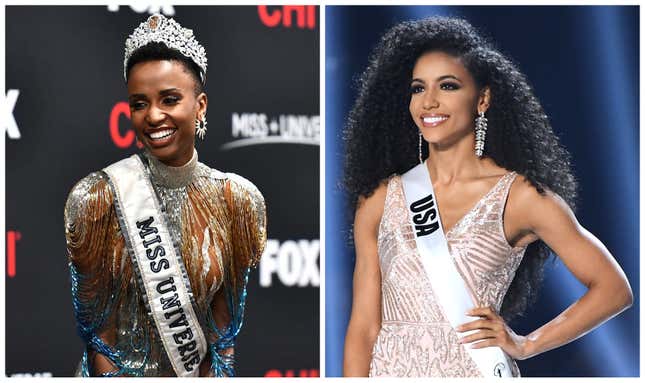 Who says women can't both compete and be close friends? After a momentous and historic win for Miss South Africa Zozibini Tunzi at the 2019 Miss Universe pageant on Sunday, fellow competitor Miss USA, Cheslie Kryst, celebrated both her own Top 10 and the fact that all four top worldwide pageant titles are currently held by black women in a sweet postmortem post on social media (h/t Because of Them We Can), writing:
Last night I placed in the top ten at MISS UNIVERSE!!!!!! I'm so excited and proud that I had the opportunity to compete alongside such talented, accomplished, beautiful women and I'm even more proud and honored that I had the pleasure of representing my country. HUGE thanks to all of my friends and family and pageant sisters for coming to support me and scream my name. I heard you!! And many thanks to everyone who has sent me messages of encouragement and support. My DMs and text message inbox are both WRECKED lol so if I haven't gotten back to you yet, it's because I'm still wading through messages. Congrats to our new Miss Universe, [Zozibini Tunzi]!!!! You represented us with class and grace and humility and I'm thrilled that I can call you a sister and, now, ROOMMATE!! Swipe for a little #BGM because, you guessed it, Miss Universe, Miss USA, Miss Teen USA, and Miss America are all women of color!!!!!!! Proud to be a part of this group and happy reading all of your excitement and love as I chow down on cheesecake and brownies with Nutella this morning.
Here's How Medicaid Expansion Can Play A Role In Black Maternal Healthcare
Yes, you read that right: The first South African to win the Miss Universe title is not only homegirls but roommates with one of our black American queens, and we are swooning over the mutual sisterly love and support. Can Miss America and Miss Teen USA join them and make this the Girlfriends reboot we've been longing for? OK, maybe that's too much to ask, but when it comes to that thing we lovingly call "Black Girl Magic," this is absolutely it—and we want more, please.