In 2015, John Singleton backed out of directing a biopic about Tupac Shakur. At the time, Singleton posted a lengthy message on Instagram, which stated that "the people involved aren't really respectful of the legacy of Tupac Amaru Shakur." It was alluding to the fact that the people behind the movie were suing Tupac's mother, Afeni Shakur, for the rights to the film, and said of Tupac that "of most importance was his love of black people and culture. … Something the people involved in this movie know nothing about."
Fast-forward two years later, and the Shakur biopic All Eyez on Me is being released in June, with director Benny Boom at the helm, because in Hollywood, the show always goes on. In a recent interview with GQ, Boom responded to Singleton's criticism of the film.
"I know John, and this is the first time I'm speaking about it publicly," Boom said. "But I feel like we have brothers who you think are supposed to support, and they don't support. The community we have of directors of color is very small. I'm not saying you're supposed to go out and cheerlead for everybody. But there needs to be support. And support sometimes just means not saying anything. I would never take shots at my brother. I'm not gonna do that because I know how detrimental it is, especially to someone who laid the groundwork and opened up doors."
Boom also said that it was probably best that the film was made by a Shakur fan and not a friend because although Shakur had certain so-called friendships, he also wasn't fond of a lot of people.
"I just felt disappointed about the rhetoric," Boom continued. "I understand he's disappointed in the process. But Tupac was not happy with every single person he came in contact with by the end of his life, and we know this. The Hughes brothers, John. There's several people out there who he spoke openly about not being friends with."
G/O Media may get a commission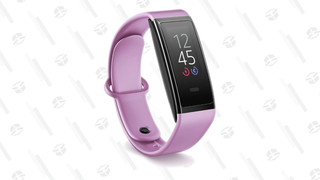 44% Off
Amazon Halo View Fitness Tracker
Boom said that he believes everyone has a path in life already determined by God, and that maybe it wasn't in God's plan to have Singleton work on the biopic.
"At the end of the day, what God has for you, can't nobody take away from you. So John has to understand that God did not line this project up for him. That's it," Boom stated.
All Eyez on Me opens June 16.