With the recent runaway (and runway) success of black designers like Virgil Abloh, Olivier Rousteing, LaQuan Smith, Kerby Jean-Raymond of Pyer Moss—or even Kanye West's Yeezy—it might be easy to assume we're experiencing a "post-racial" fashion moment. But as Julee Wilson, fashion and beauty director of Essence magazine, recently wrote for industry site Business of Fashion, the catwalk—while vastly more diverse than in former years—is still littered with unsupported black talent and labels that are struggling to get the funding they need to survive, let alone thrive.

Writing about Abloh's recent successful debut as head of menswear for Louis Vuitton, Wilson says:
In a business that continues to struggle with whitewashed runways and boardrooms, where racial minorities are scarce, Abloh's debut underscores a key point: diversity is not only a moral obligation, it's imperative to keeping the industry relevant at a time when black creatives, especially in music, are at the very centre of popular culture.
Indeed, the appointment of Abloh, who has quickly risen from fashion disruptor to undisputed arbiter of what's new and next, to the famed French fashion house was a groundbreaking moment; not unlike Rousteing's history-making appointment at Balmain, Dapper Dan's belated endorsement and support from Gucci or Edward Enninful's recent appointment as editor-in-chief of British Vogue. But as Wilson argues, "these appointments have been few and far between, signaling the yawning gap between a post-racial fashion industry and today's reality."
G/O Media may get a commission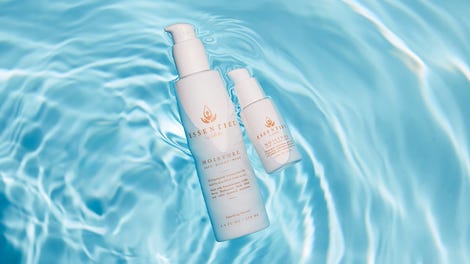 20% off
Essentiel by Adele
She specifically points out the fact that while European houses have gotten more diverse, for decades black designers in the U.S. have predominantly worked behind the scenes, and to date, none have seen success comparable to major American names like Calvin Klein or Ralph Lauren.
In fact, aside from Abloh, designer Tracy Reese is likely the best-known and certainly, the best established black American designer working today, having maintained her ubiquitous label for over 20 years. Speaking with Wilson, Reese expressed that she feels that a "for us, by us" approach could be the answer to diversifying the fashion industry.
She believes engaging more investors from the black community could help improve the survival rates of black-owned fashion labels. "Black investors have to get with the program," she said. "We have to approach this from a different perspective, because it does come down to money. You pretty much have to buy a seat at the table, especially if it's a white table, or a white-run table."
As designer, journalist and fashion activist Kibwe Chase-Marshall told The Glow Up in January, "Blackness, until very recently, was seen as an unmarketable quality." Others, like veteran fashion journalist Robin Givhan, offer another perspective on why 'blackness' isn't always perceived as an ideal marketing tool.
"I think once you start sort of labelling brands as 'black' or a designer as 'black,' you end up with a situation like we had back in the 1990s with 'urban fashion,'" Givhan told Wilson. "There was this sense that regardless of what the clothing looked like, it was, the ethnicity of the designer that almost determined how the fashion was categorized, or where it was placed in a department store."
Critically-acclaimed—but tragically under-promoted—designer Charles Harbison agreed, telling Wilson:
It can often times feel like there is a narrowing of my significance as a designer by way of this one identity of mine in a way that white designers, Asian designers and Latin designers don't really have to take on ... So, it can be frustrating, because as an entrepreneur it can feel like this one identity that I know is problematic in business, is being that much more emphasized. And potentially making my business that much more difficult.
Yet and still, to Chase-Marshall's point, it's undeniable that the aesthetics of blackness have been and are being marketed by non-black designers—which should mean, at the very least, that we deserve a seat at the table. Chase-Marshall launched the #BreakSilenceBreakCeilings movement to promote more diversity in the fashion industry, and told Wilson: "I don't care if someone is racist. ... I care if people use discriminatory hiring practices."
To combat the exclusion of people of color from positions of prominence in the industry, Chase-Marshall challenged the Council of Fashion Designers of America (CFDA) to insist upon greater diversity hiring and bias-eliminating initiatives, including requiring its members to provide annual reports on the racial composition of their design teams.
The organization—indisputably the most powerful in the American fashion industry—seems to be listening; president and chief executive of the CFDA Steven Kolb has met with several industry insiders of color to educate himself on the issue, and hopefully, find a solution. And notably, this year's CFDA award nominees included a record number of nominations for black designers, including Abloh for both Menswear and Womenswear Designer of the Year, and Jean-Raymond and Brother Vellies designer Aurora James for the Swarvoski Emerging Talent award.
Unfortunately, none of those nominations translated to wins this year, but as Kolb told Wilson, "I think we can just assume from the start that there's challenges for people of color in the industry. We need to make that a starting point and really focus on how we can improve as an industry."
Also worth exploring is the fact that of the rising talent that is managing to break through, with few exceptions, the pool is predominantly male. Making sure women of color also benefit from this diversity push is a goal of former CFDA nominee Carly Cushnie, co-founder of 10-year-old label Cushnie et Ochs (which she now helms solo). As Cushnie told Wilson:
"I'm focusing on pushing the brand forward and having the opportunity to champion women of color, and support more women of color going forward."
But in all, for black designers, while the door may be opening, for now, it seems to still be a case of taking what we can get—while continuing to push for more. As Givhan admitted, "Do I think that there's a representative percentage of readily available, working, producing, black designers out there? No, there isn't. But do I think that the landscape is better than it was a decade ago? Certainly."