We've got something major to celebrate this Big Beauty Tuesday (soon to be relaunched as "The Glow Up Gets...")!
It wasn't widely known until recently, but Black Opal, one of the most established global beauty brands for black women, was never black-owned. While the brand was created in 1994 with women of color in mind—specifically, by a renowned chemist for his wife, with the help of an African-American dermatologist—many were working under the assumption that the brand was a "for us, by us, owned by us" operation. In fact, it was owned by Greek-American cosmetics magnate Nikos P. Mouyiaris (MANA Cosmetics), who died in January of this year. 
The misconception became particularly disturbing earlier this year, when the company that Mouyaris owned, rebranded in recent years as BLK/OPL, engaged in a trademark battle with an actual black-owned business, all-natural marketplace BLK + GRN. By all accounts, the dispute was over both companies' chosen abbreviation of the word "Black," which BLK/OPL initially asked BLK + GRN to rebrand. Though BLK/OPL's legal team told The Glow Up that use of the word "Black" was not at issue, the controversy was magnified in May when a Medium post by BLK + GRN founder Dr. Kristian Henderson went viral, asking the questions, "[W]hat happens when large corporations that are not Black-owned appear to be Black-owned and block Black-owned brands from thriving? What happens when white corporations wear Blackface?"
Now, BLK/OPL truly is black-owned; on Monday, it was announced that the 25-year-old company has been acquired by two African-American businesswomen, Desiree Rogers and Cheryl Mayberry McKissack.
"We are delighted to own Black Opal, a company created almost three decades ago, to address the makeup needs for people of color," said Rogers, in a press release. In addition to becoming BLK/OPL's new co-owner and company CEO, Rogers is a former Fortune 500 executive, the first social secretary for President Obama, and one-time CEO of Johnson Publishing Company. "Rooted in its exceptional product quality and unparalleled knowledge of skincare for highly melanated skin, Black Opal is known for its superior ingredients and high product efficacy," she continued. "Together, Cheryl and I are looking forward to creating even more innovative products and continuing to grow the brand globally."
G/O Media may get a commission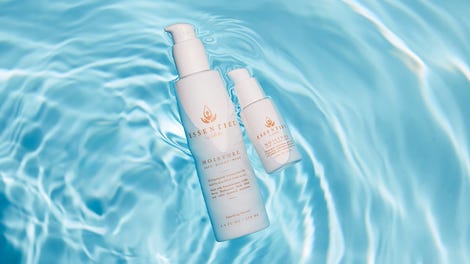 20% off
Essentiel by Adele
But as the brand grows, Rogers and McKissack, who have been friends and associates longer than BLK/OPL has existed, promise that the "masstige" brand's cult favorites, created using "advanced color technology and skincare philosophy," will remain.
"When we acquired Black Opal our goal was to stay true to the founders' passion," said new BLK/OPL President McKissack, an accomplished executive, entrepreneur, author and speaker, with former posts at IBM, Johnson Publishing and as the first CEO of Ebony Media.
"We are thrilled to offer iconic products which include our award-winning True Color Skin Perfecting Stick foundation and Even True Pore Refining Gel cleanser, which have become go-to products. As we continue to grow the company and bring high-quality products to the market, we also plan to focus on creating a positive impact in our communities," she added.
The terms of the deal were not disclosed, and there was no update on where this new acquisition leaves the trademark dispute (unfortunately further complicated when Dr. Henderson was severely injured in a July 1 car accident, from which she is thankfully recuperating). As champions of black-owned and helmed beauty brands, we're hoping there is room in the global marketplace (and on our shelves) for both of these tremendous entities—and are looking forward to being able to celebrate this new acquisition of a beloved brand as a black female-owned success story.
Corrected: Wednesday, 9/25/19 at 7:50 a.m., ET: Although previous reports have cited Nikos P. Mouyiaris as the sole owner of MANA Cosmetics, the former parent company of BlK/OPL, since our article went to press, the company's team has reached out to let us know that Mouyiaris' Jamaican-born wife was a co-owner.