Fun fact: As I write this, I'm feeling the tingle of a rather large zit on my chin—the type I'd like to think I've long outgrown, given that I'm now in my 40s. But I know the culprit: a visit from my college roommate this week had us both behaving as if we were back in our late teens, and my skin is now scolding me for it—especially the night I doubled down on the extra sugar in an ill-advised Old Fashioned (famous last words: "Just one more for the road!") by *gasp* sleeping in my makeup.
Seriously. Don't try this at home, because it's not sexy. I know better—and so does this zit. So as we move into the weekend, I want to save you all from making the same mistake I did, and running down what should be a regular routine for all you humans out there—washing your damned face before bed!
Now, just because we don't all wear makeup doesn't mean you get to skip—but some of us wear more than others (and at different times), so the intensity of your routine may vary. That's why I've enlisted the help of three of our faves here at The Glow Up—YouTube beauty aficionado Jackie Aina, singer Jorja Smith, and model Adut Akech Bior—to show you their respective routines, which can last as long as a very thorough and spa-like 15-20 minutes (Aina) to a fresh-faced 4-5 (Smith and Bior). So, here goes:
Don't Sleep
"I can't stand going to bed with makeup on," Smith says. "It's not a good look." She's right; just ask this damned zit. While it's true that what you put in your body matters as much as what you put on it, leaving your pores clogged overnight is just plain disrespectful to your skin, so ... cut it out.
Take Off the Day
Back in the day, Noxzema or cold cream were the go-tos for makeup removal (both of which are still viable options). Today, Asian beauty experts have made cleansing oils the makeup remover of choice for many of us—they're thorough without being stripping, and really do the work—even on your eyes—without leaving an oily residue.
G/O Media may get a commission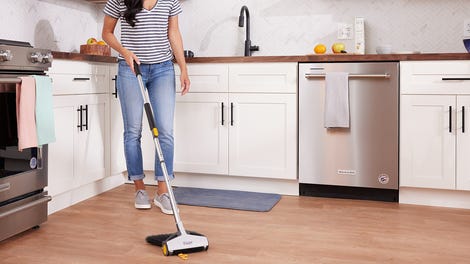 BOGO 50% Off
Flippr - BOGO 50% Off
And if you're prone to oily skin, don't worry; the best way to fight oil is with—believe it or not—oil. It encourages the skin not to overproduce.
My faves? The bestselling DHC Deep Cleansing Oil ($28 at DHC) and Shu Uemura High-Performance Balancing Cleansing Oil ($66.99 at Amazon).
Prioritize Your Eyes
The eyes are a delicate area, prone to irritation, stretching and infection. For this reason, I suggest always using fresh, disposable swabs, pads and wipes for this area, as does Jorja Smith, who, at the advice of her mother, makes a point of using a separate remover pad for each eye, to avoid cross-contamination.
Always a good look? Simple's Micellar Make-Up Remover Pads ($5.09 at Target)
Exfoliate
Whether you use physical or chemical methods, exfoliation is an important—if periodic—step to include in your cleansing routine. Between pollution, oil buildup and just general cell turnover, you want to slough the dead stuff off so all the products you've invested in can actually sink in and get to work. But be warned: over-exfoliating can be irritating. While some skin types can take more frequent abrasion, others can't. So to be on the safe side, do this step no more than every other day.
My staple scrubs? For most days (3-4 times/week), L'Oreal Revitalift Brightening Daily Scrub Cleanser ($6.99 at Ulta) uses glycolic acid to help even out skin tone (without bleaching). For more intense exfoliation (1-2 times/week), Kiehl's Epidermal Re-Texturizing Micro-Dermabrasion ($41 at Kiehl's) helps even the texture of the skin's surface, reducing small bumps and fine lines.
Tone It Up
Still worried you've left something behind? Take it off—gently—with an alcohol-free toner or cleansing wipe. While there are plenty on the market, low-investment options are available right in the drugstore aisle—even Micellar water, which has a great track rate for removing stubborn makeup without stripping vital oils.
My go-to toners? Dickinson's Enhanced Witch Hazel Hydrating Toner with Hyaluronic Acid ($5.97 at Walmart) and Garnier Skin Active Micellar Cleansing Water ($6.96 at Amazon).
Now You Serum
Serums have become all the rage in the past few years, and for good reason: they work. These lightweight infusions more easily penetrate the skin, giving more effective results when it comes to cell-turnover and anti-aging. And because they're so popular, they don't have to be super-expensive; a range of effective options are available. My favorites always include hyaluronic acid, which may sound scary, but is a substance already present in the body that lubricates joints—and can have a healing and rejuvenating effect when applied topically.
My secret weapon? Pure Hyaluronic Acid Serum from Cosmedica ($15 at Amazon)
Face Off
Another way to distribute serums to the skin? A sheet mask. Another gift from the booming Asian beauty market, these super-effective, mostly inexpensive masks have picked up where mud masks and peel-off versions left off (though I still recommend those as an indulgence when you have the time). Sheet masks are also a great way to unwind at the end of the day; taking five minutes to remind you that the day is finished, and it's time for bed.
What to try? This one's entirely up to you. These days you can find options for $2 and up in your local drugstore, Urban Outfitters, or Sephora. My suggestion? Pick out a few inexpensive ones that interest you and experiment—and make sure to rub that extra serum in!
Yay, Moisture
No beauty regimen is complete without moisturizer; even if you have oily skin, it generally means it's dehydrated, so it's important to balance the skin with moisture. That said, all moisturizers aren't created equal, and all skin can't handle the same level of emollients, fragrance, etc. A good tip is to hit the beauty counters of your local department store or Sephora, explain what type of skin you have, and gather samples of suggested products (Sephora is especially generous in this respect). Then, swatch test to see if there are any reactions before committing to trying—or buying—any product for your entire face.
But whatever you do, don't forget lips and eyes—or your neck, hands and feet! These can be some of the driest areas on your body, so it's important to give them a little extra emollient—even if it's in the form of a shea, cocoa or coconut oil. Just remember: unless you're pumping it out, don't double-dip product you use on other parts of your body onto your eyes; that's how infections happen.
There you go—ready for bed. Of course, as much as I'd like us all to have healthy, glowing skin, I also know that all of these steps can be a bit a labor-intensive for every night—especially those late ones. So, if you do nothing else, removing your makeup, toning and moisturizing—along with making sure to change your pillowcases frequently—should prevent you from developing any unwanted company during the night (like this damned zit).
Don't forget to brush your teeth!