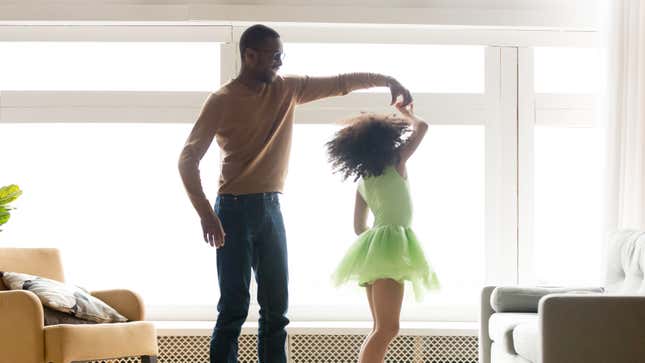 If you're lucky enough to have a positive, present, supportive father figure in your life, no doubt you want to celebrate him—but life comes at you fast, and therefore, Father's Day might've too. I know this because last night, I found myself waiting in a very long line at FedEx just to ensure my pops will get his goodies by this Sunday. (What can I say? Like you, I stay busy, which, unfortunately, results in a lot of moments like these.)
Comedian London Hughes Talks New Book, Parents Watching Her Very Sexual Comedy, & Beyoncé
With that in mind, I've compiled some last-minute, let-him-know-how-much -you-love-him ideas to make the father figure in your life feel extra special this weekend (and yes, you may have to pay for expedited shipping, because procrastination doesn't pay).
Put Some Respect on His Name
Nothing like addressing a man as "sir" to let him know he has your respect; but how about putting it on a T-shirt? I love this tee from Sir & Madame ($40-and yes, "Madame" is also an option), which lets the world know to address him with respect, without him having to say a word. (A $10 lapel pin is also available.)
Give Him a Good Read
Has he read more than his share of bedtime stories? Return the favor by giving him a good read from one of our favorite dads, VSB's Damon Young, whose book of autobiographical essays, What Doesn't Kill You Makes You Blacker, explores what it means to be black, a man, a father, husband, son and so much more in contemporary America.
Protect the Legacy
Is the dad in your life also a man who seemingly has everything? Join his legacy with a piece of our collective history by making a donation in his name to any number of institutions and museums that preserve, promote and protect black history and culture. Might we suggest the historic free black community of Weeksville in Brooklyn, N.Y., one of the few remaining sites in America to preserve black culture from the turn of the last century?
Capture His Signature Scent
There is perhaps no sense as powerful as scent—in fact, perfumer Bambi Montgomery reminds me that it's the only one of our senses connect to the limbic system, which means it's inextricably linked to memory and emotion. To remind your favorite father of all of his favorite things, how about treating him to a custom fragrance consultation with Hive Luxury ($125), created and curated by Montgomery herself, who I've nicknamed "the scent sommelier."
We can't think of anything better than having a scent exclusively to ourselves, but want to gift one of Hive's thoughtfully crafted, ready-made scents instead? Their long-burning, hand-poured candles are gorgeously packaged, and the "Trust" scent (also available as a fragrance for $125) will remind him just how safe he's always made you feel.
Keep Fatherhood So Fresh and So Clean
Great dads do their share of cleaning up, so it's only fair to gift him a little pampering in return. We recommend the grooming products from Solo Noir for Men, formulated to combat ingrown hairs and clarify and tone skin with 100 percent natural ingredients, and available in kits (ranging from $27.99 to $80.99).
Give Him an Edge
On that note, there are few gifts more tailored to convenience than a subscription, and Bevel reliably remains one of the best in the game for keeping men edged up and ready for wherever life may take them. Give a deserving dad's grooming game a serious upgrade with one of their trimmers ($199.95; currently 20 percent off with code FDTRIMMER20).
Do It for the Vine
They say the fruit doesn't fall far from the tree, but we heard through the grapevine that families that appreciate wine together, stay together. If you and pops both have refined palates, sample the Oregon-grown wines of Maison Noir Wine ($185 for a mix case of four varietals). After all, who can resist a pinot (gris or noir) called "O.P.P." or a rosé named "Love Drunk"?
Give Him More Time
Is time the greatest gift the father figure in your world gave to you? Let him know exactly how precious a gift that is with a timepiece from Talley & Twine (we recommend a gift card). Their classic, always conscious designs are a timeless way to let him know how much you appreciate all he's given you.
Whatever you decide to do this Father's Day, if you're celebrating with a gift, make sure it's personal and reflects exactly how you feel about the dope dude who raised you. But just to make sure we're not back here again next year, let's pinkie swear not to procrastinate again, OK?