This weekend, New York City hosted Beautycon, a two-day festival where fans can interact with beauty brands and celebrities for seminars and photo ops. The Glow Up was on hand looking for the latest in black-owned beauty businesses and getting the word on self-care, which seems to be the one thing, besides lipstick, that's on everyone's lips this season.
The opening panel discussion on Sunday afternoon featured Ty Alexander, founder of the fashion and beauty blog Gorgeous in Grey, which focuses on mature, curvy women; and actress Danielle Brooks of Orange Is the New Black, who is also a Lane Bryant spokeswoman, discussing the concepts of self-care and self-love as they relate to age, size, weight and skin color.
In the little video excerpt below, Brooks responded to Alexander's question about where self-love begins. Brooks opened up to the packed house about her lifelong journey of accepting her looks. Like many women, she grew up defining herself by her "flaws," like stretch marks, or "feeling ashamed of my tummy." Her message was not to hate but to embrace yourself and show off what you have in a "very classy way."
The vast convention floor was an Insta-worthy wonderland of photo ops, with bubble pits, rope swings and vendors hawking crowns with flashing lights and golden unicorn horns, as well as offers of free goodies with a purchase—as long as you tagged the brand on social media while you passed the register.
G/O Media may get a commission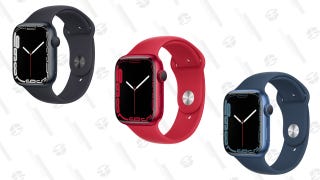 Up To $45 Off
Apple Watch Series 7
In the "BWell" aisle, I discovered two new black-owned beauty brands and chatted with their creators. Lumiere by Lisa had a stand displaying hand-poured, soy wax candles made by Lisa Chapman, naturally, who was on hand with two family members for the event. Chapman, 26, was with her sister Celeste, 40, who pulled me over, and their 16-year-old niece, Angelina. Needless to say, they were an adorable crew.
The candles come in five scents made from essential oils like mint and Caribbean coconut and have fun names like "Tobacco and BAE" and "Suit and Tie," for kicking back with the gents, and "Sweet Relaxation," which speaks for itself. Priced from $12 for a small tin to $30 for a large candle, each candle boasts fragrances that are crisp, clear and sophisticated, with subtle top and bottom notes that no doubt will build in intensity as it burns.
My next discovery was Vow Beauty. This vegan skin-care brand, created by former attorney Tangie Griffin, comes in pretty packaging that appeals to the little girl in all of us. But don't be fooled—the formulations are targeted at alleviating serious adult skin-care issues. Given her family history, Griffin began visiting her dermatologist in her late 20s as a pre-emptive strike against the onset of hyperpigmentation and fine lines, which were likely advancing to conquer permanent territory on her face.
Daunted by the prices of anti-aging serums and creams, which often come at a prohibitive cost of $100 or more, Griffin created Vow Beauty. The name refers to making a commitment to your skin-care routine. It takes "30 days to begin to show results," but as Griffin, whose skin glows as if she's turned back time, assured me, nothing great is built overnight. Although the packaging is party in the front, it's all business in the back, listing impressively high concentrations of active ingredients like pure vitamin C and 2 percent beta hydroxy acid in the toner, which is on par with brands that retail for twice as much.
Beauty icon, actress, singer and activist Zendaya and Bozoma Saint John, chief brand officer at Uber (whose Instagram profile says it all: "There's nothing more badass than being who you are ... I am a force of nature in fierce stilettos"), sat down to discuss how to use your personal position and privilege so that everyone wins. After all, isn't that the power of being beautiful both inside and out? Check out the clip below.