In its fifth year, Beautycon NYC descended on New York City's new & improved Javits Center, sparkling and shining with beauty influencers, fans and panel members alike, ready with highlights poppin' and IG photobooth-ready smiles.
The lines were long, but the freebies and deals were definitely worth it during the two-day weekend festival. With its flagship event in Los Angeles and other events in London and, recently-announced, in Tokyo, Beautycon clearly felt equally at home in its New York space, complete with an ongoing DJ, cans of rosé for sale, and a robust schedule of one-on-one and panel discussions. This year, the attractions on the main stage ranged from live demonstrations, dance breaks (get it, Aliya Janell), and money and career-focused motivational talks with some of our favorite black women in the entertainment industry.
Granted, it was hard to ignore more overbearing fixtures by big corporations like CVS and Target, but at the end of the day, several smaller beauty gems got the attention they deserved at Beautycon, as startups found themselves selling out of their top products and using the space as a great networking tool.
At this point, the people know exactly what the people want, and Honey, sulfates, parabens, and toxins don't stand a chance. Standout natural-focused beauty and skin brands like Uncle Funky's Daughter, The Lip Bar and Eden Bodyworks (all of which have made it to the shelves of the aforementioned bigger box stores) promote safe ingredients with black women at the front in every way—which in turn garnered lots of lines, praise and purchases.
G/O Media may get a commission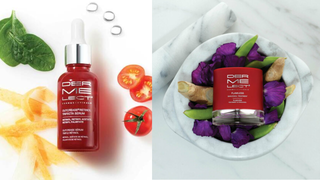 Save $19
Retinol Renewal Kit
Despite the focus on bright colors (did we mention everything. is. bright?) and larger-than-life neon wigs and fits, those of us with simpler tastes still had plenty of options. One of my favorite new products on display at Beautycon 2019 was undeniably The Lip Bar's super-sleek clear gloss 'Minimalist,' which slides on and stays like a glove. It's surprisingly hard to find a high-quality clear gloss nowadays with a perfect formula, and it also helps that this one is completely vegan. (It's also the perfect companion to my personal favorite, Too Faced Better Than Sex Eyeliner and its sister mascara).
Refreshingly, Beautycon seems to have a firm grasp on the importance of uplifting the voices and creativity of the valuable beauty-loving black women in the industry—and the ethos of what makes them so influential in the space. That was especially evident in their curation of groundbreaking voices for the panels and brands present in the convention area.
This year was a beacon of black girl magic, as audiences were treated to any number of major talents. For instance, no one wanted to miss Issa Rae's can-do attitude as she spoke alongside her Little co-stars Regina Hall and the film's history-making executive producer Marsai Martin on the challenges of being a black professional woman—on screen, and off.
"I have to sugarcoat because I know that the environment I'm in will label me as the 'angry' or 'difficult' black woman," Rae said. "It is frustrating, at times, to feel like you have to constantly work on how you're going to present something, so you are able to work again in the future."
In a talk that was both fulfilling to hear and be a part of, Martin's Black-ish Yara Shahidi shared her empathetic, intellectual voice as she expressed her opinions on imposter syndrome.
"Find your support network. It's always important to have that tribe to turn to process the day, to remind you that you aren't going crazy," Shahidi advised.
And the always controversial Cardi B made us fall in love with her vibrant brand all over again with her uncensored tips to financial success on a panel with Moj Mahadara.
"Don't let the gossip distract you of the fact that you can be making money right now—the internet have so much f*cking possibilities yo," the star said in trademark Cardi B style. "You have to watch how these people are doing it! Everybody hate Fashion Nova but me; I love Fashion Nova but I remember how Fashion Nova started. Watch that recipe."
Choice words from a entertainer who—love her or hate her—has changed what representation looks like at the top the game. And continuing their longtime commitment to representing all types of women, Dove's Getty Images and Girlgaze debut collaboration project #ShowUs made a major impact with their interactive booth and skincare demonstration. Their mission? To showcase images of racially and physically diverse women doing everyday things, in their effort to change the way women are viewed in stock photography and in general. The space was gentle and touching, illuminating the unique and personal beauty of individuals.
The focus on diverse representation was also evident in the inclusion of plus-size-focused brands like Cacique Intimates, which had a stunning presentation and interactive booth centering women of color in skin-toned lingerie in sizes ranging from 0-28.
The takeaway from Beautycon 2019? While obviously dominated by big brands and sponsors, for those of us who went in search of smaller shops and entrepreneurs, Beautycon gets new products and brands into the hands of beauty lovers in the most immediately gratifying way possible. For black women, in particular, this year's emphasis on natural products and celebrities that currently embody our collective spirit were a reminder that representation matters—and is changing. The beauty world may get bigger every day, but Beautycon is a snapshot of beauty as it is now.