(The Root) — President Obama has some explaining to do. He was expected to be courtside Monday night at Verizon Center in Washington, D.C., to catch part of the first game, which featured the U.S. women's Olympic basketball team versus Brazil. But he didn't appear in the arena until just before tip-off of the men's game.
With two daughters and an athletic wife, Obama surely knows he can't dis the women's team. He made it to Verizon in time to greet and congratulate the players on a practice court after their 99-67 victory. The team gave him a jersey and an autographed basketball and posed for photos.
"We talked a little health care, tax breaks," guard Diane Taurasi said. Guard Lindsay Whalen, who led all scorers with 21 points, added: "He just said represent your country well, and that he's proud."
Showing its own pride, the crowd chanted "U-S-A!" as Obama and Vice President Joe Biden entered and took their seats. First lady Michelle Obama and the couple's oldest daughter, Malia, were also among the president's party. Obama was interviewed at halftime and weighed in on a debate sparked by Kobe Bryant's assertion that the current Olympic team is superior to the 1992 "Dream Team," which featured Michael Jordan, Magic Johnson, Larry Bird and other superstars.
"This is a generational thing," Obama said on ESPN. "I was around in '92. I was a Bulls fan. So I have to go with the original Dream Team."
G/O Media may get a commission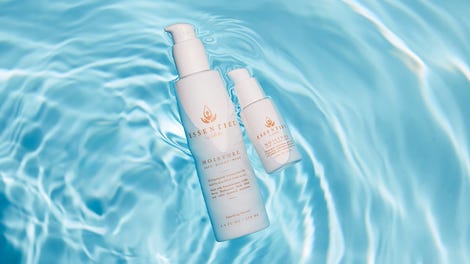 20% off
Essentiel by Adele
That was probably the consensus after Brazil led by 10 points after the first quarter. But the Team USA tightened up on defense and outscored the Brazilians 20-5 in the second quarter, en route to a 80-69 victory.
"There's no reason we shouldn't bring home the gold," Obama said. "We just have to stay focused. One thing I'm happy about is to see how hard everybody is playing. You really get a sense of how proud they are to represent the United States."
Both U.S. teams flew to England Monday night and have a few more exhibitions scheduled before Olympic competition begins. Even though the game against Brazil didn't count, it was more than just another tune-up because of the Obamas' presence.
"It's very humbling and overwhelming," said LeBron James, who led all scorers with 30 points. "For all of us, to have the president be here to watch us play the game that we love, is unbelievable. You have dreams of being in the NBA and dreams of making the jumper at the buzzer, but you never have dreams of the president actually watching you play because you don't think it's possible. It's definitely humbling to see him here as well as the first lady."
The appearance wasn't without controversy. The arena's "kiss cam" zoomed in on the Obamas in the first half, but the first couple seemed to ignore it, along with the crowd's pleas for a smooch. That resulted in a smattering of boos. But the Obamas redeemed themselves in the second half, when the kiss cam returned and the president planted a long, wet one on his wife.
White House spokesman Josh Earnest said the couple didn't realize what was happening the first time and only found out afterward. Earnest said reports that the president was "rebuffed" are false. Either way, the crowd was satisfied, chanting "Four more years!" as Obama exited with seconds left in the game.
If the president succeeds in November, he can inspire the 2016 basketball teams, too.
Deron Snyder's Loose Ball column appears regularly on The Root. Follow him on Twitter and reach him at BlackDoor Ventures, Inc.