(The Root) — Harlem has come to London, and what a marvelous spectacle it is to behold. To be precise, it is James Baldwin's Harlem of 1953 — complete with haunting, sensual jazz music, uplifting Pentecostal songs and the majestic cadences of evangelical oratory — that has the South Bank completely enthralled.
Baldwin's The Amen Corner, his debut 1954 play based in part on his own years as a teenage Pentecostal preacher, has been given new life in a magisterial production at London's National Theatre, led by acclaimed British director Rufus Norris and starring Marianne Jean-Baptiste (the Oscar-nominated black British actress famous for her role in CBS's Without a Trace).
It is the story of Sister Margaret, a domineering Harlem pastor and tyrannical matriarch whose grip on her ebullient congregation is suddenly challenged when her errant husband, Luke, a jazz musician, unexpectedly returns after a decade away and her dutiful-but-frustrated 18-year-old son, David, seeks to shun the church and become a musician like his father.
There are bravura performances all around, especially from Lucian Msamati as Luke, who masterfully captures the braggadocio, effortless cool and gloriously unrepentant joie de vivre of the dying musician who wants to be reunited with his wife. Jean-Baptiste, too, is exceptional and brings deft emotional nuances to the role of Margaret, oscillating between smug, sanctified certainty and the heartrending pathos of recapturing a love she had abandoned in favor of God.
Despite being a searing critique of the role of the church in African-American society, Baldwin's work never denies the very real power of religion to uplift downtrodden, oppressed people or the genuine solace and consolation that it can offer.
G/O Media may get a commission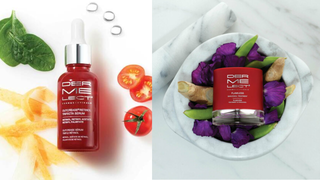 Save $19
Retinol Renewal Kit
Trenchantly condemning religious hypocrisy as well as skillfully addressing notions of the pulpit as pure theater, Baldwin presents us with marvelously delineated characters who display the very unholy traits of sanctimonious bigotry and Machiavellian one-upmanship while jostling for power within the church.
Given the explosion of both Christian spiritual zeal and Muslim fervor sweeping black communities this side of the pond, due in part to the growth of the African population of the past 20 years, this is undoubtedly a very timely and relevant production for British audiences.
Like all great drama, The Amen Corner is both specific to its 1950s Harlem milieu and wholly timeless and universal. With the possible exceptions of Langston Hughes and Chester Himes, no other writer is as synonymous with Harlem as James Baldwin. He possessed a very palpable love-hate relationship with black America's spiritual mecca in New York City, and the paradoxical notion of freedom-in-exile thoroughly imbues this play.
Harlem made Baldwin. It nurtured him and fashioned him — intellectually, artistically, socially and sexually — and yet he yearned to escape its clutches, seeking racial dignity and artistic freedom in Paris. When Luke joyfully tells Margaret that their son has finally managed to escape her overbearing clutches and declares, "He's in the world. He's living," it is a resolutely life-affirming, poignant moment and one in which Baldwin's humanism emerges triumphant.
We witness, too, the raw pain of Margaret's apostasy and her regret at having devoted the best part of her life to ideals that she duly realizes are, in fact, false — but we also see the heartfelt liberation that apostasy can bring. Yet Baldwin's play is principally about the redemptive power of love. Margaret's road to self-knowledge is an arduous and painful one, but at the play's close, despite losing the church, she gains something of even greater value.
With his lyrical articulation of the beauty of secular salvation and the intrinsic nobility of profane (as opposed to sacred) love, Baldwin is more relevant than ever — a timely, sagacious voice in an increasingly dangerous world where strident religious faith is becoming alarmingly omnipresent.
So praise the Lord! Baldwin's back in town. London is undoubtedly much richer for having this fecund slice of Harlem life from which to learn. Echoing Dante's conclusion to The Divine Comedy, Baldwin serves to remind us that love is the animating principle of the universe. Long may this secular saint inspire us with his deep, benevolent humanity and instill us with the wisdom of this rousing sermon on the indomitable power of love.
Lindsay Johns is a London-based writer and broadcaster. He currently blogs on current affairs and culture for the Daily Mail online.
Lindsay Johns is a London-based writer and broadcaster.