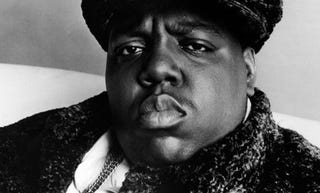 If I got to choose a coast I got to choose the East
I live out there, so don't go there
But that don't mean a nigga can't rest in the West…
Cali got gunplay, models on the runway…
—The Notorious B.I.G., "Going Back to Cali"
Watching Notorious is like time traveling to back to the day when gangsta rap ruled, all bluster and bling, beef was settled with bullets and an XXL-sized brother from Brooklyn dazzled, if only for a moment. 
Through Notorious, hip-hop heads get to relive the days when Christopher Wallace, aka Biggie Smalls/The Notorious B.I.G./Big Poppa, rocked the mic at that first concert at Howard, or when he first started making music with his mentor/producer, Sean Combs, aka Puff Daddy/Puffy/P. Diddy/ Diddy. You get to eavesdrop on the night Biggie recorded his first big hit, "Juicy," witness when Tupac got shot outside the Quad Studios and see how Lil' Kim discovered that she could "Get Money" rapping about the power of the punany.  
Notorious, directed by George Tillman Jr. (Soul Food), and starring real-life rapper Jamal "Gravy" Woolard as Smalls, does indeed take you back, dutifully hitting the narrative high points like clockwork, from his Bed-Stuy childhood to his crack-slinging days to a drama-filled love life to his brief reign atop the charts.  
But only in brief instances does the film elevate the story beyond a by-the-numbers biopic. Instead, it feels curiously flat and affectless, never quite capturing the thrill of the music or the excitement of the creative process. (For that, you'll need to refer back to Cadillac Records.) In many ways, the music is almost beside the point, with Smalls coming off as the accidental rapper.  
"Drug dealing was like my wife," he says in a voiceover, "rapping was just a chick on the side."  
Getting to both the drug dealing and the rapping took some doing: As a kid, Smalls, as played by his real-life son, Christopher Jordan Wallace, was more nerd than playa, pudgy and bespectacled, the object of much derision and condemned to sitting on the front stoop. (Mama Wallace didn't play.) In time, he's putting pen to paper, chronicling his outrage toward his missing-in-action dad with baby gangsta lyrics.  
From his perch on the stoop, Smalls sees that it is the drug dealers who have all the power, and not the regular, hard-working folks like his single mom, Voletta (Angela Bassett). In time, he's made himself over, the nerd becoming the dealer on the corner passing rocks to pregnant crackheads. "Fuck a pregnant bitch," he sneers. 
Along the way, he gets himself kicked out of the house, gets a girl pregnant and gets himself thrown into prison, all before he turns 19. Prison turns him around. Once free, he's determined to make a go of his music. His meeting with Puffy (Derek Luke) was the beginning of his rise to the top. Puffy motivates his new artist with annoying pronouncements such as, "What don't break a nigga, make a nigga" and "we can change the world, Biggie Smalls."  
Notorious features some strong performances: Woolard, a novice actor, inhabits Smalls' persona with an easy charm. And Naturi Naughton, as the crotch-grabbing, F-bomb dropping Lil' Kim, makes an indelible impact, conveying both the calculation and the hurt beneath the weaved-out, video-ho façade. Antonique Smith, a Broadway singer/actress, makes for a convincing Faith Evans; both she and Woodard capture the unlikely chemistry between Evans and Smalls. 
But Bassett, as Smalls' embattled mother, is the weak link here. She's all Yale-School-of-Drama amidst a crew of naturalistic actors, enunciating each word with over-precision and dropping Voletta's Jamaican accent from scene to scene.  
About Voletta Wallace: Both Smalls' mother and Puffy produce Notorious, and it shows. This is the world of Biggie according to his mother and best friend, and as such, it's a sanitized version of the slain rapper. Tupac's talent and importance as a lyricist is minimized; here, he comes off as a nutty and slightly paranoid contender to Biggie's greatness. With both their murders, the film doesn't try to answer the "Who Shot Ya" question. (Its take on Tupac's shooting: Biggie didn't do it.) Perhaps we'll never know. But in the meantime, we've got this imperfect, but sometimes compelling rendering of a certain time in a certain place, when it was all about the Cristal and name-checking Versace, with a portly brother and his serious flow, telling us all about what life is like "for the average nigga in Brooklyn."
Teresa Wiltz is a regular contributor to The Root.