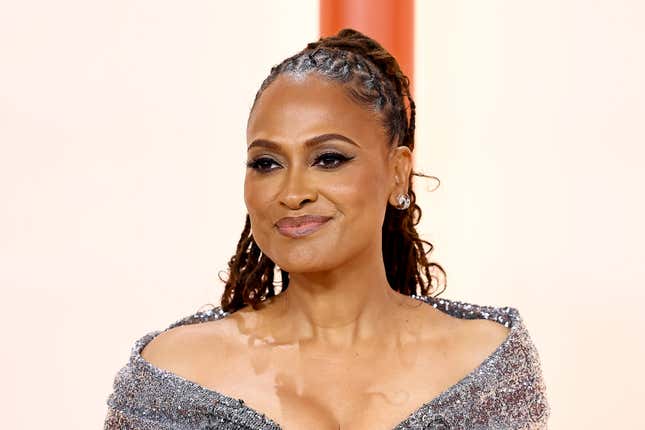 Ahead of the world premiere for her new film Origin at the 80th annual Venice International Film Festival, Academy Award-nominated director Ava DuVernay is opening up about the challenges and racism Black U.S. filmmakers face when it comes to getting the recognition they deserve for their art in international film festivals.
"For Black filmmakers, we're told that people who love films in other parts of the world don't care about our stories and don't care about our films. This is something that we are often told: 'You cannot play international film festivals, no one will come,'" DuVernay told Variety. "'People will not come to the press conferences, people won't come to the P&I screenings. They will not be interested in selling tickets. You might not even get into this festival, don't apply.' I can't tell you how many times I've been told, 'Don't apply to Venice, you won't get in. It won't happen.' And this year, something happened that hadn't happened in eight decades before: an African American woman in competition. So now that's a door open that I trust and hope the festival will keep open."
DuVernay's revelation comes as she makes history as the first African-American woman in all 80 years of the festival's existence to ever have a film be an Official Selection for the main competition—the coveted Golden Lion.
That fact further proves the barriers to entry and opportunity Black people—and Black women, in particular—have to deal with to get their films in front of a global audience due to an industry-wide (and consistently disproven) trope that Black films (meaning films with a predominately or all-Black cast) don't perform well overseas and will therefore not appeal to an international audience.
It's a sentiment other Black filmmakers such as Boots Riley have also been outspoken about, specifically around the time of Sorry to Bother You's release back in 2018. However, thanks to international success of movies like Get Out, Black Panther Creed, Us, and others—it's clear that it's time that that myopic mantra be thrown out. And now with DuVernay's barrier-breaking selection in Venice, maybe this will be the jump off point to doing just that.
Starring Aunjanue Ellis-Taylor, Niecy Nash-Betts, Audra McDonald, Blair Underwood, Myles Frost and more, Origin "chronicles the remarkable life and work of Pulitzer Prize-winning author Isabel Wilkerson as she investigates the genesis of injustice and uncovers a hidden truth that affects us all," per the film's official synopsis.