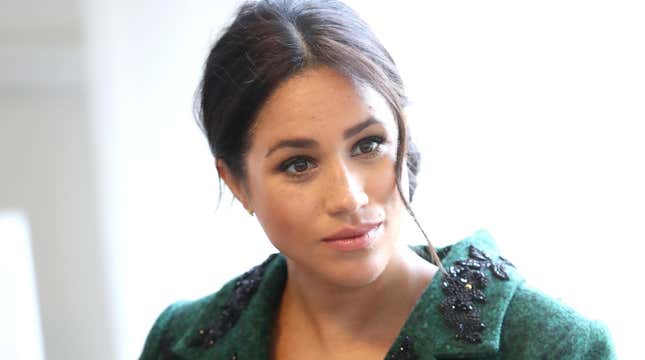 Meghan Markle has been no stranger to racist—and frankly, confounding—commentary since she and Prince Harry started dating. But the Australian version of 60 Minutes decided to kick things up a notch, sharing a preview of an upcoming episode featuring the Duchess of Sussex on its social media accounts Thursday morning.
Terry Crews Talks AGT, Hidden Talents, & Falling For A White Chick
"#Megxit! How Meghan Markle lost her sparkle. From adored to insufferable in less than a year," a tweet accompanying a teaser of the episode read.
The video was far worse than the social copy if you can believe it, with multiple guests whose sole expertise seemed to be their particular distaste for the royal.
A former—and currently very press-hungry—friend of Markle's calls her "manipulating" (we don't particularly know why), as words like "scandal," "abuse," and "bloody lies" flash over images of Markle with Prince Harry.
"She's being called a fiend and a monster," says one white dude.
Why she's being called those things and by whom? Who knows. It just matters that somebody is willing to go on camera and say it, apparently.
Perhaps most stunning, though, is how much the episode appears to hinge on conservative firebrand Katie Hopkins, a source so bereft of credibility that she can't get booked in her native England.
Hopkins has been accused of racism plenty of times in the past because she's, well, been racist plenty of times in the past. First coming to prominence on the U.K. version of The Apprentice, the attention-hungry Hopkins traffics in controversy: she once gained 50 pounds so she could lose them—a demonstration, she said, of how "lazy" obese people are, and defended Donald Trump's Muslim ban.
But that's not all. From Business Insider:
She told the [This Morning] show that she judged which kids were suitable for her children to play with by their names, and linked names of children to social class.

"For me, a name is a shortcut of finding out what class a child comes from and makes me ask: Do I want my children to play with them?"

"When I hear screeched across the playground: 'Tyler! Come back 'ere.' It's the Tylers, the Charmains, the Chantelles, the Chardonnays'."
She's also compared refugees to cockroaches:
"Make no mistake, these migrants are like cockroaches. They might look a bit 'Bob Geldof's Ethiopia circa 1984', but they are built to survive a nuclear bomb. They are survivors," she wrote in a column for the Sun newspaper.
And if somehow, none of that was on-the-nose enough for you, Hopkins once proposed the U.K needed a "final solution" following a terrorist attack in Manchester in 2017. Those comments provoked her then-employer, broadcast company LBC, to fire her. The Mail Online also decided not to renew her regular column.
Anyway, this is the person 60 Minutes Australia tapped to discuss Markle, whom she accuses of "[wearing] bad clothes." Markle "is a no one," Hopkins sneers, calling the duchess "the biggest hypocrite there is."
"When did we ask for that?" Hopkins asks.
People immediately leaped to Markle's defense and pointed out the ridiculousness of having a noted racist speak as an authority on the U.K.'s first black royal.
At any rate, Markle is stateside at the moment to support friend Serena Williams at the U.S. Open. The trip is a solo jaunt, and, we hope the duchess, who hasn't addressed the racist criticism, remains unbothered and unencumbered by 60 Minutes Australia's nonsense.