When we talk about systemic racism in policing, we're not just talking about the extrajudicial executions of unarmed Black people. It's not just about the shootings and the chokehold, but it's also about racial profiling, harassment and the general disregard for the physical, mental and emotional wellbeing of any Black person that police suspect have done something wrong—no matter how young and innocent their "suspects" are in reality. The general idea is that cops behave more aggressively when dealing with Black people and our lives are treated with less value and respect than that of our white counterparts.
The Aurora Police Department in Colorado is apologizing to four Black girls, two of whom were handcuffed and all of whom were made to lie on the ground on their stomachs. All of this because police officers suspected they were in a stolen car—which they were not. The youngest among the group of Black teenagers and children was 6 years old.

From the Associated Press:

A video taken Sunday by a bystander shows the children, ranging in age from 6 to 17 years old, in a parking lot in Aurora, where there have recently been protests over the death of a 23-year-old Black man, Elijah McClain, who was stopped by police last year, KUSA-TV reported.

The video shows the 17-year-old and 12-year-old lying on their stomachs with their hands cuffed behind their backs and a 14-year-old girl lying next to the 6-year-old, also on their stomachs, in a parking lot next to the car. They can be heard crying and screaming as officers stand with their back to the camera. A woman on the other side of the car is shown being led away in handcuffs.

An officer eventually helps the handcuffed 17-year-old and 12-year-old sit up but leaves them sitting with their hands behind their backs.

Police then determined they had stopped the wrong car. It had Colorado license plates but a motorcycle with the same license plate number from Montana was the vehicle that had been reported as stolen on Sunday.
You might be thinking to yourself: "Wait, did I read that last part right? Were they supposed to be looking for a stolen motorcycle, not a car? Am I to believe that when a vehicle is reported stolen, the responding officers don't get a description of the vehicle, just the plate number?" The answers to these questions are yes, yes and bruh, I got nothing.
G/O Media may get a commission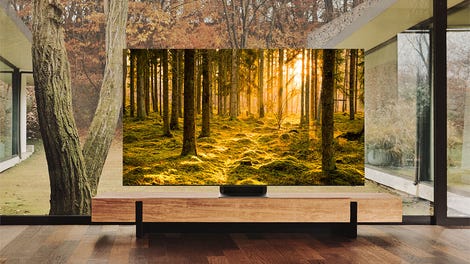 Up to 40% off
Samsung Smart TVs
"Part of the reason for the mixup may have been that the car was reported as stolen earlier in the year, police said," AP reports. (Not that this excuse clarifies literally anything.)

"He's like something about the car being reported stolen," Brittney Gilliam, the driver of the car, told 9 News. "And I'm like 'this happened months ago, you guys cleared it [and] we got to pick up the car the next day, the very next day, so I'm not understanding what's going on.'"

"There's no excuse why you didn't handle it a different type of way," Gilliam said referring to APD. "You could have even told them 'step off to the side let me ask your mom or your auntie a few questions so we can get this cleared up.' There [were] different ways to handle it."

Jennifer Wurtz, the woman who recorded the video of the incident, told News 9 that the responding officers drew their guns as they approached the car and that after she tried to explain to them that there were children in the car and that they were afraid, she was told to back up 25 feet and that she was interfering with their investigation.

On Monday, the APD issued a statement regarding the incident.

"We have been training our officers that when they contact a suspected stolen car, they should do what is called a high-risk stop," the statement reads quoting interim police Chief Vanessa Wilson. "This involves drawing their weapons and ordering all occupants to exit the cat and lie prone on the ground. But we must allow our officers to have discretion and to deviate from this process when different scenarios present themselves."
Wilson also said that she has directed her officers to "look at new practices and training and that she has "called the family to apologize and to offer any help we can provide, especially for the children who may have been traumatized by yesterday's events. I have reached out to our victim advocates so we can offer age-appropriate therapy that the city will cover."

The Black children who were victimized by the officers' lack of "discretion" are unlikely to be moved by this statement.

"It's like they don't care," 14-year-old Teriana Thomas, one of the detained children, told News 9. Then she asked a question that many Black people whose trust in law enforcement has long been eroded have asked: "Who am I going to call when my life is in danger?"