I've often thought about making a list of TV and movie characters so beloved that the actors who play the roles become inextricably linked to the characters. Perhaps the greatest indicator of this phenomenon is when black audiences begin referring to actors by the roles they play.

Michael K. Williams will always be Omar from The Wire. If you ask me if I know Janet Hubert, I'll return a blank stare because I know her by the title bestowed upon her by black America: "the Dark-Skinned Aunt Viv." Perhaps the evilest side-eye I've ever received is when I mistakenly referred to my imagined childhood sweetheart, Good Times actress BernNadette Stanis, as "Thelma."
I didn't mean any harm, but now I am aware that some actors and actresses don't like being pigeonholed by one role.
Brian Tyree Henry couldn't care less.
"I think people feel like they know Paper Boi," the actor told The Root in an exclusive, wide-ranging interview. "I think of it as a tribute to how well the character is written. People come up to me all the time and call me 'Paper Boi.'"
G/O Media may get a commission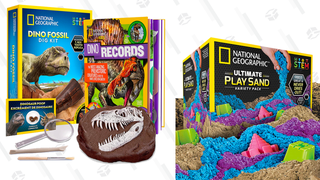 Up to 33% off
National Geographic Science and Activity Kits
Henry's turn as Alfred Miles on the breakout FX hit show Atlanta has garnered both critical success and black popularity—a combination rarely seen in all-black shows. But instead of stiff-arming the comparisons between himself and the character he plays, the actor graciously accepts it as praise for his craft.
"When we started the show, none of us had any idea that mainstream America would embrace a show about a trap rapper. That, in and of itself, was freeing," he said. "We assumed it was going to be, at most, a cult, underground thing. It gave us the freedom to develop the characters into whatever we wanted them to be."
The Fayetteville, N.C.-raised star readily acknowledged the parallels between his real life and the character he plays on the second season of the show. Henry pointed out that he attended Morehouse College, the all-male historically black college located in Atlanta.
"In a way, this season is all about restraint for Paper Boi," Henry said. "When you look at the 'Barbershop' episode, I kept looking through the script wondering, 'When am I going to knock the hell out of Bibby?'
"But Paper Boi's struggle is a lot like mine," he continued. "He's becoming a little more well-known in the city. I had to learn that, too. I had to understand that I can't go to some of my favorite spots in Atlanta anymore. I can't do a lot of the things I used to do."
In Paper Boi's relationships, Henry sees a reflection of his regard for his loved ones. "Alfred loves Earn. He loves Darius. That's how I feel about my family. It's how I feel about Donald [Glover], Lakeith [Stanfield], and the rest of the cast and crew of Atlanta. We're all pretty busy when we're not working together on the show, but we will call each other just to say 'What's up.'"
---
Perhaps Henry has the luxury of accepting the parallels of his most popular role because he is blazing his own trail in the field of acting. The classically trained alumnus of the Yale School of Drama has exercised his acting chops in almost every medium.
He is currently starring on Broadway in Lobby Hero. Like the television critics who have lauded Atlanta, the theater community has lavished praise on Henry for his performance in the Kenneth Lonergan drama. On Tuesday, Henry was nominated for the Distinguished Performance Award by the Drama League, and there is already Tony Award buzz for his portrayal of a police officer in the play.
Besides playing alongside Chris Evans and Michael Cera on the Broadway stage, Henry will appear on-screen in the upcoming action flick Hotel Artemis, with Sterling K. Brown, Jodie Foster and Jeff Goldblum.
"It's an action film. I get to shoot guns and play a totally different character," he explained. "But what I love about the movie is the relationship aspect. I love the fact that they are showing two black men [Henry and Brown] who love each other and are willing to do anything for their brother." He adds:
It's a lot different from the process of playing Alfred on a comedy TV series because we block-shoot Atlanta. Some days ... I'm not even in scenes. There are only four characters in Lobby Hero, which requires you to be present and in the moment.


But the one common denominator in them all is the anxiety and butterflies you feel when you have to perform.
The industry scuttlebutt is that Thursday's episode of Atlanta could earn Henry a second Emmy nomination. He is also set to appear in Moonlight director Barry Jenkins' version of the James Baldwin opus If Beale Street Could Talk.
With Beale Street, Lobby Hero and Atlanta, the real battle may be between Henry and Atlanta co-star (and executive producer-writer-director) Donald Glover for the EGOT—the rare feat of winning an Emmy, Grammy, Oscar and Tony Award. After all, he already has a hit song.
Although I forgot to ask Henry if there will ever be a full album release by his TV-show character, I'm pretty sure one is coming soon.
Trust me, I know Paper Boi.