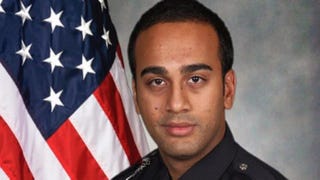 Atlanta Police Officer Tahreem Zeus Rana has been charged with murder in the death of Veronica Woodard, according to the Atlanta Journal-Constitution.
Woodard was a recent transplant from New York when she met Rana through Backpages.com in the romantic-personals section of the site. Woodard's body was found burned on Aug. 22 in Hapeville, Ga., and police say that she had been shot and then set on fire. Police say they were able to link Rana and Woodard through phone records. Investigators believe that Rana may have used his service weapon in Woodard's slaying, the Atlanta Journal-Constitution reported.
"He took her to a secluded area to do the crime and then, after killing her, used some kind of fuel to light her body on fire," Hapeville Police Detective Stephen Cushing told WSB-TV.
Rana was arrested Aug. 28 at Hartsfield-Jackson International Airport in Atlanta while attempting to board a plane to Mexico.
"It hurts a lot more to know that it was somebody in law enforcement," Tashara Gilyard, Woodard's sister, told WSB-TV.
Woodard leaves behind an 8-year-old daughter.
Read more at the Atlanta Journal-Constitution and WSB-TV.