Shooting Suspect Entered Easily; 5 Died
Gizmodo Budget Cuts Claim 44, Root's Journal-isms
Celis to Be Honored for Aiding J-Students of Color
Now The Station Theme Song Plays for Him, Too
Media Faulted for Overlooking 'Surprise' Winner
ICE Shows Up at CBS Interview With Ex-Spokesman
Newsrooms in U.S., Latin America to Help Find Kids
Most Asian Americans Back Affirmative Action
Short Takes

Shooting Suspect Entered Easily; 5 Died
The gunman accused of fatally shooting five people in the newsroom of the Capital Gazette in Annapolis, Md., gained easy access because the newspaper offered little security in a belief that that would be more welcoming to the community, according to reports Thursday and Friday.

"The Capital Gazette building where Thursday's shooting occurred was described as a 'typical office' that doesn't have a front desk, according to St. John Properties," Erin Thacker reported for Washington's WUSA-TV on Thursday, updated Friday.

G/O Media may get a commission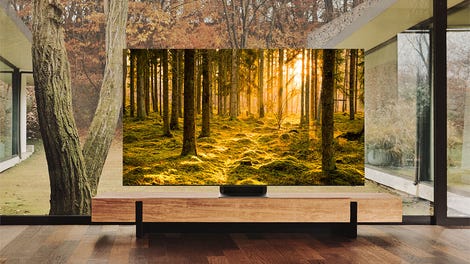 Up to 40% off
Samsung Smart TVs
"The paper's current newsroom had little security, and that's deliberate, said columnist Terence Smith," Jeff Pegues reported on cbsnews.com. On the "CBS Evening News," Pegues added, "but he [Smith] says that is by design, so that the paper remains open to the community. But he added, yesterday a man with a gun took advantage of that."
Many other newsrooms long ago abandoned such a concept, installing security guards and requiring identification before employees may enter the building.
More newspapers are moving in that direction, USA Today reported.
"At least a half-dozen major newspapers are putting more security in place around news organizations," Caroline Simon reported Thursday, updated Friday.
Paul Farhi noted in the Washington Post, "after Thursday's killings, the United States is now the third-deadliest country for journalists in 2018, behind only Afghanistan and Syria, and harassment and threats are a constant shadow for reporters, with female journalists bearing a disproportionate share of the abuse. . . ."
Simon continued, "In New York City, police dispatched units to media outlets across the city to guard against potential copycat or coordinated attacks. New York Police Department spokesman Peter Donald said Thursday dozens of locations were getting extra cover.
"Donald said the action was purely precautionary and not based on a specific threat or information gathered from the Annapolis attack. . . ."
But Simon also quoted Maribel Perez Wadsworth, president of the USA Today Network and publisher of USA Today. "With the utmost caution in mind, we are ramping up security at our offices in Tysons (Corner, Virginia), downtown D.C. and Salisbury, Maryland."

Her story also quoted journalists' tweets Thursday:
Austin Erickson, executive produce at KVRR-TV in Moorhead, Minn., tweeted, "My news director emailed our newsroom about the station's security plan after the Annapolis Capital Gazette shooting. No one should be targeted because of where they work regardless of what field they're in."Petula Dvorak, a columnist at the Washington Post, wrote, "Our newsroom at The Post is in high security alert and in Annapolis, the mood among reporters is grim. This must be how American school kids feel everyday."
Palakiko Chandler, a news intern at KHON-TV, tweeted from Hawaii, "I am literally sitting in a Newsroom in Hawaii, wondering why we don't have any other security measures other than a card to beep in.
"I work directly across the largest outside mall in America.
"Should journalist have to worry about their lives on the job?"
Rick Christie, editorial page editor at the Palm Beach (Fla.) Post: "We don't know for sure yet why this man chose to shoot up a newsroom... but it doesn't matter. Every newspaper in the country needs to review its security protocols... because this is serious. . . ."
Trif Alatzas, publisher of the Baltimore Sun, which owns the Capital Gazette and is in turn owned by Tronc, formerly the Tribune Co., did not respond to a request to comment.However, Tronc said on Thursday that it was stepping up security at its papers, CNN's Brian Stelter reported for his "Reliable Sources" newsletter." "Others are doing the same. This is part of McClatchy CEO Craig Forman's memo to staff on Friday: 'We are reviewing the security at all of our offices across the country and are working quickly to strengthen it where we determine there are weaknesses.' "
Still, some smaller newspapers adhere to the low-security approach.
"John Harrigan, a former editor, publisher, and owner of the News & Sentinel in Colebrook, N.H., is among the few journalists whose newspaper has been attacked," Michael Levenson reported Friday for the Boston Globe.
"In 1997, a gunman who had just fatally shot two state troopers barged into the News & Sentinel's newsroom, where he killed a judge who worked in the building, and an editor who tried to tackle the man. . . .
"Colebrook, home to about 2,300 residents, was crushed by the deadly attack, but the newspaper never considered installing locks on its doors, Harrigan said.
" 'That would be an impediment to human behavior,' Harrigan said. 'People wander in just to visit, people bring their dogs in, and it's a classic, old country newspaper with a real honest-to-gosh newsroom.' . . ."
Some larger papers might be slipping. Bernie Lunzer, president of the Newspaper Guild-Communications Workers of America, messaged Journal-isms on Saturday, "Many newsrooms have lessened their security. I found out last week that the Boston Globe dismissed 10 0f 12 security guards. Perhaps they'll rethink this."
The Sun provided more details of how suspect Jarrod Warren Ramos executed his attack.

"State's Attorney Wes Adams said that Ramos led a 'coordinated attack' that included barricading the back door of the building," Luke Broadwater and Ian Duncan reported Friday.
Broadwater and Duncan also wrote, " 'There were two entrances to the offices in which this attack occurred. The rear door was barricaded,' Adams said later outside the courthouse. 'Mr. Ramos then, as I told the judge, entered the front door and made his way through the office where he was shooting victims as he walked through the office,' he said. . . ."
At a tax event in the East Room of the White House Friday, President Trump said, "Journalists, like all Americans, should be free from the fear of being violently attacked while doing their job." As the event was ending, CNN's Jim Acosta shouted a question three times from the back of the room, Stelter reported.: "Mr. President, will you stop calling the press the enemy of the people, sir?"
"One man turned around and shushed him. Others seemed to cheer more loudly to drown out the Q's. Acosta's critics pounced, saying he was acting inappropriately. . . . CNN's Abby Phillip raised the same issue with Kellyanne Conway: 'Is it time for the president to stop calling journalists "the enemy of the people?" ' Conway did not answer... "
In other developments:
"Ramos made his first appearance in court Friday after being charged with five counts of first-degree murder in the targeted attack, staring impassively and blinking at the camera as he appeared over video link from a county jail," the Sun reported.
Ozier Muhammad, who retired as a photographer for the New York Times, (scroll down) where he worked from 1992 to 2014, asked his social media friends, "Would it be inappropriate for as many from the journalism community currently working and retired to attend the funerals of our compatriots murdered at the Capital Gazette?‬ The way cops do it." He messaged Journal-isms, "I am simply someone who feels, I'm sure the same as you do and so many others, that our community is under siege and that the vicious attacks against the journalism Community has taken on attacks with a greater malevolence since the election of Donald Trump to the White House. "
On Saturday, the American Society of News Editors and the Associated Press Media Editors offered a "two-page tip sheet with some of the best wisdom of journalism organizations committed to journalist safety and the pursuit of a free and dedicated press corps." [PDF]

In addition, Anthony Messenger, a sports intern with the Capital Gazette and a college senior, told NBC-TV's "Today" show and other news outlets that he was still trying to process the "sickening" carnage he witnessed after a gunman opened fire on his newsroom just four weeks after he started his job.

Eun Kyung Kim reported for "Today" on Friday, "Less than a day later, Messenger said he was 'still trying to decompress' and unsure of whether he could return to the Capital Gazette newsroom.
" 'That's never something that crossed my mind when I took the internship, that I might see people die — people that were welcoming and comforting to me,' he said.
"The internship is his first office job and he enjoyed working with colleagues who only showed him support.
" 'They really tried to help me write the best stories I could, so it was unfortunate to see such goodhearted people ultimately suffer such untimely, senseless deaths,' he said."
Members of the Sports Task Force of the National Association of Black Journalists are planning to raise money to invite Messenger to the Aug. 1-5 convention in Detroit as their guest.
Jarvis DeBerry, NOLA.com | Times-Picayune: 20 years after the first column, a renewed commitment to fearlessness
Editorial, Baltimore Sun: When online hatred turns real

Howard Goodman, Palm Beach (Fla.) Post: The targeting of journalists has to end

Jane Harper and Amy Poulter, Virginian-Pilot, Norfolk, Va.: Annapolis newspaper shooting suspect harassed Virginian-Pilot editor for years

Ledyard King, USA Today: I used to work at the Capital Gazette. This shooting didn't hit home, it was home.

Charles P. Pierce, Esquire: Every Newspaper Reporter Knows Jarrod Ramos

The Republican, Springfield, Mass.: Reporter at The Republican resigns over false Twitter post linking Trump to Maryland newspaper shooter

Molly Roberts, Washington Post: The Capital Gazette suspect's rage against truth-telling is just like Trump's

Joel Simon, CNN: Capital Gazette killings reveal harrowing reality for local journalists

Margaret Sullivan, Washington Post: Trump's press attacks didn't cause the Annapolis tragedy. But there is a connection.

David Uberti, Splinter: The Curious Case of Zack Stoner, Slain Chicago Journalist

Erik Wemple, Washington Post: Fox News checked the 'ideological bent' of the Capital Gazette

Matt Wilstein, Daily Beast: Sean Hannity Immediately Blames Maxine Waters for 'Capital Gazette' Shooting

Gizmodo Budget Cuts Claim 44, Root's Journal-isms
"A total of 44 staffers will leave Gizmodo Media Group as part of new budget cuts mandated by the group's parent company Univision," Maxwell Tani reported Thursday for the Daily Beast. Among the casualties is The Root's pickup of "Journal-isms," which has appeared on that site since 2010, acquired by then-managing editor Joel Dreyfuss.

Tani reported, "Multiple people familiar with the reductions told the Daily Beast that GMG — which includes former Gawker Media sites including Jezebel, Gizmodo, and Deadspin — has accepted buyout requests from 44 staffers across the various sites over the past several weeks. Staffers who leave the site will receive a package including 18 weeks of pay and healthcare coverage.
"The departing staff constituted slightly less than 20 percent of GMG editorial union's bargaining unit, which negotiated the buyout packages.
"Among those exiting the company are popular writers and reporters like Alex Pareene, Clio Chang, and J.K. Trotter.
"While some staff from almost every site took buyouts, according to several sources familiar, a more significant portion of the company's video staff, as well [as] employees of the post-Gawker news website Splinter, are set to leave the company. . . ."
Veronica Villafañe, Media Moves: Univision's Gizmodo Media Group Wraps Buyouts, Avoids Layoffs
Celis to Be Honored for Aiding J-Students of Color
"William (Bill) Celis, an associate professor of journalism at the University of Southern California Annenberg School of Communication and Journalism and the school's associate dean for diversity, inclusion and strategic initiatives, is the recipient of the 2018 Barry Bingham Sr. Fellowship," the American Society of News Editors announced Thursday.

"The $1,000 award, given in recognition of an educator's outstanding efforts to encourage students of color in the field of journalism, will be presented at the 2018 ASNE-APME [Associated Press Media Editors] News Leadership Conference Sept. 11-12 in Austin, Texas. . . ."
"In addition to being nominated by several alumni, Celis was recommended by Félix F. Gutiérrez, Ph.D., professor emeritus of journalism at USC Annenberg. . . .
"He sets an example for students and faculty in showing that both diversity and digital ability are key to journalism's future," Gutiérrez wrote. "He prepares students to work in both arenas in his classes and in initiatives he has helped put in place for the entire school. This includes conceiving and helping develop Intersections: The South Los Angeles Report, Annenberg's first community news website dedicated to reporting from underserved communities of color in South Los Angeles County.
"The site, along with a new companion course he developed on urban affairs, helped introduce more Annenberg students to Watts, Compton and the South Central corridor and how to report from these communities . . ."
Journal-isms readers participated in the nominations.
Celis is a former national correspondent for the New York Times and a former reporter and columnist for the Wall Street Journal. He is author of a forthcoming book on San Antonio Independent School District vs. Rodriguez, the 1973 U.S. Supreme Court decision that explores the intersection of the Latino civil rights movement and access to public education.
The federal lawsuit is considered by historians and education experts as a bookend to the court's landmark ruling in Brown v. Board of Education.
Now The Station Theme Song Plays for Him, Too
WPVI-TV in Philadelphia produced this video about Robert Johnson's lifelong quest to work there.
"Robert Johnson had a dream when he was just 2 years old. He wanted to work at WPVI in Philadelphia," Stephanie Tsoflias Siegel reported Monday for TVSpy.

" 'I would just hear the action news theme song. That iconic music, legendary opening,' he said. 'I've listened to it a thousand times and it never gets old.'

"And this summer, he got the chance to live out his dream. The Penn State University student accepted an internship position with the ABC station in Philadelphia.
"WPVI produced a video flashing back to Johnson's first time pretending to be an Action News anchor for an elementary school project, when he appeared in 6ABC promos and how he was inspired to follow his dream to be a meteorologist because of legendary anchors Rick Williams, Monica Malpass and Cecily Tynan. . . ."
Media Faulted for Overlooking 'Surprise' Winner
"It may not have been the tweet heard 'round the world, but it was certainly heard — like a thunderclap — at The New York Times' headquarters at 620 Eighth Avenue in Manhattan," Lloyd Grove reported Thursday for the Daily Beast.

" 'Kind of pisses me off that @ nytimes is still asking Who Is Ocasio-Cortez? when it should have covered her campaign,' Jill Abramson erupted on Twitter on Wednesday morning — a biting reference to the newspaper's original headline concerning the 28-year-old socialist's shocking Democratic primary upset, a landslide actually, over incumbent Joe Crowley in New York's 14th Congressional District."Alexandria Ocasio-Cortez is the daughter of working class Puerto Rican parents. Almost half of her district is Latino; more than 11 percent is black and 16 percent is Asian, NBC News reported.

"Indeed, a quick review of the Times' coverage of the primary race turned up mention of and quotes from Alexandria Ocasio-Cortez in two news stories prior to Election Night, and a few name-checks in editorials — one of which, published in the June 20 print edition, noted that she's 'a challenger [Crowley] is heavily favored to beat' . . ., " Grove continued.
Grove also wrote, "In response to Abramson's critique — which she elaborated in several emailed comments shared with the Times — Times spokeswoman Eileen Murphy told The Daily Beast: 'We have enormous respect for Jill and deeply appreciate her passion. Criticism and feedback [help] us do better work and we're always open to it. On these specifics though, we just disagree with Jill.' A few hours after Abramson's tweet, the headline phrase that pissed her off, 'Who is Alexandria Ocasia-Cortez?' was changed online to 'Alexandria Ocasio-Cortez: A 28-Year-Old Democratic Giant Slayer.' . . . "
Michael Calderone wrote Wednesday for Politico, "Ocasio-Cortez's race was fought just a subway ride away for the Manhattan-based media giants . . .the Times — unlike Splinter, Elite Daily, Refinery29, Ozy and Vogue — did not publish a stand-alone piece on the candidate. . . ."
Calderone also wrote Thursday, "I noted in yesterday's newsletter how the Intercept closely covered Ocasio-Cortez's candidacy, and I later got to discuss why the site made the race a priority with Washington bureau chief Ryan Grim. 'She represented the perfect contrast to Crowley's model of politics,' Grim said. 'Our theory is that big money corrupts politics. The corollary to that is there is another way to do politics.
"Otherwise you're just nihilists. People like Alexandria Ocasio-Cortez, who are doing that kind of politics, are important to highlight, to show there is an alternative.' . . ."
Lee Fang, the Intercept: Lobbyists and Business-Friendly Pundits Mourn Democratic Socialist Alexandria Ocasio-Cortez's Victory
Ryan Grim, the Intercept: Alexandria Ocasio-Cortez Upset Sends Sobering Message to Democrats Reliant on Big Money: It Won't Save You

Errol Louis, Daily News, New York: Ghosts in the Queens machine: Rep. Joe Crowley's profiteering political partners

Roberto Lovato, Latino Rebels: Ocasio-Cortez, Refugiados and the Dangerous Liberal Erasure of Latino Identities

Stephen A. Nuño, NBC News: Can a Latina primary candidate's win bring Democrats back to their roots?

Brian Stelter, CNN: Progressive media saw the Ocasio-Cortez upset coming

Margaret Sullivan, Washington Post: Alexandria Ocasio-Cortez's victory points to a media failure that keeps repeating
ICE Shows Up at CBS Interview With Ex-Spokesman
"In his first television interview, former Immigration and Customs Enforcement (ICE) spokesperson James Schwab has opened up about why he abruptly resigned in March," CBS News reported on Thursday. "But his interview with CBS News' Jamie Yuccas on Wednesday was unexpectedly interrupted by agents identifying themselves as agents from the Department of Homeland Security Inspector General's Office.

" 'They just said that they wanted to talk to me about the leak with the Oakland mayor,' Schwab said of his conversation with the agents.

"Before the surprise visit, Schwab told Yuccas that both the Obama and Trump White Houses asked him to 'spin' information. But he said he felt compelled to resign after the current administration told him to lie about an incident that pitted the government against Oakland's mayor. . . ."
CBS News added, "Schwab said it was 'absolutely' an intimidation technique.
" 'Why, three months later, are we doing this?' Schwab said. 'This is intimidation. And this is why people won't come out and speak against the government.' . . ."
Newsrooms in U.S., Latin America to Help Find Kids
"The newsrooms are in the U.S., Mexico, Guatemala and El Salvador," David Beard reported Wednesday for the Poynter Institute.

"Frustrated at the Trump administration's limited information about thousands of migrant children separated from their parents, a group of news organizations are joining forces to help track down the kids.

"BuzzFeed News, ProPublica, The Intercept and Univision announced Wednesday that they are partnering to gather vital information about the children in immigration detention facilities and shelters. Joining the effort: a leading Mexican news site, Animal Político, the Guatemalan site Plaza Pública, and El Faro, from El Salvador.
"The outlets will be asking readers for tips and information — including through secure channels — about what's happening on the ground at the border, in shelters, in facilities and in courtrooms. . . ."
Jenice Armstrong, Philadelphia Daily News: Kudos to Philly DA Larry Krasner for reassuring undocumented immigrants who survive domestic abuse
Rekha Basu, Des Moines Register: Des Moines DREAMer dies within weeks after being sent back to Mexico's violence

Sam Biddle, the Intercept: Thomson Reuters Defends Its Work for ICE, Providing "Identification and Location of Aliens"

Sahil Chinoy, Jessia Ma and Stuart A. Thompson, New York Times: MS-13 Isn't the Problem Trump Says It Is

Jarvis DeBerry, NOLA.com | Times-Picayune: After New Orleans church shields man facing deportation, ICE relents

Editorial, Kansas City Star: Will Gov. Colyer and Kansas officials stand up for the migrant children in Topeka?

Editorial, Miami Herald: Separating kids and parents was easy. Now, Trump administration must get hard job of reunification right.

Editorial, News & Record, Greensboro, N.C.: Incivility is our new Civil War

Doug George-Kanentiio, indianz.com: Our Native Nations Should Offer Refuge for the Refugees

Renée Graham, Boston Globe: Civility can wait; the fight for democracy cannot

Christina Jewett and Shefali Luthra, Kaiser Health News: Immigrant toddlers ordered to appear in court alone

Solomon Jones, Philadelphia Daily News: Maxine Waters deserves better from her party

Shaun King, the Intercept: Would You Serve a Cheeseburger to Sarah Huckabee Sanders? Where's Your Line in the Sand?

Ruben Navarrette Jr., Washington Post Writers Group: Both parties fail refugees — and America along with them

Andrés Oppenheimer , Miami Herald: Unless we help curb violence in Central America, frightened people will flee to our border

Andrés Oppenheimer, Miami Herald: Immigrant families don't "infest" America — but Trump's racist rhetoric does (June 20)

Andrés Oppenheimer, Miami Herald: Tell President Trump: 'We are all Jimena Valencia' in his un-American war against immigrants (June 22)

Clarence Page, Chicago Tribune: Trump has a new 'Willie Horton': MS-13

Leonard Pitts Jr., Miami Herald: We're not only trashing each other, we're trashing America

Mary Sanchez, Kansas City Star: What made an ICE agent go rogue and shove an immigration lawyer?

Miranda S. Spivack, Reveal, Center for Investigative Reporting: Before family separations, Trump quietly removed protections for migrant kids

Linda Valdez, Arizona Republic: 15 kids a week are being ripped from their parents in Tucson. Finally, a judge takes a stand

Fabiola Santiago, Miami Herald: Kids in cages did not move Trump to end separation policy. It was our outrage.

Michael Paul Williams, Richmond (Va.) Times-Dispatch: Sarah Huckabee Sanders should have been served her meal. Here's why.

Most Asian Americans Back Affirmative Action
"A lawsuit against Harvard University alleging racial discrimination has sparked intense interest in Asian Americans' attitudes about race-conscious admissions and other policies to address racial diversity in college admissions and in other settings," Karthick Ramakrishnan and Janelle Wong reported June 18 for AAPI Data.

"Below, we highlight findings from Asian American public opinion data on this topic, in the hope that it can inform better news coverage of the issue.

"Three key findings emerge from the survey data:
"1. Asian Americans have consistently supported affirmative action policies, with some differences in support depending on question wording;
"2. Support among Chinese Americans has declined dramatically over four years, while it has remained stable for other Asian Americans;
"3. Despite declines due to opinion change among Chinese Americans, nearly two-thirds of Asian Americans still support affirmative action
"The data we reference are based on telephone surveys conducted in English and several Asian languages in 2012, 2014, and 2016. . . ."
Alex Beam, Boston Globe: The true mission of the lawsuit against Harvard
Max Boot, Washington Post: Why I changed my mind about diversity in academia (June 20)

Chen Chen, electricliterature.com: I'm Not Here to Play the Suffering Minority for White Readers (June 14)

Editorial, Chicago Tribune: A collision of values: Does Harvard cheat Asian-American applicants?

John Eligon, New York Times: Asian-Americans Face Multiple Fronts in Battle Over Affirmative Action (June 16)

Janelle Wong and David Silver, Boston Globe: Telling the wrong story about racial discrimination in education (June 18)

Short Takes
---
See You at Journal-isms.com
This will be the last "Journal-isms" column for The Root, although the column will continue at http://journal-isms.com
This is a partnership that began in 2010. I've enjoyed interacting with Root readers, and hope you will continue to follow the column at the journal-isms.com address.

We have just celebrated the 50th anniversary of the report of the presidentially appointed Kerner Commission, officially the National Advisory Commission on Civil Disorders. It told the nation that it had found "a press that repeatedly, if unconsciously, reflects the biases, the paternalism, the indifference of white America," and thus shared responsibility for the uprisings of the 1960s. (Chapter 15, < http://bit.ly/2nb8mZr >)
Its conclusions hover over the work of many of us who report the news for you, and we value your feedback. Thank you for engaging in the continuing effort to keep the news media's feet to the fire on issues of race. Their portrayals affect us all.
See you at the other address.