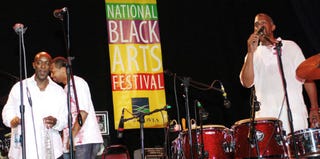 (The Root) — You can always tell when the National Black Arts Festival is headed to Atlanta.
Colorful banners with its logo sway on lampposts dotting Peachtree Street. Black talk-radio stations begin interviews with organizers and participants. Local media start featuring ads. And there's also the kickoff celebration.
"They definitely do a good job [advertising the event]. If you're not going, you know what you're missing," notes longtime Atlanta resident Chandra Thomas Whitfield. Thomas Whitfield has attended several NBAF events since her undergrad days at Clark Atlanta University in the '90s. She's among the 30,000 patrons who attend NBAF events annually, according to the festival's site.
The NBAF, which marks its 25th anniversary this year, was created as a haven to celebrate the works and accomplishments of various artists of African descent from around the globe. It's grown to become the "largest celebration" of its kind, showcasing works by artists from a variety of disciplines — dance, film, literature, music, performance art, theater and visual art, and featuring events for all ages. It really is a festival you'll want to check out.
Over the years the arts celebration has included a plethora of events, such as the Pan African Film Festival, a literary festival, musical performances, artists and vendors' market and introspective conversations with the likes of Alice Walker, Cornel West and Judith Jamison. Legendary poets Maya Angelou and Sonia Sanchez each have attended at least four times over the past two and a half decades as honorees and literary festival participants. Angelou's most recent appearance was in 2005 with her son Guy Johnson, along with good friend and fellow literary great Nikki Giovanni and veteran filmmaker father-son duo Melvin and Mario Van Peebles. Harry Belafonte and Cicely Tyson teamed up as spokespeople a few times. Other notables who've shared their artistic wisdom include Nancy Wilson, Diahann Carroll, Amiri Baraka, Phylicia Rashad, Hugh Masekela, Ntozake Shange, Abbey Lincoln and August Wilson.
One of Thomas Whitfield's favorite NBAF memories is from 2002, when the festival was held at the Atlanta University Center and featured an outdoor International Vendors Market along with an indoor Artists' Market.
"I thought it was a great partnership to bring the community of Atlanta to the AUC campus. I can still visualize dozens and dozens of vendors just kind of set out on the grassy area," the HBCU graduate remembers.
She spent the day with her family and leisurely walked around, eyeing items like mud cloth, cowrie shell-accented jewelry and African masks, and then negotiating for deals with sellers. Looking back, Thomas Whitfield — who's visited Ghana and South Africa — says the experience reminded her of the markets she visited during those trips.
"You can get some nice stuff at a great price. I definitely use it as an opportunity to stock up on those sorts of things that I have in my home," she says, adding that her purchases at the festival were far cheaper than at a brick-and-mortar business.
Her friends from Birmingham, Ala., who are black-art lovers make the two-hour trek annually to shop for art at the summer festival. 
"Overall I think it's a great event and has established a name for itself," she says.
The NBAF Art Festival will take place July 12 to July 15 at Centennial Olympic Park, with the NBAF Gala — its black-tie fundraising event — taking place on July 20 at the InterContinental Buckhead. This year's gala is a tribute to Broadway with the theme "A Gathering of Colors." Last year, the NBAF honored screen gem Ruby Dee during its gala celebration. 
In between attending NBAF-sponsored events is an opportune time to visit one of Atlanta's greatest offerings: the Martin Luther King Jr. National Historic Site. Visitors worldwide have descended on this Southern city to get a better understanding of the peace leader. You could visit King's boyhood Auburn Avenue neighborhood, including his birth home, the Martin Luther King Jr. Center for Nonviolent Change Inc. (King Center) and the historic Ebenezer Baptist Church where King, his father and grandfather preached. Admission is free.
Situated in midtown, the Woodruff Arts Center — home to the Alliance Theatre, Atlanta Symphony Orchestra, High Museum of Art, Young Audiences and Table 1280 restaurant and lounge — is also worth a visit. You could check out the "Rashid Johnson: Message to Our Folks" and "Symmetry/Asymmetry: African Textiles, Dress, and Adornment" exhibits at the High Museum and then grab a bite to eat at Table 1280.
The Fernbank Museum of Natural History is also another option. Yeah, it's cool to explore the various exhibits like Fernbank NatureQuest or "Conveyed in Clay: Stories From St. Catherine's Island" alone or with the family during the day. But at night, when you want to unwind, Fernbank also hosts the popular "Martinis & IMAX" — a change from the traditional bar scene offering cocktails, hors d'oeuvres and a movie — from 6:30 to 11 p.m. on Fridays.
Click here for The Root's ultimate summer festival guide, and find out where to eat, sleep and party while you're attending some of the season's hottest events. 
Aisha I. Jefferson is a frequent contributor to The Root. You can follow her on Twitter or visit her at aishaiman.com.