Big brothers can be pretty amazing (that is, when they're not annoying you into oblivion), but one Arizona big brother is literally a hero after he went into his burning home to get his two baby sisters out.
"I just wanted to get everybody out because I wanted us to still be a family and not have to lose anybody because I've lost a lot of people in my life," 17-year-old Samuel Hatten of Tucson recalled, according to KVOA-TV.
The incident started around noon on Friday, April 6, when a light switch inside the family's home apparently caught fire. The family dogs could be seen running out of the room as soon as the fire sparked, but Samuel's 6-month-old and 18-month-old sisters were both inside napping.

Samuel was actually already outside, grabbing the mail, when he started to see smoke and hear the fire alarms. That's when he jumped into action, running back inside to get his sisters.
"I grabbed both of them in my arms and climbed out the window backwards and swung my legs around and hopped out. I came and sat right here by the post and sat down and started yelling for help," he said.
G/O Media may get a commission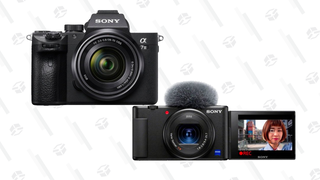 Cyber Monday Deals
Sony Camera Sale
His quick actions likely saved the lives of the little girls, as well as the family pets.
"If I could give him a million dollars, I would. I don't know what else I could do for him. If I ... it's beyond words. They are here because he was here," Philip French, Samuel's foster father, who is also Samuel's sister's husband, told the news station.
The fire originated in Samuel's room, and as a result, most of his belongings were destroyed in the blaze. French has started a GoFundMe campaign hoping to raise $2,000 to replace those items.
For now, the family of five is staying in a hotel as they wait for their home to be repaired. The Tucson Fire Department is still investigating but believes that the fire was electrical.
"I was kind of distraught at first, but I felt better now because I know that they are going to be in my life, and I know that I'm not going to lose them," Samuel said. "We all look out for the babies, the dogs. We look out for each other; we're trying to stay strong and hoping for the best."