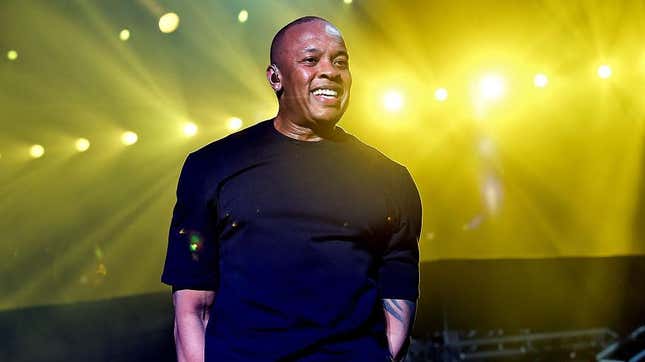 Whenever an "old head" shares their thoughts on the current landscape of hip-hop, I expect to hear something negative. They often say "Everything sounds the same" or "All they do is mumble on every track." It's an old and tired response for veteran rap fans that have not truly given today's artists a fair listen. But that wasn't Dr. Dre's response when asked to give his opinion on modern-day rap.
My Hip-Hop Story: Sway Calloway Felt Like a Superhero Living Through The Genre & Culture's Early Years
During a conversation with Kevin Hart on his Peacock show, Heart to Heart, the legendary producer gave a nuanced answer that did not crush today's hip-hop but didn't necessarily give them all of their props either.
He said, "Hip-Hop is what it is. Anybody that's talking about the state of hip-hop right now, when talking about it from a negative place, sounds like somebody's fuckin' grandfather. This is just what it is. Hip Hop is evolving. If you don't like it, don't listen to it, you know what I'm saying?"
He continued, "I'm keepin' it all the way 100 with you. Some of this shit, most of this shit, I don't like. I don't listen to a lot of that shit. But I'm not hatin' on it. I'm never gonna hate on it."
Does Dr. Dre have a point?
I second all of Dre's emotions when he says, "When talking about it from a negative place, sounds like somebody's fuckin' grandfather."
I think one of the issues I often have with people who look down on today's hip-hop is that they are playing the exact role that previous generations did when hip-hop first came into prominence. Hip-hop is a genre that is meant to evolve. The core of the genre is taking something that's already been done and using it to create something unique and fresh. Anyone that's expecting hip-hop to sound like it did 30 years ago is never going to enjoy anything that's currently coming out, especially in the mainstream landscape.
Where my opinion differs from Dre's is when he says "Most of this shit, I don't like." While I'm definitely in no position to tell one of the most important figures in hip-hop what he does and does not like, I feel like we are genuinely in a golden age of hip-hop.
Yes, the genre is oversaturated and there are too many MCs to keep track of. But I genuinely believe that there is more great hip-hop music coming out than there ever has been before.
If you're a hip-hop fan that goes searching for quality music and does not just let TikTok or the DSPs spoon-feed songs, there's so much enjoyable hip-hop to choose from. This year alone artists such as Danny Brown, JPEGMAFIA, Killer Mike, McKinley Dixon, Black Thought, Larry June, Navy Blue, Conway the Machine, Boldy James, IDK, Deante' Hitchcock, Fly Anakin, Veeze, and Meyhem Lauren have released hip-hop albums that aren't considered mainstream music. If you don't actively search out these artists, there's a chance that you might miss them.
So while I'm glad that Dr. Dre isn't hating on the current state of hip-hop, don't take his word for it when he says he doesn't like "most of the shit" coming out now, because there's more than enough music that will satisfy your music appetite.