During the last two decades, the NBA has become an international affair with waves of players arriving from Europe and South America. Is Africa next?
The play of Chicago Bulls forward Luol Deng, who is from Sudan, Milwaukee Bucks forward Luc Richard Mbah a Moute, who is from Cameroon, and Oklahoma City Thunder forward Serge Ibaka, who is from the Republic of Congo, may be the start of a new wave of African-born players in the NBA.
Fans of a certain vintage may scoff at the notion that this is news; African players have made an impact in the NBA already. Hakeem Olajuwon, the Houston Rockets legend and NBA Hall of Famer, was from Nigeria, and in a storied career that ran from 1985-2002, he led his team to two NBA titles. And Dikembe Mutombo from the Democratic Republic of Congo recently concluded a career that merits Hall of Fame consideration due to his eight All-Star games and four Defensive Most Valuable Player awards.
The difference is that Mutombo and Olajuwon are seven feet or taller, and there is always a market in the NBA for height. If researchers discover a village in Antarctica where there are seven footers playing hoops today, NBA scouts, player agents and ESPN correspondents would be there tomorrow. After the initial success of Olajuwon and Mutombo, scouts eagerly recruited several seven-footers from Africa. Unfortunately, their primary qualification was height, rather than any tangible NBA skill, and during the last 10-15 years, players like Yinka Dare from Nigeria, Manute Bol from Sudan, Ruben Boumtje-Boumtje from Cameroon and several others have washed in and out of the margins of the NBA.
The new wave of NBA players are making an impression with their skills, and each will have an impact as the playoff races shift into high gear in the second half of the season. Deng is the most accomplished, and his route to the NBA might become archetypal for other African hoopsters. Deng was born in the Sudan, a member of the Dinka ethnic group. His father moved the family to Egypt during the second Sudanese Civil War, where he met Bol, who is also a Dinka. Bol mentored Deng at his basketball camp, and Deng moved to England and then the United States, where he attended Duke University.
G/O Media may get a commission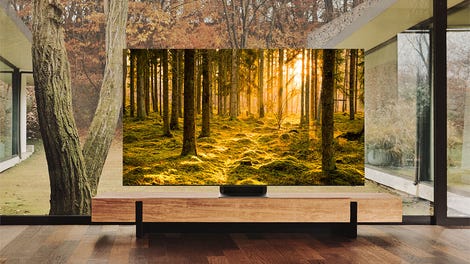 Up to 40% off
Samsung Smart TVs
After a standout NCAA career, he was drafted by the Phoenix Suns and immediately traded to the Chicago Bulls in 2004. He has been a top player with the team since then, leading them to their first winning seasons since the Michael Jordan era. This season, Deng has come back from a subpar performance last year by averaging 17.7 points and 7.4 rebounds per game. His improved play is one of the reasons that the Bulls are in the middle of the Eastern Conference playoff picture.
Not much was expected of Luc Richard Mbah a Moute when he arrived in Milwaukee Bucks camp in 2008. Although he had a stellar career at UCLA (he and fellow Cameroonian Alfred Aboya had their own cheering section, the Cameroon Crazies, a group whose name is a sly spin on Duke's Cameron Crazies), Mbah a Moute was a second-round pick, and players picked that low usually play for the minor league team or sit at the end of the bench, only getting playing time during blowouts. Instead, Mbah a Moute impacted his team in a way few rookies do—defensively. He quickly became the Bucks perimeter stopper, helping the team improve from a miserable defensive squad to a middling one. He's won praise from NBA analysts like ESPN.com's John Hollinger, who felt Mbah a Moute's absence from the All-Defensive team last season was a travesty. And he has superstar admiration, too. "He's a good defensive player," said Kobe Bryant to reporters after a game in Milwaukee last season. "I like his energy. I like his effort. You don't see a lot of players who understand the value of playing hard defensively." The Bucks are on the periphery of the playoff picture, and their defense, which ranks eighth in points allowed per 100 possessions, is their best asset.
Like Mbah a Moute, Ibaka has been a pleasant surprise this season. Ibaka was drafted late in the first round in 2008, and after a year with a Spanish League team, he arrived in Oklahoma City with expectations that he would spend the year refining his game in the minor leagues. Instead, Ibaka has become a key reserve for the Thunder, and he sports the third highest rebound rate among NBA rookies this season. The Thunder have risen to playoff contender due to forward Kevin Durant's prodigious scoring and their substantial improvement on defense. Ibaka is a big part of that defense.
Deng, Mbah a Moute and Ibaka all share uncommon length, long arms which shorten the passing lanes and make them excellent defenders. Since many African players start their athletic careers in soccer, most figure to be good defenders as NBA defense requires quick footwork. These three join a growing legion of players with African parentage such as Ibaka's teammate Thabo Sefolosha as well as Emeka Okafor of the New Orleans Hornets, Kelenna Azubuike of the Golden State Warriors, and Ime Udoka of the Sacramento Kings. Memphis Grizzlies reserve center Hasheem Thabeet from Tanzania has a good chance of becoming a dominant defensive player in Mutombo's mode.
There are basketball academies throughout Africa now. Many are run by players who spent a brief moment in the NBA or the European leagues, so there is an incubator for future talent. European leagues, the NCAA and even leading American high schools have taken note. Deng, Mbah a Moute and Ibaka may be pioneers as well as up-and-coming NBA players.
Martin Johnson is a regular contributor to The Root. Follow him on Twitter.
Martin Johnson writes about music for the Wall Street Journal, basketball for Slate and beer for Eater, and he blogs at both the Joy of Cheese and Rotations. Follow him on Twitter.