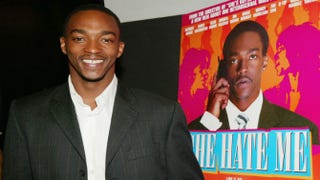 Actor Anthony Mackie, who has appeared in The Hurt Locker, The Adjustment Bureau and Man on a Ledge, was arrested Saturday morning for allegedly driving while intoxicated, reports show.
Police reportedly pulled the 35-year-old star over about 1:30 a.m. in Harlem for tinted windows, but noticed that he had bloodshot, watery eyes, and they smelled booze, TMZ reports. He was arrested after reportedly failing several field sobriety tests, the site says. He refused to take a Breathalyzer test to measure his blood-alcohol level.
Mackie is awaiting arraignment in Manhattan Criminal Court.
Read more at TMZ.