Top-Rated Morning Show Presents Multicultural Face
"Ann Curry will replace Meredith Vieira as co-host of the 'Today' show, NBC announced Monday, confirming much-anticipated changes in the cast of its perennially dominant morning show," Bill Carter and Brian Stelter reported Monday for the New York Times.
"Ms. Vieira told the program's audience Monday of her decision to step down, followed by the naming of Ms. Curry to the role of co-anchor, teamed with Matt Lauer. Natalie Morales will take on the role of newsreader, and Savannah Guthrie will join the show, hosting the third hour with Ms. Morales and Al Roker.
"Steve Capus, the president of NBC News, said at a news conference that NBC was making changes 'from a position of strength.' The show is the most profitable in television, taking in an estimated $200 million a year.
"NBC passed over Ms. Curry to select Ms. Vieira five years ago, and some internal questions remain about the chemistry of the Lauer-Curry pairing."
The new lineup presents one of the most multicultural faces on television. Lauer and Guthrie are white, Roker is black, Morales is Hispanic and Curry was born in Guam to a Japanese mother and a white American father, a World War II-era G.I. stationed in Japan after the war.
G/O Media may get a commission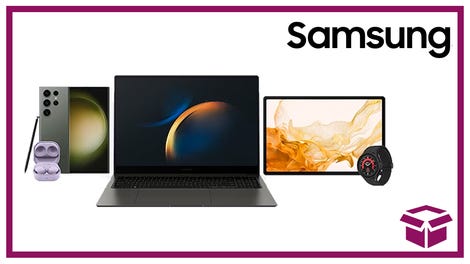 24 hour deals
Discover Samsung - Daily Deal
Curry returned to Japan to trace her heritage in a previous segment of the show.
"The Asian American Journalists Association is thrilled that Ann will be a host on 'Today,' " Doris Truong, national president of AAJA, told Journal-isms on Monday. "Throughout her career, she has been an outstanding example for the journalism community, winning awards from AAJA - among others - for her reporting. We wish her great continued success in her new role."
On May 1, Stelter and Carter wrote, " 'Today' has maintained its pre-eminence through a skillful series of transitions from its established stars to new hosts. Now that is in new hands: Vieira-to-Curry is the first big talent transition for Comcast to manage since it took over NBC in January.
"When Ms. Couric left five years ago, NBC went outside the 'Today' cast and the news division's staff to hire Ms. Vieira, a former CBS News correspondent who had become the host of ABC's daytime talk hit, 'The View.'
"The move proved successful, though it struck some of the show's regular viewers as an obvious slight to Ms. Curry, who had put in more than a decade and seemed to be the next co-host in waiting. Ms. Curry and her agent expressed unhappiness at the time, [a] veteran NBC executive said, and she had to be convinced that she was still held in high regard at the network.
"She agreed to stay and set about to solidify her news profile on the show by making numerous trips to sites of breaking news, often to scenes of natural disasters like the earthquake in Haiti last year, or other locations struck by tragedy, like Darfur, Pakistan, Syria and Kosovo.
" 'My dream has been to be a journalist of our time,' she told graduates at Wheaton College in Norton, Mass., last year. 'My aim is to reveal the truth about war, genocide, crimes against humanity and other human suffering.'
". . . Two executives familiar with the terms said Ms. Curry won a clause in her current contract that assured her that if she did not get the promotion this time, her contract would be voided and she would be available to move elsewhere immediately."
Rob King, most recently ESPN's vice president and editor-in-chief, digital media, has been given editorial oversight of ESPN: the Magazine, the company's high schools initiative and espnW, ESPN's new digital initiative serving female sports fans, the company announced on Monday.
As part of the changes, Patrick Stiegman, formerly ESPN.com executive editor, is now editor-in-chief of ESPN.com. Stiegman and Chad Millman, who was recently named editor-in-chief of ESPN: The Magazine, will report to King, who in turn reports to John Kosner, senior vice president of ESPN digital and print media.
As reported last month, four African American editors at ESPN: The Magazine are leaving the publication rather than move with the editorial staff from New York to Bristol, Conn., in July. Departing will be senior deputy editors David Cummings and Roxanne Jones, General Editor Ashley Williams and Senior Editor Andrew Simon.
The company said it wanted the magazine to be under the same roof - for the first time since its founding - with the rest of the ESPN operation "for content integration across all the ESPN platforms."
King, 49, was named to head ESPN.com in 2007 after leaving the Philadelphia Inquirer for ESPN only three years earlier. Previously a cartoonist, reporter and graphic designer, King left the Inquirer as deputy managing editor/visuals and sports after seven years there.
King went from the Inquirer to senior coordinating producer at ESPN, overseeing the "Outside the Lines" show daily and the ESPN research department from ESPN's offices in Bristol.
Editors Sorry for Removing Women from White House Photo
The editors of the Hasidic Jewish newspaper Der Tzitung, published in Brooklyn, N.Y., have apologized to the White House for removing women from the iconic photo of President Obama and his national security team in the White House Situation Room a week ago as Osama bin Laden was being confronted and killed.
"In accord with our religious beliefs, we do not publish photos of women, which in no way relegates them to a lower status," the newspaper said in an email to the Washington Post. "Because of laws of modesty, we are not allowed to publish pictures of women, and we regret if this gives an impression of disparaging to women, which is certainly never our intention. We apologize if this was seen as offensive."
The guidelines stipulated on the official White House Flickr page, where the photo was released for use by news organizations, say, "The photograph may not be manipulated in any way."
The newspaper said in its email, "Our photo editor realized the significance of this historic moment, and published the picture, but in his haste he did not read the 'fine print' that accompanied the picture, forbidding any changes. We should not have published the altered picture, and we have conveyed our regrets and apologies to the White House and to the State Department."
* Michael Arceneaux, theGrio.com: Why isn't Obama getting more love for killing bin Laden?
* Arthur S. Brisbane, New York Times: The White House's Bedtime Bombshell
* Stanley Crouch, New York Daily News: Obama can use a razor, too: Killing Bin Laden in Pakistan exposes right's myth that he's a softie
* Ted Diadiun, Cleveland Plain Dealer: Telling the big story involves so much more than words
* Derek Donovan, Kansas City Star: Conspiracy theories a distraction from real news
* Toni Fitzgerald, medialifemagazine: Big bump for '60 Minutes' with Obama
* Juan Gonzalez, New York Daily News: Obama visits Ground Zero: Osama Bin Laden is dead, but terror lives on
* Steve Kroft interviews President Obama, "60 Minutes," CBS: Kil ling Bin Laden: The President's Story (video)
* Native American Journalists Association statement on Geronimo
* Ruben Navarrette Jr., Washington Post Writers Group: Delivering on His Promises
* Clarence Page, Chicago Tribune: What bin Laden, Geronimo shared
* Bob Richter, San Antonio Express-News: Why I'd like to see bin Laden's death photo
* Eugene Robinson, Washington Post: Torture wasn't the key to finding bin Laden
* Elmer Smith, Philadelphia Daily News: The dumbing-down of America: Cuts in higher-education aid
* David Squires, Daily Press, Newport News, Va.: Obama goes into attack mode - finally
* Mark Trahant, Indianz.com: Tribes should prepare for the worst on budgets
* Jack White, theRoot.com: RightWatch: Osama bin Laden is dead. Hear that noise? It's the sound of anguished wailing from the radical right.


New York's magazine cover story this week is called "Paper Tigers," subtitled, "What happens to all the Asian-American overachievers when the test-taking ends?"
Wesley Yang's piece begins, "Sometimes I'll glimpse my reflection in a window and feel astonished by what I see. Jet-black hair. Slanted eyes. A pancake-flat surface of yellow-and-green-toned skin. An expression that is nearly reptilian in its impassivity. I've contrived to think of this face as the equal in beauty to any other. But what I feel in these moments is its strangeness to me. It's my face. I can't disclaim it. But what does it have to do with me?
"Millions of Americans must feel estranged from their own faces. But every self-estranged individual is estranged in his own way. I, for instance, am the child of Korean immigrants, but I do not speak my parents' native tongue. I have never called my elders by the proper honorific, 'big brother' or 'big sister.' I have never dated a Korean woman. I don't have a Korean friend. Though I am an immigrant, I have never wanted to strive like one.
"You could say that I am, in the gently derisive parlance of Asian-Americans, a banana or a Twinkie (yellow on the outside, white on the inside). But while I don't believe our roots necessarily define us, I do believe there are racially inflected assumptions wired into our neural circuitry that we use to sort through the sea of faces we confront. And although I am in most respects devoid of Asian characteristics, I do have an Asian face."
He also writes, "The failure of Asian-Americans to become leaders in the white-collar workplace does not qualify as one of the burning social issues of our time. But it is a part of the bitter undercurrent of Asian-American life that so many Asian graduates of elite universities find that meritocracy as they have understood it comes to an abrupt end after graduation. If between 15 and 20 percent of every Ivy League class is Asian, and if the Ivy Leagues are incubators for the country's leaders, it would stand to reason that Asians would make up some corresponding portion of the leadership class."
And: ". . . If the Bamboo Ceiling is ever going to break, it's probably going to have less to do with any form of behavior assimilation than with the emergence of risk-takers whose success obviates the need for Asians to meet someone else's behavioral standard. People like Steve Chen, who was one of the creators of YouTube, or Kai and Charles Huang, who created Guitar Hero. Or Tony Hsieh, the founder of Zappos.com, the online shoe retailer that he sold to Amazon for about a billion dollars in 2009. Hsieh is a short Asian man who speaks tersely and is devoid of obvious charisma. One cannot imagine him being promoted in an American corporation. And yet he has proved that an awkward Asian guy can be a formidable CEO and the unlikeliest of management gurus."
* Lydia Lum, Diverse: Issues in Higher Education: Asian American Publications Seeing Growth on U.S. Campuses


"On Tuesday, President Barack Obama will visit El Paso, Texas, where he will discuss border security and the need for Congress to address immigration quandaries," Mary Sanchez wrote Sunday in her Kansas City Star column.
"Guess which local newspaper will have a close angle?
"Dos Mundos, a 30-year-old bilingual paper that began in the Overland Park basement of Clara Reyes, might have a reporter nearby.
"The paper recently expanded with editions in Topeka and Odessa, Texas. Reports from those areas will be forwarded here, formatted and then sent back.
"The new arrangement is one more reason why the Mexican consul in Kansas City honored Reyes last week with the Ohtli Award, given to 'individuals whose efforts have significantly contributed to the well-being, prosperity and advancement of the Mexican communities abroad.'
"Ohtli is a word in Nahuatl, an indigenous Mexican language. It means camino, pathway.
"Consul Jacob Prado noted that Reyes, 'day after day works to tirelessly promote the integration and assimilation of immigrants to the American society.'
"Dos Mundos (Two Worlds) has long been used in area classrooms where people learn English or Spanish.
"Along with her husband, Manuel Reyes, Clara Reyes also manages three local Spanish-language radio stations, two for music and one religious."
* Esther Cepeda, Chicago Sun-Times: Dream Act can help students get over the top
* Albor Ruiz, New York Daily News: Props to the governor who let state quit fed plan that ousts immigrants
The graduation story of the season could be from Wayne State University in Detroit, where "Victor Chukwueke, an unknown 25-year-old biochemistry and chemical biology major . . . addressed fellow graduates of the College of Liberal Arts at Detroit's Wayne State University on Thursday," as Reginald Stuart wrote for Diverse: Issues in Higher Education.
". . . Born into a poor family in a rural Nigerian village about 100 miles from Lagos, Chukwueke developed a benign tumor during his childhood. Caused by Neurofibromatosis, the tumor grew and grew and grew on the front and top of his face and head causing severe facial deformity, discomfort and eventually costing his sight in his right eye,' Stuart's story continued.
"Chukwueke's mother, Mary Chukwueke, spent years making fruitless visits to doctors and hospitals around the country seeking help for her child. One after another, doctors said there was nothing they could do for Victor (most people who know him call him by his first name), as they had neither the expertise nor facilities for the type of surgical work required."
Eventually, with the help of a missionary nun who ran a center for orphans and mentally and physically challenged people in Nigeria, Chukwueke made his way to the United States.
Over the next seven years, Chukwueke had six intricate surgeries to remove the tumor and undergo the facial reconstruction necessary to give him a more normal look for the first time in his life. The work is not complete.
For last week's graduation, school officials made a rare exception to their longstanding rule of having only the valedictorian speak from the student body. Chukwueke's mother was present, seeing her son for the first time since he left Nigeria in 2001.
". . . As for his estimated 4,000 fellow graduates, Chukwueke used his real life story to persuade them 'anything is possible, that they can overcome any challenge, they can achieve anything.' He's living proof of this admonition, he says," Stuart wrote.
* Commencement speech (video)
Ian Lee, a freelance reporter who was at the scene of sectarian tension in Cairo, Egypt, during the weekend, wrote about the experience Sunday for cnn.com. The clashes resulted in more than 10 deaths and scores of injuries:
"It was an ominous warning from residents of Imbaba, a lower-income Cairo neighborhood. Three freelance journalists and I were responding to a report that 500 Salafists, ultraconservative Muslims, were clashing with Christians near a local church. Imbaba is a sprawling community, home to more than a million working-class residents living in rundown buildings next to uneven roads.
"We entered onto those narrow streets by taxi. We'd end up leaving on foot, running for our lives.
"This night, the Salafists claimed to be trying to retrieve a woman locked inside St. Mena Church who converted from Christianity to Islam. In the ensuing clashes, more than 10 people died and more than 100 others were injured.
". . . During the ruckus, one of the other journalists went missing. With the angry pack gaining ground, another decided to go back and look for him. The mob had grown larger and louder with some wielding sticks and knives. Seeing them approaching and the sound of gunfire once again ringing out, the remaining journalist and I again started sprinting down the street.
"With the wall of people gaining ground, the thought of dying crossed our minds, as we frantically searched for an empty taxi. Finally, we jumped onto an empty microbus, offering the man 100 Egyptian pounds, roughly $17, to speed away.
". . . This incident shows how the reporting scene in Cairo has changed during Egypt's political transition. Before the revolution, reporters had to dodge the authorities. Now we dodge angry mobs as Egypt tries to restore stability."
The sexual assault and beating suffered by CBS News correspondent Lara Logan at the hands of a violent mob in Egypt's Tahrir Square brought public attention to an issue that the news media have been all too quiet about.
But in a discussion about sexual violence toward female correspondents Friday on NPR's "Tell Me More," an Egyptian Muslim columnist suggested that "it's only when a white woman speaks out about something that we recognize it happened."
In a conversation about Logan's case, host Michel Martin asked Mona Eltahawy, a columnist on Arab and Muslim issues, for her thoughts.
"I speak as an Egyptian and a Muslim woman: We often feel caught between the racists and the misogynists. And this all came out after Lara Logan bravely spoke out. But I have to disagree with a lot of people who are saying she's the first one who spoke out," she said. "You know, I unequivocally condemn what happened to her. It's horrendous. It's heartbreaking. But there have been so many Egyptian women who have spoken out about the sexual assaults that they've faced at the hands of the Mubarak regime, and while reporting in Egypt, that I know. I was, my …
Martin: You mean on the street, or you mean left - by security forces in a…
Eltahawy: Oh, by everything.
Martin: Mm-hmm.
Eltahawy: By security forces, by regular people. I - my nipple was twisted during a news conference with [Libyan leader Moammar] Gaddafi. One Gaddafi's bodyguards just reached out and just assaulted my breast in the middle of a news conference, and I've written about that. And I just say that because it bothers me that we're thinking that, you know - again I state, you know, I condemn what happened to her. But Lara's not the first person who's spoken out about this.
"And I say this because sometimes it feels to me, as the Egyptian Muslim woman, that it's only when a white woman speaks out about something that we recognize it happened. And Egyptian women have been speaking out, and women in the Middle East, in North Africa and other parts of the world, have talked about what it's like to be a woman and face all these things as a journalist, too, but we never listen to them. But we only now listen because Lara has said it."
* Casey Frazee, change.org: Peace Corps Volunteer Speaks Out About Lacking Sexual Assault Response
* Reporters Without Borders: Journalists beaten by police in central Tunis
* The organization Color of Change launched a Twitter-based campaign to persuade black "The Celebrity Apprentice" cast members Star Jones and Lil Jon to denounce Donald Trump for what the group terms "race-baiting," according to the Hollywood Reporter, EURWeb.com reported on Monday. Meanwhile, media critic Eric Deggans wrote in the St. Petersburg (Fla.) Times that Trump "presided over an episode of 'The Celebrity Apprentice' Sunday in which all three black women still on the show were fired in two hours. . . . The Apprentice franchise has always been criticized for its willingness to portray black women as crazy/angry/violent villains."
* Some 300 disability rights activists, a couple of hundred in wheelchairs, occupied the rotunda of the Cannon House Office Building in Washington, D.C., to protest Republican budget plans for Medicaid. "Ninety-one people were arrested and carted off by Capitol police," Janine Jackson wrote for Fairness & Accuracy in Reporting. "Yet days after the rotunda protest, and another action the next day in which 300 demonstrators gathered outside the Longworth House Office Building, many getting inside to Rep. Paul Ryan's second floor office where 10 were arrested, the country's big media have taken no notice. Accounts in Politico (5/2/11) and the Hill (5/3/11) were all a search turned up."
* "Stefan Holt, the son of NBC News anchor Lester Holt, has been hired by NBC's WMAQ-Ch. 5 as a reporter and [as] Kim Vatis' weekend morning co-anchor, effective June 13," Phil Rosenthal reported for the Chicago Tribune. "A 2009 graduate of Pepperdine University in Malibu, Calif., the younger Holt has been working the last two years as a reporter and weekend morning anchor for WPBF-TV in Palm Beach, Fla. He grew up in Chicago while his father was anchor at CBS-owned WBBM-Ch. 2."
* "In ads that began airing last week for Walter E. Smithe Furniture, celebrities ranging from George W. Bush (the former president) to Ed Bus (the fictional alderman) are featured saluting [Chicago Mayor Richard M.] Daley on his retirement," Robert Feder reported Monday on his Time Out Chicago blog. "Interspersed among those paying tribute to the departing mayor are six local anchors and reporters - CBS 2's Walter Jacobson, Bill Kurtis and Rob Johnson, NBC 5's Allison Rosati and Natalie Martinez, and Fox Chicago's Bob Sirott." The ad "shows them shamelessly kissing Mayor Richard M. Daley's ass."
* "A video editor is suing three on-air reporters for ABC Television's affiliate in New York, alleging he suffered 'abusive, offensive and demeaning' language because he is Hispanic," Reuters reported on Friday. "Gerardo Lago made the complaint against Lauren Glassberg, Kemberly Richardson and Stacey Sager, three on-air reporters for WABC-TV's Eyewitness News, in a lawsuit filed Thursday in New York Supreme Court."
* "One mother duck received the ultimate gift when her baby ducklings were saved [on] Mother's Day," Amber Wheeler wrote Monday for digtriad.com. "The baby ducklings were found far below a parking lot in the city sewer. Indianapolis TV anchor and reporter Daniel Miller was there to help. He opened the grate and jumped down into the sewer with the ducklings."
* "Somewhere on the way to becoming the leading energy drink, Red Bull also became a worldwide media and marketing force," Lucia Moses wrote Monday for Adweek. ". . . And on May 10, it'll add a glossy magazine in the U.S. . . . The Red Bulletin will be sold at newsstands for $4.99 a copy. To promote awareness, it'll be inserted in the Sunday editions of the New York Daily News, Los Angeles Times, Miami Herald, and other newspapers."
* The Chicago Reporter "analyzed 1,376 cases of young people who faced gun charges in adult courts between 2006 and 2010. Most of the defendants are African Americans from Chicago neighborhoods with some of the highest chronic unemployment rates in the nation," the Reporter's Angela Caputo reported last week. "The Reporter randomly selected the court files for 90 cases - which represents 57 percent of convictions in 2009 - and found: One in four teens was never clearly identified as having had a gun. A gun was recovered in only 46 percent of the cases."
* Wayne Dawkins of Hampton University's Scripps Howard School of Journalism and Communications won the Edward L. Hamm Distinguished Teaching Award at Sunday's graduation. Dawkins told Journal-isms he had his pen and pad poised to record the name of the winner and was surprised when the honor was his. Dawkins wrote a column about Bill Cosby's appearance at the ceremonies.
* In Panama, "A hate campaign targeting certain Panamanian journalists appears to have been prompted by a series of WikiLeaks revelations which their newspapers covered and which are embarrassing for President Ricardo Martinelli's government," Reporters Without Borders reported. "These attacks, which take the form of disgraceful videos, mainly concern journalists working for the daily La Prensa."


Follow Richard Prince on Twitter

Facebook users: Sign up for the "Richard Prince's Journal-isms" fan page.