Angela Bassett and Thandie Newton are gracing the cover of the Hollywood Reporter's June issue, along with Claire Foy (The Crown), Maggie Gyllenhaal (The Deuce), Elisabeth Moss (The Handmaid's Tale) and Sandra Oh (Killing Eve). The actresses participated in THR's annual Drama Actress Roundtable and discussed everything from on-screen nudity (male and female), learning to say no and Hollywood's better-late-than-never push for gender pay parity.
Bassett, who is currently appearing on Fox's 9-1-1, made some particularly interesting comments when it came to being sexualized on television and movies. Gyllenhaal had mentioned how sexiness seems to be a prerequisite when it comes to women, and made mention of her role on The Deuce as a porn actress and sex worker.
"I don't know if you all feel this way, but it has felt like a prerequisite that, yes, you can be smart and powerful and all these things, but you also have to throw a little sexiness in there. And I don't know if it's going to stay that way, but it certainly has been that way for most of my career," Gyllenhaal said.
As most of the women on the panel agreed with her, Bassett had a different take when Gyllenhaal asked haven't all women been asked to use their sexuality: "Mmmm, no, not really." (There was laughter.) "I've not been asked to use my sexuality in my career."
G/O Media may get a commission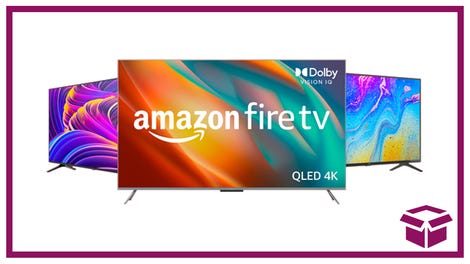 Ooh. stunning.
New Amazon Fire TVs
Gyllenhaal seemed shocked as she asked, "Really?"
"Not as a black woman, no," Bassett said.

Newton seemed shocked as well. It seemed as if the only woman who understood why was Sandra Oh, who said that Hollywood has crafted what's acceptable when it comes to the definition of sexy.
I'll echo Angela's experience. For me, I don't think I've ever gotten any job based on bum bum bum … (motions to her body). As fabulous as it is. (Laughter.) [...] But it's also complicated in lots of ways if you are the person [for whom] that's not at the forefront of your toolbox. And there's a lot of different feelings that we have when people are not interested in your [sexuality]. I have realized in a lot of this awakening that there are a lot of times where I have felt left out, ignored, not seen, but now I see I've been protected.
Angela Bassett on working with Ryan Coogler:
In Hollywood, race and what's considered beautiful and sexy have probably been different for both Newton and Bassett, especially when it comes to colorism and ageism. But recently, Newton made an alarming statement about her role in the most recent Star Wars film.
In an interview with The Guardian, Newton riled up a lot of people with the following statement: "I am the first dark-skinned woman in a lead role in the Star Wars legacy, which is both great, that it is finally a correction, and awful, that it's taken this long."
Many people wouldn't even consider Newton dark-skinned, and many also wouldn't consider her the first. Unless we've forgotten about Crystal Clarke in The Force Awakens.
In her interview with THR, Newton touched on being a black actress and the "ethnic" descriptions she's encountered in audition requests:
I would just have to brace myself because it was so deeply offensive, but I wanted to work [...] I'd spend a lot of time trying to give more dimension to these women's roles. And oftentimes — well, always — they would be written by men, and I'd find myself desperately trying to stop these characters from being demonized, and that happens [because] you don't have enough lines or screen time to actually try and humanize these characters. So, I've found I've had to rise above the initial hurt that I feel that a man has written a role that is objectifying this person, whether it's their ethnicity or [a description like], "She turns up, she's beautiful, she's sexy without giving too much away … "
Thandie Newton on offensive character descriptions for "ethnic" people:
Read the full interview at THR.