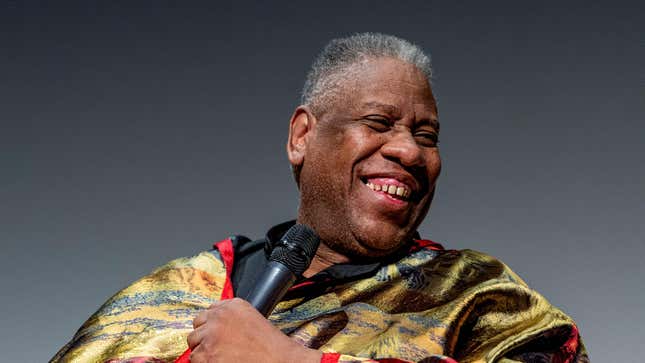 The designer collections of beloved fashion icon and former Vogue Magazine creative director André Leon Talley are set to be auctioned off beginning on Wednesday.
'I Stay Coogi Down': Remembering the Fashion That Shaped Black Culture
According to a report from the New York Times, the auction will be done by the world-leading art and luxury business organization Christie's, with almost all proceeds set to be split between the Abyssinian Baptist Church in Harlem (the same church Talley's memorial service was held at) and Mt. Sinai Missionary Baptist Church in Durham, where he grew up. A small portion of items were also donated to the Savannah College of Art and Design (SCAD) where Talley previously curated Oscar de la Renta and "Little Black Dress" exhibitions.
Aptly titled "The Collection of André Leon Talley," the 448-lot auction will begin a three-city tour beginning Jan. 18 in Palm Beach, Fla., before going on to Paris and New York. A live auction of 68 lots will take place on Feb. 15 with the rest of the sale opening online starting Jan. 27.
Some potential items to be included in the auction are:
Warhol-signed screen prints
Photographs by Horst P. Horst, Cecil Beaton and Louise Dahl-Wolfe
A gold brocade caftan by Dapper Dan
Six Prada crocodile coats
Versace scarves
A quilted Chanel bag
A diamond Dior watch
Gold Verdura cuff links
A pair of Baccarat candlesticks
African wood stools and reclining chairs with the gilded marble-top Louis XV console
Hermès drinking glasses and an Hermès bicycle
Other iconic items of clothing, fine and decorative art, books, jewelry, personal correspondence and mementos
"Basically what André did was monetize his fashion assets to secure the financial sustainability of two very important Black institutions of faith," said President of the Ford Foundation and Talley's close friend Darren Walker per the New York Times.
He continued, "André, like most of us, just wanted to be loved. And one of the reasons he really loved his church family is he was embraced unconditionally, and that wasn't the case in the fashion world, which sought to put him in a box of the caricature of the fashion diva. Internally he was constantly negotiating that reality. He had a consciousness that was informed by the history of racism and his own experience of racism both growing up and in the industry. He was a very private person and a master of compartmentalization, largely as a reaction to that."
"He didn't reveal himself to many beyond the news release. But on the bookshelves of his White Plains house were scholarly books on 17th-century French court dress next to first edition copies of Paul Robeson's biography and Henry Louis Gates Jr.'s history of Black America," Walker concluded.
To view a few of the items, head to christies.com and nytimes.com.