It has been an extraordinarily good season for jazz books. Terry Teachout's Pops: A Life of Louis Armstrong and Robin Kelley's Thelonious Monk: The Life and Times of an American Original provide insightful biography; Jazz by Gary Giddins and Scott DeVeaux is an authoritative primer. Adding to the canon are three other, equally necessary books, which use photography and album covers to provide an intriguing perspective: The Jazz Loft Project, The Prestige Records Album Cover Collection and Freedom Rhythm and Sound: Revolutionary Jazz and Original Cover Art 1965-83 trace the development of jazz from an implicitly defiant music to an explicitly rebellious soundtrack of the changing times.
In addition to capturing the magic in the music, presentations of jazz visuals have often carried the corrective undertow—an argument that this was great music that wasn't given its due. That argument has been won; no credible presentation of 20th-century music can ignore the contributions of Armstrong, Monk, Duke Ellington, Charlie Parker, Miles Davis and the dozens of other geniuses whose work was labeled jazz. Without that priority, these presentations become more relaxed, yet incisive and probing. They function less as period pieces of a golden age than a celebration of creativity—and they may offer a preview of the jazz world that lies ahead.
Sam Stephenson's The Jazz Loft Project presents the jazz photography of W. Eugene Smith, the famed Life magazine photographer whose World War II imagery defined the battle for many Americans. In 1957, frustrated after reaching an impasse with his famous Pittsburgh project, Smith left his family and moved into a loft in the flower district of Manhattan. He turned his space into a late-night hangout spot and rehearsal studio for jazz musicians, obsessively documenting what took place, including Thelonious Monk in rehearsal for his famed 1959 big band concert at Town Hall. The great photographer Robert Frank said that Smith's work in this period took him from public journalist to private artist; with this work, Smith wasn't trying to change the world. The kinship he feels with his vastly underrated artists is clear in the empathy of his photographs.
Stephenson traces both the discovery of this archive of work, which had been lost for decades, as well as the evolution of the loft space itself. Jazz photographs, particularly riveting shots of Monk, Zoot Sims and Freddie Redd are interspersed with shots of the surroundings. You don't just hear music from looking at his photographs; you see how he heard the music.
In many ways, The Jazz Loft provides a companion to the recent revival of photographer Robert Frank's searing portrait of America in the same era. By contrast, the Prestige album covers suggest what would result if the real-life antecedents to Don Draper, Peggy Moss and other characters of Mad Men were creating jazz-record covers instead of advertising campaigns. They are cutting-edge design work full of iconography of the late '50s and early '60s, and some of the photography illustrates a keen sense of humor. For instance, the cover of Miles Davis' classic, Workin' shows the great trumpeter (and solidly middle-class son of a dentist) taking a cigarette break in front of a loading dock. Then there is the poignant: Frank Foster's "All Day Long," showing time-lapse photography in a landscape shot. Toward the end of the collection, the two new directions of jazz are well-represented. The soul jazz movement is captured with richly detailed colorful covers, while the emerging avant garde musicians are depicted as space travelers or as surrealists, which further underscores the link between movements in painting and parallel developments in jazz. Ornette Coleman's groundbreaking Atlantic Records disc, Free Jazz, included a reproduction of Jackson Pollock's "Untitled."
Freedom, Rhythm and Sound picks up where the Prestige Collection leaves off, but it also returns to the ramshackle, do-it-yourself aspect of Smith's loft. The book details the rise of the independent jazz movement in the mid-'60s, when the august labels that had supported jazz since the '20s began to decline or turned their attention toward popular music In their place, smaller—often artist run—labels and artist's collectives emerged to present and nurture these new musical expressions. As a result, visual excursions into Afro-psychedelia replaced the razor-sharp images of a hipster demimonde. The music (there's a companion CD) and the art presented in Freedom Rhythm and Sound suggest the equivalent of a black arts parallel to the Summer of Love. None of the recordings highlighted in the book were destined to sell even as many as 10,000 units, but the music and its aesthetic were urgently important and representative of the era. In particular, with jazz now entering a new phase of independence from large labels, this period is now potentially an antecedent. Perhaps it isn't the look of a jazz era long gone—but the shape of jazz to come.
G/O Media may get a commission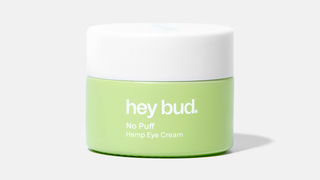 15% off
Hey Bud - No Puff Hemp Eye Cream
Martin Johnson is a regular contributor to The Root. Follow him on Twitter.
Martin Johnson writes about music for the Wall Street Journal, basketball for Slate and beer for Eater, and he blogs at both the Joy of Cheese and Rotations. Follow him on Twitter.