As Black folks continue to do awesome things, we will continue to highlight Black folks doing awesome things. Today is one of those days. Everybody, please turn your books to the Book of Outkast, chapter 2, verse 1, and let's put our hands together for Dr. Regina Bradley, Ph.D.
PJ: I was up on Facebook the other night, scrolling through random posts about random things when I saw an article from Savannah Now entitled, "Savannah college professor offers course on Outkast, hip hop genre" and my interests were piqued. I read the article and thought it was such a cool idea, especially in this time of using pop culture figures like Beyonce, Tupac, etc as centerpieces for classes. I want to talk about the whole shebang, but first, tell me (and us) a little bit about yourself and your background. Who is Regina Bradley, Ph.D.?
RB: I'm Dr. Regina N. Bradley. I'm from the Southside of Albany, GA where my Daddy and grandparents raised me. I teach African American Literature, Popular Culture, and Hip Hop at Armstrong State University in Savannah, GA. So…basically all black everything. Specifically, all southern black everythang. This past year I was also a Nasir Jones  (yeah, had to use the government name) Hip Hop Fellow at Harvard. Ahem. Haaaaah-vud.
PJ: I've heard of the Nas Hip Hop fellow program but know nothing about it. What does that experience entail and what was that like?
RB: Harvard was amazing. The Nas Fellowship is for those lucky few who show exceptional academic or creative contributions to hip hop culture and studies. I went for the Spring semester and was on the academic side of things writing this OutKast book Chronicling Stankonia, so I spent most of my day building my writing playlist, writing, reading, checking social media, and chopping it up with amazing and smart ass people who helped me get my shit together for this book like Skip Gates and Marcyliena Morgan. Oh. And I got to hear Toni Morrison lecture 50 leven times. Okay. Not 50 leven. Just three. But still. MY LIFE. It was made!
G/O Media may get a commission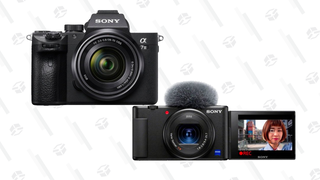 Cyber Monday Deals
Sony Camera Sale
My Nas Fellow cohort was special because we all were putting in work connecting hip hop to the South. Shouts to my kinfolk Dr. Bettina Love and Dasan Ahanu. We did that.
PJ: Well that sounds awesome. And congratulations on being a fellow!
Alright, let's get into some of that good Pimp Trick Gangsta Clique stuff. Let's start at the top and work our way into the nitty gritty. Why does Outkast resonate with you enough to both write a book AND teach a class on them? Outkast is my favorite group, so we're clearly kinfolk, but I'm curious about your personal reflections on the group.
RB: Pimp Trick Gangsta Click gone be that PHI.
I moved to Albany at 14 right before starting high school. New kid, new growth spurt, involuntary high waters, and no damn self-esteem. I thought my way in to make new friends would be to show I could listen to the radio and make fire ass mixtapes. But Albany folks weren't listening to the same things as the folks up in the DMV (I had to put folks on game with that GoGo, but I digress). They were listening to 3 6 Mafia, Goodie Mob, UGK, folks like that. I had to literally retrain my ear to pick up on the accents, the different touchstones for how they did hip hop down here. I learned quick it was too damn hot for Timbs. Ain't no Subway in Albany and other rural southern towns but the sammich. And Chuch was a big deal. I got along fine with the church thing - it was a rule in my house that if I went out on Saturday night I was praising Black Jesus Sunday mo'nin.
I touched down in Albany right before Aquemini came out. It was all people were listening to and talking about. Well, besides (Goodie Mob's) Still Standing. If I had to be completely honest with myself, it was hearing the 'Kast on "Black Ice" that really had me like "dammit, I fux with ya'll the long way." I literally walked up and down the road by my folks' house listening to homemade mixtapes of the Dungeon Family. If was feeling particularly fanciful, I went to Peppermint Music to buy the singles and albums in the mall.
All that to say, it wasn't until I was in graduate school that I really started thinking about how much the 'Kast and southern hip hop meant to me. We were studying hip hop in my classes and not nan person besides my fellow southern folks - shoutout to Drs. Langston Colin Wilkins and Fredara Mareva Hadley - were asking about how the south fit into these conversations about hip hop. Don't snub us, shawty. I felt snubbed. My mentor and professor, Dr. Portia Maultsby, asked me "well what are you going to do about it?"
Here I'm is. Me and this book.
People have written about Nas, Tupac, Wu-Tang, all them. Folks have only whispered bout the 'Kast and southern hip hop. We off that. We need to make sure we're represented in the academy. Hip hop isn't one-region-fits all. Southern hip hop didn't start in the 1980s in New York. It started in the aftermath of the Civil Rights Movement. We are continually coming back to that moment, remixing it and thinking through how to honor the elders and ancestors while making room for our experiences. I hope my research and book re-enforces that.
PJ: I will forever think that Soul Food is possibly the most underrated classic southern album of all time though I like Still Standing a lot. Shouts to Goodie Mob. So your love for 'Kast is documented. Tell me how you took that love and turned it into a for-credit class at Armstrong State. I think that I've always felt like institutions were too snobby to be willing to allow classes where hip-hop or Beyonce, or what have you to rule the day. Yet, here we are. How did you get here?
RB: Soul Food is damn near perfect. Joy, struggle, and coming-of-age rhymes for southern black men in the post-Civil Rights Era on funky beats? Sheeeyit. Kujo Goodie's voice haunts me. It's iconic. And THAT is the Cee-Lo we wanna hear and see!
My department (Languages, Literature, and Philosophy) at Armstrong is so dope. I was slated to teach a special topics in African American Literature course in the Spring and my chair Dr. Beth Howells asked if I had any ideas. I told her I wanted to do a southern hip hop themed course and feature OutKast. She was with it. It was also a way to keep me on track with my writing. I told my students I was offering a 'Kast class in the Spring and they were like "oh hell yeah." The class filled in two days.
But I really wanna shout-out Kyara Mejia, because she wanted to interview me for the campus newspaper. So the legend goes, Big Boi's auntie saw the article and forwarded it to him. He posted Kyara's article on his Facebook and that got folks buzzing. Dash Coleman at Savannah Now interviewed me about the class and the article posted this week. Apparently my fellow OutKast folks be on the lookout for anything about them because the next thing I know, major media outlets talmbout "this professor in Savannah, GA is teaching an OutKast class…"
Chiiiiile. Wow. No pressure, right?
PJ: I know that I would have signed up for the class in a heartbeat. I remember in undergrad, one of my professors said that one day there were going to be classes about hip-hop and its influence on college campuses everywhere. Tell me about the class. What will the students be doing in said awesome class you'll be teaching?
RB: I'm still working out the logistics of the course, but it is an advanced seminar so students are required to write a 12-15 page research essay. In addition to the final paper, there will also be an annotated playlist assignment, where students will use critical listening skills and research to create a playlist that addresses the question of how hip hop helps black folks living in the south update and shift conversations about race and identity after the Civil Rights Movement.
PJ: That sounds really interesting. I wish I had a class in college where I could write 12-15 pages about a topic I was so passionate about. Critical analysis of hip-hop is pretty much my dream job. I'm just too lazy to go get a Ph.D. to do it professionally. You said that you've been contacted by some outlets (this one included) about this class…how does that feel? Folks are mad hype about something that you're doing that speaks directly to the hip hop head and southerner in so many of us.
RB: Overwhelming. I'm a professional blerd, I'm not used to being the subject of folks' conversation. But it's really that dope shit when Big Boi shouts you out. Like…damn. Aside from the random thumb thugs, there's been a ton of love. But for the ones questioning my credentials and life, I got receipts. From '98 to Summer '16.
But the attention also has my inner perfectionist acting up: more and more folks asking 'bout this book! Listen, Chronicling Stankonia is my everything. I've technically been writing, living, and thinking about it nearly 20 years. I'm worried about what my colleagues think (because tenure) but I'm really anxious to get it right for my kinfolks, the ones who don't do classrooms. I need for this book to be solid. It's the first of its kind to critically engage OutKast at the center of its analysis. Both the Ivory Tower and these streets is watching.
PJ: That's very real. I think its dope that you'll be trying to get it right, especially because you can bet your bottom dollar that Big Boi and Andre 3000 will likely be reading it as well. That's a whole NEW level of pressure. Alright, let's take this light for the end: What's your favorite Outkast song? And album? And why?
RB: What? Sir, that's not light!
Their track "In Due Time" is my favorite song ever. It's got me through a hell of a lot of valleys, including the valley known as dissertating. Close second is "Liberation" and when they performed it live at One Music Fest this past September I had an out of body spiritual experience. Listen. LISTEN.
I cheat between Aquemini and ATLiens. Aquemini is when I got put on game and ATLiens because…c'mon. It was the ultimate "fuck ya'll" to bi-coastal hip hop. We ain't northeastern. We ain't west coast. We southern, and we way off ya'll's restricted ideas about hip hop.
PJ: "In Due Time" is one of my favorite songs too, partly because the video was so awesome. I'm an ATLiens guy myself. That album is almost flawless to me. My favorite Outkast song is probably "SpottieOttieDopalicious" or "Elevators". But I know your struggle in answering that question. Is there anything else you want to share about yourself or the class or hip-hop, or well anything? The floor is yours.
RB: I'm so excited about this class and hope that I do OutKast's work justice. I have a lot of smart and engaging students in the course this semester and I hope we can build off of that.
Last thing I wanna say is that I'm a DSGG first and a Ph.D. second. I'm so blessed that I can put the two together and get paid for it. I wouldn't be here if I wasn't a Georgia Girl. We're a special breed of country Black girl magic. And much love to you and Damon and VSB. Am I VSB Certified now? Cause if I am, that gotta go on the book cover!
PJ: I think it does. We'll be looking for that shoutout on the book cover! Thanks for being willing to be interviewed. I think its dope what you're doing and can't wait to read the book. Keep hope alive and may the 'Kast set you free. Shake that load off.
RB: This interview is such a dope start to 2017. Thanks for the opportunity to chop it up with you!!