Valerie Jarrett
Senior adviser and assistant to the president for intergovernmental affairs and public engagement
When President Obama took office, Jarrett was mostly known as his closest confidante, but the attorney and former real estate developer is now one of the White House's most visible forces. In addition to serving as a go-between with the public and promoting the president's platform to various interest and constituency groups, she manages the Office of Urban Affairs and chairs the Commission on Women and Girls.
Captions by Cynthia Gordy
Melody Barnes
G/O Media may get a commission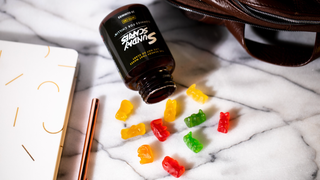 10mg CBD Gummies (22-Count)
Director of the Domestic Policy Council
If it's on the president's domestic agenda, it's on Barnes to make it happen. From employment to health care to housing, the former chief counsel to the late Sen. Ted Kennedy works with federal agencies and offices to shape new policy proposals.
Lisa P. Jackson
Administrator of the Environmental Protection Agency
While Obama's energy proposals have been held up by a deadlocked Congress, Jackson has forged right ahead by her own authority. The Princeton-trained chemical engineer has passed unprecedented limits on air and water pollution, with an emphasis on science and community protection, and elevated the issue of environmental justice within the agency.
Susan Rice
U.S. ambassador to the United Nations
As the national representative on the U.N. Security Council, Rice is currently embroiled in imposing new sanctions on Libya and referring Muammar Qaddafi's deadly crackdown on demonstrators to the International Criminal Court. A former assistant secretary of state for African affairs under President Bill Clinton, Rice upholds the United States' position on global security, poverty and human rights.
Cecelia Rouse
Member of the Council of Economic Advisers
The former Princeton University professor is one of three economists who give President Obama economic analysis and advice. Her objective counsel guides his decisions on a range of policy issues, including job training, education and health care.
Margaret Hamburg
Commissioner of the Food and Drug Administration
A physician who previously served as New York City's health commissioner, Hamburg regulates food safety, pharmaceutical drugs, vaccines and a host of other public health concerns.   
Mignon Clyburn
Federal Communications Commission commissioner
Politics is in the blood for the daughter of South Carolina Rep. James Clyburn. As one of five FCC commissioners, she is tasked with regulating content and ownership in television, radio and Internet media, as well as implementing a plan to provide 100 million American households with high-speed broadband access by 2020.
Regina Benjamin
U.S. surgeon general
After two decades serving low-income patients in the Alabama bayou, where she worked as a family physician and operator of a health clinic, today Benjamin is America's top doctor. As the leading federal spokesperson for public health, she counts wellness and prevention as her chief priorities.
Russlynn Ali
Assistant secretary for civil rights, Department of Education
An attorney and a former teacher, Ali ensures that schools and colleges follow civil rights laws, launching investigations when institutions run afoul. Over the past two years, she has worked to secure access to Advanced Placement classes for black high school students, enforced changes in discriminatory discipline policies and negotiated agreements to increase diversity in public schools.
Jacqueline Berrien
Chair of the Equal Employment Opportunity Commission
During the recession, as head of the agency that investigates workplace discrimination, Berrien has taken a particular interest in how hiring practices that slant against the unemployed may affect individuals based on race, color, sex and disability.
Karen Bass
U.S. representative for California's 33rd Congressional District
Like another prominent political figure, Bass began her career as a community organizer, advocating for the poor in South Central Los Angeles. After serving as speaker of the California Assembly, where she had success working across the aisle, the Democrat will now use those negotiation skills as a freshman member of Congress.
Eddie Bernice Johnson
U.S. representative for Texas' 30th Congressional District
Johnson, a Democrat who has served in Congress for nearly two decades, came under fire last year for misallocating Congressional Black Caucus Foundation scholarships. The former nurse and psychotherapist has also advanced legislation to strengthen the science, technology, engineering and mathematics fields.
Maxine Waters
U.S. representative for California's 35th Congressional District
A member of the House Subcommittee on Housing and Community Opportunity, Democrat Waters has introduced bills to prevent home foreclosures by facilitating the modification of troubled mortgages, as well as bills to strengthen the Section 8 low-income housing program.
Eleanor Holmes Norton
Washington, D.C., delegate to Congress
Although she is in her 11th term representing the District of Columbia, as a delegate Norton is not allowed a final vote on legislation. The former chair of the Equal Employment Opportunity Commission and current tenured professor at Georgetown University has made voting representation for D.C. residents a long-standing priority.
Frederica Wilson
U.S. representative for Florida's 17th Congressional District
As a freshman member, Wilson, a Democrat, is perhaps best known for her sequined cowboy hats, which are banned from the House floor. The former principal and school board member, who represents the largest concentration of Haitian Americans in Congress, counts Haiti and education among her top issues.
Barbara Lee
U.S. representative for California's 9th Congressional District
Known for her anti-war stance, and the only member of Congress to vote against authorizing military force following the Sept. 11 attacks, the battle Lee is dedicated to fighting is HIV/AIDS. The Democrat has spearheaded legislation to increase funding for prevention and to repeal the ban on people with HIV from traveling to the United States.
Corrine Brown
U.S. representative for Florida's 3rd Congressional District
Not one to hold her tongue, Brown branded the Bush administration a "racist" "bunch of white men" in 2004 and called the disputed 2000 presidential election in Florida a "coup d'état," for which she was censured by the House. A Democratic member of the House Subcommittee on Railroads, Pipelines and Hazardous Materials, she has also sponsored legislation to develop a high-speed passenger rail network.
Sheila Jackson Lee
U.S. representative for Texas' 18th Congressional District
Jackson Lee imparted one of the most dramatic moments at Michael Jackson's 2009 memorial service with her eulogy for the entertainment icon. More quietly, the Democrat sits on the House Subcommittee on Transportation Security and Infrastructure Protection, setting policy for the security of airports, chemical plants, hospitals and other institutions.
Marcia Fudge
U.S. representative for Ohio's 11th Congressional District
Fudge was elected to Congress after the unexpected death of Rep. Stephanie Tubbs Jones in 2008. A Democrat, Fudge is a former suburban mayor and past national president of Delta Sigma Theta Sorority. She sits on the House committees on Agriculture and on Science, Space and Technology.
Donna Edwards
U.S. representative for Maryland's 4th Congressional District
The first black woman to represent Maryland in the U.S. Congress, Edwards was previously executive director for the National Network to End Domestic Violence, where she helped pass the 1994 Violence Against Women Act. In Congress the Democrat is a strong advocate for ending violence in Darfur and serves on the House Committee on Science, Space and Technology.
Laura Richardson
U.S. representative for California's 37th Congressional District
Richardson was elected to her first U.S. House term in a 2007 special election, nine months after her election to the state Assembly. The Democrat has the distinction of serving at the local, state and federal levels all in the span of less than one year.
Yvette Clarke
U.S. representative for New York's 11th Congressional District
Born to Jamaican immigrant parents, Clarke currently resides in the Flatbush section of Brooklyn, where she was raised and introduced a bill calling for a check box indicating Caribbean descent on the U.S. census form. She is also a Democratic member of the House Subcommittee on Emerging Threats, Cybersecurity, Science and Technology.
Gwen Moore
U.S. representative for Wisconsin's 4th Congressional District
Moore made headlines recently for her testimony against the Title X Abortion Provider Prohibition Act, which would defund Planned Parenthood, emotionally detailing the struggles of her unplanned pregnancy at age 18. Moore, a Democrat, is also a co-sponsor of two prospective amendments to the U.S. Constitution, one requiring uniform national election standards and one prohibiting gender discrimination under the law.
Donna Christensen
U.S. Virgin Islands delegate to Congress
A nonvoting delegate, Christensen is an assistant minority whip in the Democratic Caucus. The physician also chairs the Congressional Black Caucus' Health Braintrust, which advocates minority health issues.
Terri Sewell
U.S. representative for Alabama's 7th Congressional District
The first black woman to represent Alabama in Congress, Sewell is a newly sworn-in freshman Democratic member. The Harvard Law-trained attorney previously provided legal representation for the historically black colleges in her state, including Alabama State and Tuskegee universities.
Stephanie Rawlings-Blake
Mayor of Baltimore
Succeeding Sheila Dixon as Baltimore mayor in 2010 upon her post-embezzlement-scandal resignation, Rawlings-Blake formerly served as City Council president. The Democrat recently partnered with Baltimore's police commissioner to propose tougher penalties for gun offenders.
Terry Bellamy
Mayor of Asheville, N.C.
Bellamy is the first African American to serve as mayor in Asheville, a city that is only 17.6 percent black. The Democrat has successfully lobbied for state and federal money to improve city programs on youth crime prevention and college preparation.
Dana Redd
Mayor of Camden, N.J.
With high crime and a failing school system, Redd had her work cut out for her when she was sworn in as mayor one year ago. So far in her tenure, however, the Democrat has focused on addressing the city's sizable budget gap, working to re-establish basic city services that had eroded (such as police protection, which has since been cut in half) and seeking more state aid.
Kamala Harris
California attorney general
Hailed as "the female Barack Obama" and anointed by Oprah Winfrey as one of America's most powerful women, the Democrat made history last year as the first black woman to be elected attorney general in California. As district attorney of San Francisco, Harris, who is also of East Indian descent, raised the city's felony-conviction rate to 67 percent and established a program offering education and job-training assistance to ex-prisoners.
Kym Worthy
Prosecutor of Wayne County, Mich.
The Democrat drew national attention when she filed charges against former Detroit Mayor Kwame Kilpatrick in 2008, cementing her reputation for being tough. Worthy made headlines again by proposing a law, designed to encourage parental involvement in education, that would require parents to attend at least one parent-teacher conference per year, with a maximum penalty of three days in jail.
Ann Claire Williams
Judge for the U.S. Court of Appeals for the 7th Circuit
Appointed by President Bill Clinton in 1999, Williams is the first African American ever named to the 7th Circuit. Previously a U.S. District Court judge in Illinois, she has led numerous delegations to foreign countries, including Ghana and Liberia, to train their judiciaries. Williams, who is politically independent, was also considered to be a potential candidate to replace retiring Supreme Court Justice John Paul Stevens in 2010.