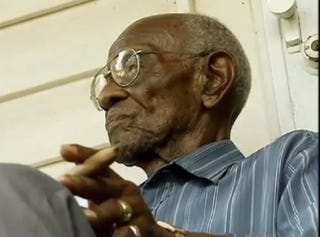 President Barack Obama is slated to meet with the oldest living World War II veteran in honor of Veterans Day, USA Today reports. 
Richard Overton, 107 years young, wondered out loud one day last May while touring the Martin Luther King Jr. Memorial and the World War II Memorial in Washington, D.C., what it would be like to meet the nation's commander in chief. While he couldn't meet Obama that day—the president was out of town—Overton didn't have to wonder for long.
With a simple phone call, it was decided that he would be able to meet the president at the White House for breakfast on Veterans Day and then accompany Obama to a ceremony at Arlington National Cemetery.
Overton is believed to be the oldest living American World War II veteran. He was part of the Army's 188th Aviation Engineer Battalion, USA Today reports, volunteering for service in his 30s in 1942.
The secret to his amazing longevity? According to USA Today, the vet, who has been a widower for 22 years, now starts each day with "a tablespoon" of whiskey in his coffee and smokes about a dozen cigars a day.
Overton is much more somber regarding his opinions on war, however.
"War's nothing to be into," Overton told USA Today during a brief interview on Sunday. "You don't want to go into the war if you don't have to. But I had to go. I enjoyed it after I'd went and come back, but I didn't enjoy it when [I] was over there. I had to do things I didn't want to do."
When Overton was escorted through Reagan National Airport in a wheelchair on Sunday to prep for his meeting with the president, he reportedly got a "hero's reception" as airport personnel announced his arrival.
"I didn't think I was worth that much," the vet said.
As for any words he may have for our president?
"I'll just keep my mouth shut—I wouldn't know what to tell him. I've never thought of that. For one thing, I'd talk about [how] we're proud to have him. I wish him good luck all the way through. We have to pray for him. We have to pray for him and help him because we all need help," Overton told USA Today. 
Read more at USA Today.
Like The Root on Facebook. Follow us on Twitter.