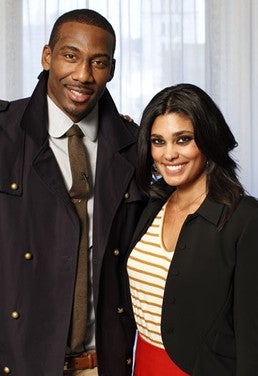 Refinery 29 is reporting that Amar'e Stoudamire and fashion designer Rachel Roy are joining forces on two of Roy's fashion lines. The inspiration will be WAG — a wife or girlfriend of a sports player, like Khloe Kardashian or Victoria Beckham — and the execution will include Stoudamire approving or axing the designs based on his personal taste. Connie Wang reports, "As long as I remember, I always did something with my clothes. I would slice up the bottom of my jeans so that they would look different. I would change the design of my shirt and add an extra layer. I would wear two different tennis shoes," said Stoudamire.
Stoudamire is a complicated figure whose fashion sense, along with Roy's fashion sensibility, should lead to courtside fashion never before seen. However, it remains to be seen if that's a good or a bad thing.
Read more at Refinery 29.
In other news: Judge Lifts NFL Lockout: NFL Files Appeal.
Like The Root on Facebook. Follow us on Twitter.