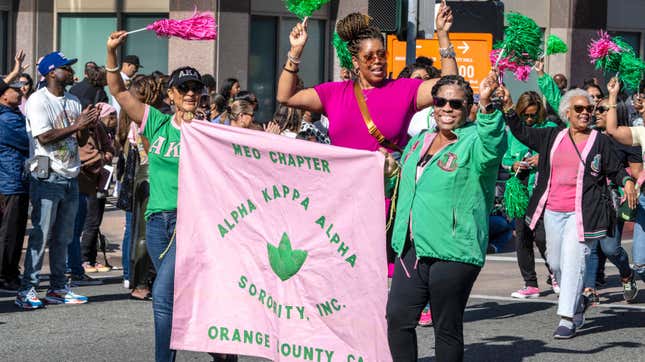 Alpha Kappa Alpha sorority has made history by incorporating its own credit union. The "For Members Only," or FMO, credit union is now the first Black-owned, sorority-based, women-led digital banking financial institution in the United States. As one of this country's oldest service organizations, Alpha Kappa Alpha was founded by Black college-educated women.
Tackling A Black Maternal Health Crisis & Embracing Reproductive Justice | The Root Institute
Now, the organization has almost half a million members. Following FMO's debut at the sorority's international headquarters in Chicago, Danette Anthony Reed—CEO and international president of AKA—explained the institution's importance. "Everyone doesn't understand the impact we make financially, so you have to start doing things so folks know we know how to control our money."
FMO credit union is chartered, regulated and insured by the National Credit Union Administration. It will offer a variety of banking services, including primary savings and loans, during its first year of operations. The institution is available to AKA members, their immediate family members, Alpha Kappa Alpha staff and credit union employees.
The credit union is based partially on the sorority's six initiatives, including building and sustaining economic wealth. FMO federal credit union executive director Terri Bradford Eason stated: "Every member will be an owner of the credit union." Alpha Kappa Alpha Sorority Incorporated was founded in 1908 at Howard University.
For over a century, the organization has upheld pillars based in both service and tradition. Members of the prestigious organization has included distinguished women like Vice President Kamala Harris, the late Toni Morrison and television personality Star Jones. Harris has a vigorous history of supporting community lenders and banks stemming back to her days in the Senate.
This includes investing billions of dollars in historically underserved communities. It has been accomplished in various undertakings, like 2022's public-private sector initiative called the Economic Opportunity Coalition (EOC). In addition, the Vice President was instrumental in the Treasury's Community Development Financial Institution awarding over $1.73 billion in grants to 603 institutions through the CDFI Equitable Recovery Program.