When comedian-actress Aisha Tyler left The Talk last summer, who would've guessed that rapper Eve would replace her? While Eve reprised her role as Terri in Barbershop: The Next Cut in 2016, the last many of us heard from Eve, she was happily tucked away in London with her mogul husband, Maximillion Cooper.
But since last November, Eve has become a daily fixture on American daytime TV. Weekday afternoons, she can be found sitting at The Talk's famous table alongside comedian Sheryl Underwood, former news anchor Julie Chen, music manager Sharon Osbourne and actress Sara Gilbert.
It's quite a leap for the former first lady of the Ruff Ryders clique, which famously included DMX and the Lox. Never a slacker, the paw-print-tattooed rapper made history with her 1999 debut album, Let There Be Eve, becoming only the third female rapper (following Lauryn Hill and Foxy Brown) to have an album reach No. 1 on the Billboard 200. "Let Me Blow Ya Mind," her 2002 hit collaboration with "Ain't no hollaback girl" Gwen Stefani, earned her a Grammy.
But joining The Talk isn't just a big professional step. For Eve, it's a huge personal one, too, as she explained to The Glow Up via telephone from Los Angeles:
Even though my music has always been kind of like a window into who I am, beyond that, not many people know me, if you're not my family or my friends. Most people, I never really let in on how vulnerable I can be, how goofy I can be—like, those intimate moments—and being on The Talk has opened me up and I've had to be comfortable with my vulnerabilities.
G/O Media may get a commission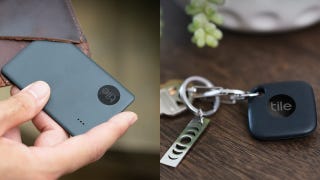 Up to 35% off
Tile Item Trackers
To top it off, unbelievably, Eve has also had to face a long-standing fear of speaking in public. "I hate speaking in front of people," she admitted. "Give me a mic and some music, I'm so dope. I can get onstage with no fear, like, no real fear—I get nerves. But having to just talk? I hate having to speak in front of people, so this was a big deal for me. Like, a big deal."
Who would know? In just a few short months, Eve has jumped into the fray nicely, offering up opinions on everything from the #MeToo Movement to Justin Timberlake's "Duck Dynasty chic" Super Bowl attire, not to mention bravely going makeup-free for an entire show on national television.
"I'm trying," she shared. "It's definitely a learning curve. I'm definitely still trying to figure out who I am every day and what I bring to the table. Because when I'm there, I want to make sure I show up 100 percent," she said. "I want to make sure that I'm really contributing in a real way because I respect these ladies. I think it's a great show, and just getting to know them even more just makes me want to show up even more."
Luckily for Eve, embracing change has become a hallmark; one especially evident in her style. It's no coincidence that she once helmed her own self-titled TV show, playing fashion designer and boutique owner Shelley Williams in the early 2000s, or that in real life, she also helmed her own clothing line, Fetish.
Her fashion sense is sharper than ever; at this year's Grammys, she stunned in a diamante Naeem Khan pantsuit. Eve shared that she loved it instantly, impressing even herself with her style.
"That is one of my favorite looks I've ever had. I love a suit anyway. I could wear a suit every day, honestly, but that suit was exactly what I explained to my stylist [lexyrose]," she said. "I was like 'Look, I want to look strong, but I want to look sexy and I don't want to look like I'm doing too much—like, I overthought it. I just want to feel comfortable. I want to look and feel comfortable, but amazing.'"
Eve also conceded that her style has greatly evolved since she first emerged.
"Back then, when I was out, it was the early 2000s," she said. "The early 2000s was all about excess. You look at everything, it was all about wearing all your furs, all the colors, all the makeup, all your jewelry—like, everything.
"But that's what that time was, and I think that defined that era in hip-hop, in music. Through my music, I was able to be involved in fashion. I was lucky that fashion houses were sending me stuff and [then] being able to go to fashion shows and stuff like that and travel," she added.
"Now I pretty much I dress how I feel," she continued. "I don't feel like I need to be dressed up as something, and maybe that's another thing: Back then, it was [about] being the artist, and I think now it's more organic, like, 'All right, this is how I feel.' It's definitely more refined. Definitely less excess. But I guess that just comes with age."
Perhaps another thing that comes with age is the ability to attract and receive love. In 2014, Eve wed multimillionaire Cooper, who is white and has four children from a previous marriage.
"I had so many ridiculous relationships. Like, ridiculous. Just not good," shared the rapper, who was once coupled with onetime music producer Stevie J, currently of Love & Hip-Hop: Atlanta infamy. "I had to check myself. It wasn't just me being like, 'Oh, I need to find this dude.' It was like, 'Yo, what am I doing that I'm still ending up with the same dude? It's a different person, but it's the same dude or the same issues.'"
She continued:
So I really had to look at myself and I had to love myself. It was me really talking to myself like, "Girl, you deserve better, like, what is it that you really want?" So I had to check in with me. And then I decided that I'm not going to take anything less than what it is that I know I deserve.

And I wasn't specific about what package it came in, what race, whatever. I'm an equal-opportunity dater. I was just open to whoever's going to love me and respect me and who will be down and treat me like I'm supposed to be treated ... that's who I'm going to fall in love with. And it just so happened with this man.
Eve's love affair with music, however, has never faltered. She has a new album planned for the summer, and this weekend she'll join fellow female rappers Remy Ma, YoYo, Monie Love, Rah Digga, Nikki D, Trina, the Lady of Rage and MC Lyte for a tour date with "the Queens of Hip-Hop" in Atlanta.
But even though she's still active, Eve is disappointed by what she feels is a current dearth of female voices in hip-hop.
"There's no balance [between] the male and female [emcees]. There's zero balance. It's still male-dominated. It's always been male-dominated, but even when I was out, there was a bunch of us at that time," she explained.
"Now there's Remy [Ma], who I love. There's Nicki [Minaj], who I think is really dope. There's Cardi [B], who is dope as well. Who else, really?" she continued. "On one hand I'm happy, because I'm like, at least there are some dope females that are out that are lyrically amazing, that are beautiful, that are holding it down, but there's not enough. There's definitely not enough."
But when it comes to the young girls who watch her on The Talk, Eve says she hopes her daily presence is enough to inspire them: "I like to think that just me being in my skin and showing up the way that I show up and trying to be who I'm trying to be will show all those other little black girls that come after me that you can do whatever it is you put your mind to, because I'm just like you and I'm from where you're from."