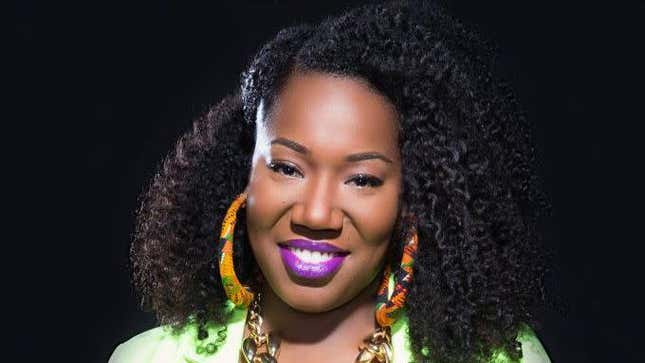 For over 20 years, Melissa "Missy" Elliott has flipped it, dipped it and reversed it all over our hearts with her captivating lyrics and iconic looks. In my mind, Elliott was already in 2054 while the rest of us were in 1997. From day one, Missy gave us looks that left an indelible mark on our minds and recently these images have been brought to life by makeup artist (MUA) Alexandra Butler.
Butler had an interesting journey to the world of makeup. Butler told The Glow Up that she had "always been a creative child." Alas, when she was going off to college, her parents told her that she had to pursue engineering if she truly wanted to make any money. For this writer, this was very relatable because my Jamaican parents gave me four career choices: 1) Doctor 2) Lawyer 3) Engineer 4) Failure. Luckily my sister will be becoming a doctor in the near future, but I digress.
By education, Butler is an industrial engineer, but this was never her passion. She worked in the field for three years and hated every minute of it. During the lead up to her nuptials, she needed a makeup artist, but because she chose a destination wedding, there weren't any available. Instead, she decided to teach herself—an admirable process, since if it were me, I would have walked down the aisle resembling someone's favorite clown. Luckily, this was not Butler's fate; what began as a means of aesthetic survival sparked a career that aligned with her true passion.
When she got fired from her last job as an engineer, Butler and her husband packed up everything and moved to Atlanta with the hope that she would become a professional makeup artist (MUA). In the process, Butler worked in engineering one final time, got fired again and used that termination as the final push she needed to finally pursue her dreams.
But the process of becoming the person blessing Missy's face with eye-catching looks was not an easy road, either. Butler started working at MAC Cosmetics and unfortunately got fired from that position. While obviously no stranger to termination, what sets Butler apart from most was her outlook. "When I started getting fired frequently, I took it as God pushing me to keep moving to do my own thing," Butler said. She continued by saying that "a lot of times you're going to go through ups and downs, but you always gotta keep your eyes on the prize and push through."
In 2014, all of these twists and turns shifted in the right direction and Butler started working with Missy. Fun fact: Butler's cousin's father was once Missy's music teacher; when it turned out Missy was looking for an MUA in Atlanta, Butler's cousin dropped a bug in Missy's ear and the rest was HERstory. Butler did a trial run for Missy, and the multihyphenate started using her for smaller projects until Butler worked her way up the ladder. Butler said Missy reminded her that "staying true to yourself and being good to people around you is the key to success in this industry."
This year, Butler was Missy's MUA for the VMAs. On that day, Aug. 21, 2019, she received an email from the "Mother" of makeup, Pat McGrath. The company wanted to send Butler some products—but what's divine about all of this is that Butler initially sent the company a direct message on Aug. 21, 2018. That message went unanswered, but exactly a year later, that same company was reaching out to send her products. Look at God working in this woman's life!
During Missy's VMA performance, her makeup stayed intact and looked as fresh as when Butler first applied it. This is what happens when a black female triple threat forms: a black female performer, a black MUA, and a black beauty brand working together.
In addition to living the dream doing Missy's makeup, Butler aspires to get back into teaching classes, hoping to pass on her knowledge to help younger makeup artists groom their craft. She also has dreams of opening an agency and placing artists with clients to bring some much-needed beauty to this world. (God knows we can never have enough MUAs out here in these streets.) Recently, Butler has been providing all the stunning looks for Missy's latest projects, sticking true to her brand, and continuing the legacy of hitting us "with the hee" that Missy is known for.