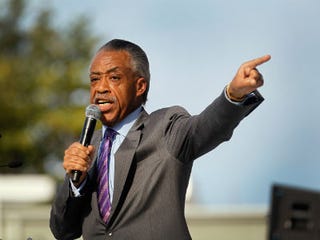 According to the Washington Post, the Rev. Al Sharpton has come full circle despite his rough-and-tumble political career. Through his daily radio show, The Al Sharpton Show, as well as his nightly MSNBC show, Politics Nation, he has illuminated and ignited conversations around matters concerning minority and poor communities, most recently the Trayvon Martin case.

Washington Post journalist Dana Milbank chronicles the social justice leader's precarious beginnings, starting with his involvement with Tawana Brawley, who wrongly accused white men of sexual assault, followed by the 1995 protest during which Sharpton called a Jewish landlord in Harlem a "white interloper" just before the landlord's store was attacked, leaving eight dead.

Now, however, the public pundit and civil rights worker is counseling President Barack Obama on policy and receiving congratulations from Attorney General Eric Holder for his "tireless efforts" in Martin's case.

"I was born with Broadway lights as a backdrop," Sharpton told the Washington Post. Sharpton's model, Milbank says, is less Jesse Jackson than it is Glenn Beck, and he's aiming to do "exactly what Beck did" by rallying people through his multiple platforms.

"[My transformation] may be more dramatic, because I'm more dramatic," Sharpton told the Post. "Maybe it's the James Brown in me."

Read more at the Washington Post.