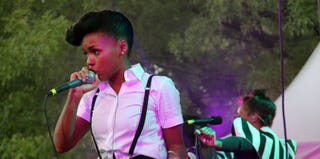 (The Root) — There's something about Brooklyn in summer. The Fort Greene neighborhood was the first place in the Big Apple that I, a 22-year-old budding journalist from Northern California, really called home. There were artists, hipsters, hippies, hip-hoppers, neo-soulers and punks, and everyone was black.
I'd never seen anything like that all rolled up into one neighborhood. I was used to being the only brown dot in my college class or a member of the only brown family in my suburban neighborhood. But in 2003, Brooklyn offered a misfit, bizarro-Berkeley energy that was perfect for this California transplant.
One of the best things about my borough is the festivals, and AfroPunk — a celebration of all things black, alternative and rock — has grown from filling the short blocks around the Brooklyn Academy of Music to taking over Commodore Barry Park with 20,000 people.
Created by James Spooner and Matthew Morgan in 2005, the festival has an ethos drawn from Spooner's 2003 guerrilla documentary entitled Afro-punk. The film depicts blacks who enjoy punk music but never totally felt a part of the punk culture because of their skin color and the larger white audience, but who remained more Bad Brains than 2 Chainz.
Spooner's cinematic work illuminated a niche movement and an idea. At AfroPunk, acts like Tamar Kali and Game Rebellion, along with the colorful crowd, created an accepting environment for black kids once ostracized for their mohawks, plaid pants and Doc Martens.
Scheduled this year for Aug. 24 and 25, the festival has welcomed TV on the Radio, Cerebral Ballzy, Janelle Monáe and Erykah Badu, to name a few artists, as well as an array of vendors selling everything from Black Flag pins to "I Love My Hair" T-shirts.
Last summer Badu headlined, and although her set began an hour or so behind, Commodore Barry Park remained packed, and the audience was so busy socializing, the delay became an impromptu family reunion where folks greeted friends they hadn't seen since winter's end.
In addition to the music, there is a sports side to AfroPunk. Skaters and BMX bikers brought their gear and rode courses erected for friendly competition. Fans watched and cheered for their friends and favorite athletes. And as attendees took over social media, sharing their AfroPunk experiences, the Seattle alternative-soul duo THEESatisfaction even tweeted their jealousy that they couldn't attend, because the festival's energy is so kinetic and singular.
If you visit Fort Greene for AfroPunk, be sure to stroll around the neighborhood between acts. Try people-watching at the Latin microrestaurant-cum-hangout Habana Outpost (757 Fulton St.) or the South African restaurant Madiba (195 DeKalb Ave.). If you and your group enjoy art, walk over to the MoCADA Museum (the Museum of Contemporary African Diasporan Arts; 80 Hanson Place) and check out the latest exhibit. And if you'd simply like to sit back and enjoy a gorgeous view, grab a bench at Brooklyn Bridge Park (334 Furman St.), where Manhattan's skyline and the Brooklyn Bridge compete for best looker of the night.
As a longtime festival attendee, I can say that, even as the audience size swells each year and people start to complain, AfroPunk continues to be a fantastic reflection of why I love New York. The annual two-day event provides an all-inclusive cultural diversity that says, "Give us your leather jackets, studded nose rings, shredded jean shorts and P.M. Dawn look-alikes! You're all welcome."
Click here for The Root's ultimate summer festival guide, and find out where to eat, sleep and party while you're attending some of the season's hottest events.
Hillary Crosley is the New York bureau chief at The Root. Follow her on Twitter.