They say no one understands Shaft but his woman. But, does Shaft even like women? Yes, he likes pussy, but I mean, as people? Well, the 2019 addition to the franchise challenges that notion a bit with a family member from the new generation—none other than John Shaft's son.

Shaft (2019) was the opening film at the 23rd Annual American Black Film Festival and the lines wrapped around the New World Center in humid-ass South Beach as crowds eagerly awaited to spot the stars of the film.
In Shaft (2019), we meet JJ Shaft, adding a third aspect to the holy trifecta of bad motherfuckers (I won't shut my mouth; we cuss at The Root).
From the press release:
Tim Story (the Ride Along and Think Like a Man franchises) directs this all-new take on a legend, starring Oscar nominee Samuel L. Jackson (Pulp Fiction, Kong: Skull Island), Jessie T. Usher (TV's Survivor's Remorse, Almost Christmas), Regina Hall (Girls Trip, Barbershop: The Next Cut), Alexandra Shipp (Straight Outta Compton, X-Men: Apocalypse), Matt Lauria (TV's Kingdom, Friday Night Lights), Titus Welliver (Argo, TV's Bosch), Cliff "Method Man" Smith (Keanu, Train Wreck), and Richard Roundtree, the original John Shaft.
JJ, aka John Shaft Jr. (Usher), may be a cyber security expert with a degree from MIT, but to uncover the truth behind his best friend's untimely death, he needs an education only his dad can provide. Absent throughout JJ's youth, the legendary locked-and-loaded John Shaft (Jackson) agrees to help his progeny navigate Harlem's heroin-infested underbelly. And while JJ's own FBI analyst's badge may clash with his dad's trademark leather duster, there's no denying family. Besides, Shaft's got an agenda of his own, and a score to settle that's professional and personal.
G/O Media may get a commission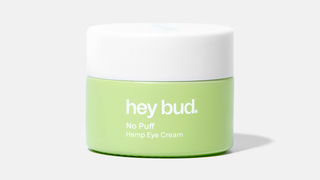 15% off
Hey Bud - No Puff Hemp Eye Cream
Perhaps "challenge" is too strong a word because neither John Shaft nor John Shaft, Sr. (yeahhh, he's not the uncle anymore, he's the grandfather) truly learns from their toxic masculinity (nor their homophobia or Islamophobia). A lot of their quips are used for laughs, which may be a sobering reality—how many of us have problematic fathers, uncles, and older play cousins from that generation who need to be checked every damn holiday season? Hell, even from this generation. Despite our self-congratulatory progression, the problematic aspect hasn't really let up, unfortunately.
According to director Story, he intentionally made sure to broach this topic, not from a "right or wrong" perspective, but to launch a discussion.
"To me it's it's about bringing a debate [and] a conversation about this," Story told The Root. "If you notice in the film, we don't exactly say who's right who's wrong. We make it a conversation and that's what it should be [and] that's what we hope the film gives. It'd be nice to know the results that come from conversations that happen."
"I mean, you have three different generations that came from three different eras," Method Man (who portrays John's good friend Freddy P) added. "So, you know rules were different—[there was] the first Shaft's Sarah, then rules got a little bit different [for] Sam's version, and now you have the millennial version. I mean three generations of Shaft—oh, the sexual innuendo alone is just crazy. [chuckles] You're going to have those kind of debates and who's to say who's wrong and who's right."
Amid the eyebrow-raising problems with the characters, there are plenty of laughs, which compliment the typically ridiculous action sequences. For one, the moment when JJ first sees his father John will have you yelling out loud—I did. Two words: wet glitter. Jessie is really in his comedic element here and I enjoyed his performance.

Of course, given that we're extending one of the blackest franchises known to man—literally introduced in the blaxploitation era—I had to ask Story and Method Man my "blackest moment on set" question.
Since the moment is played up for laughs, I don't want to spoil it, but let's just say it revolves around grits. Look out for it and side-eye with me when you hear it.
To make it up to you though, get into Method Man's commentary about Shaft in Africa, in regard to his history with the franchise:
"You know it was good to see somebody I can identify with on screen like that. Such a larger than life character, you know. And as time went on and they came with Shaft [in] Africa, you lost me right there," Method Man quipped. "I'm sorry Rich, that wasn't a good one for you there. Shaft should've never went to Africa; you could have kept his ass right in Harlem. We've got enough problems there. Africa cool, I love the motherland, but we've got enough problems in Harlem. We need you here, Shaft. No more African trips."
Shaft (2019) is now playing in theaters.