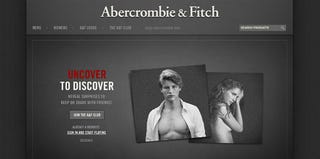 Preppy retailer Abercrombie & Fitch refuses to sell clothes for women who wear a size large and above, despite statistics showing that the average American wears larger sizes, reports Business Insider. This is the same company that's faced criticism for T-shirt slogans that many Asian Americans found racist back in 2002.
While a specialty retailer like Abercrombie can't be expected to appeal to everyone, the brand's standard of beauty is quickly becoming stale. 

Plus-sized is no longer a niche market: 67 percent of the apparel purchasing population fit that label, and the number is growing all the time. 

For too long, this sizable and growing segment has been ignored," writes Margaret Bogenrief at ACM Partners. "Treated shabbily, ostracized by the "pro-skinny fashion world," and seemingly discarded by designers, department stores, and retailers alike, plus-size fashion consumers, critics, and bloggers are taking back their spending and sartorial power and, in turn, changing both the e-commerce and retailing landscapes."

Ignoring this "revolution" could be costly for businesses, Bogenrief writes. 

More brands are featuring curvy, "real-sized," models. 
Read more at Business Insider.