(The Root) — The crushing image of a sobbing Elijah West captured the collective sorrow of people across the globe a year ago when word spread that a Georgia Parole Board had denied clemency for his cousin Troy Davis.
The photograph of the reedy West being escorted from Georgia's Towaliga County Line Baptist Church, across from Jackson State Prison, where Davis was executed, became emblematic of the expression of pain and injustice that erupted in the aftermath of his execution on Sept. 21, 2011.
Troy Davis, the round-faced man with the piercing eyes, was put to death by lethal injection — after a last-minute appeal to the U.S. Supreme Court failed — even though the case against him consisted entirely of eyewitness testimony. He had been convicted for the 1989 murder of Mark MacPhail, a white off-duty Savannah, Ga., police officer. Davis maintained his innocence in a case that drew widespread media attention.
A Movement Is Launched
 Indeed, the case captured the zeitgeist of 2011, sparking Amnesty International's "I Am Troy Davis" movement and prompting a loud public outcry against the death penalty. It also reinvigorated efforts among civil rights leaders, lawmakers and activists to dismantle what they call a flawed system. In California, an initiative to repeal the death penalty will come up for a vote on Election Day; and earlier this year, Connecticut lawmakers replaced the death penalty with a sentence of life without parole for future cases, the Death Penalty Information Center reports.
G/O Media may get a commission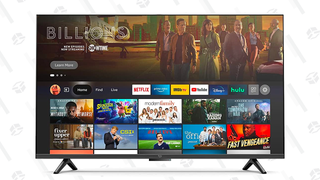 22% off
Amazon Fire TV - 50" Omni Series 4K - Early Access Deal
On Thursday, Amnesty International USA and the NAACP held a press conference and called on U.S. Attorney General Eric Holder to investigate growing concerns over prosecutorial and police misconduct in capital cases.
"The federal government must take action as case after case corrodes the credibility of U.S. criminal justice," Suzanne Nossel, executive director of Amnesty International USA, said in a prepared statement. "The death penalty is the ultimate, irreversible human rights violation; we reject it under all circumstances. For it to be carried out in cases like Troy's where the evidence has fallen apart, witnesses have raised doubts or there are credible allegations of government coercion is an affront to justice."
NAACP President and CEO Benjamin Todd Jealous agreed, charging that Georgia killed an innocent man. "Troy's wrongful execution has changed the hearts and minds of millions, and public support for the death penalty is now at an all-time low," he said in a statement. "We have heeded Troy's request to not have the struggle for justice end with him."
 Hilary O. Shelton, the NAACP's Washington-bureau director and senior vice president for advocacy, told The Root that a major problem with putting innocent people, particularly African Americans, on death row persists. "As long as there is a death penalty in our society, it will not be racially neutral. As we speak, [Reginald Clemons] is fighting for his life in Missouri. We have to fight for the elimination of the death penalty."
On Monday, Jackson County Circuit Judge Michael Manners in Missouri began reviewing Clemons' case for what could be the last time, Laura Moye — director of death-penalty abolition in the USA for Amnesty International — told The Root. The group is sponsoring an online petition asking Missouri Gov. Jay Nixon to halt the execution of Clemons.
The Question of Race

 "Is Reggie Clemons the next Troy Davis?" Moye said. "We have to ask that question. His crime happened the year that Troy Davis went to death row. There is no physical evidence, there are allegations of police coercion, he was convicted based on witness testimony and a key witness was a former suspect. They are both black men, but Troy's jury was more racially balanced than Reggie's. The similarities are just uncanny."
Clemons was sentenced to death in St. Louis as an accomplice in the 1991 murder of two young white women, Julie and Robin Kerry. Two other black youths were also convicted, including Marlin Gray (executed in 2005). Clemons has consistently maintained his innocence, and his case illustrates many of the flaws in the U.S. death-penalty system, Moye said.
Additionally, at the time of the trial, the prosecution conceded that Clemons neither killed the victims nor planned the crime because there was no physical evidence that tied him to the crime itself or the events leading up to it. The two main witnesses were a former suspect and a co-defendant.
Amnesty International points out that not only were the murder victims white, but so were the two crucial witnesses. The three convicted defendants were black, and during the jury selection, blacks were disproportionately dismissed, resulting in an unrepresentative jury given the sizable black population of St. Louis, Moye said.
The flawed makeup of the jury was also noted in 2002 by a U.S. District Court judge who ruled that Clemons' death sentence should not stand because six prospective jurors had been improperly excluded during jury selection. A higher court later overturned the ruling on technical grounds.
But the fight goes on. Since the group launched its appeal to save Clemons' life, more than 70,000 people around the globe have taken action to demand justice for him, according to Amnesty International. More than 1,300 men and women have been executed in the United States since capital punishment resumed in 1977. In 2011, 43 men were put to death; 27 have been executed so far this year.
Troy Davis' Family Continues to Fight
 Moye said that the "I Am Troy Davis" movement is still alive, even though the family experienced more loss after the execution. Less than three months after his execution, his sister Martina Correia, who led the effort to free her brother, died of cancer. Their mother died in April 2011. But his nephew, De'Jaun Davis-Correia, and another sister, Kim Davis, have continued to champion his cause, along with the help of civil rights organizations.
Quoting Scripture, Kim Davis spoke at Thursday's news conference. She, like other speakers, echoed her brother's request not to allow the struggle for justice to end with his death. She pointed to Clemons' case and called on the judge to look closely at the facts so that he could make a right and fair decision.
"I want you to join with me as we continue to fight for justice," Davis, who claims to have documentation showing that her brother did not commit murder, said during the news conference.
Rashad Robinson, executive director of ColorOfChange.org, the nation's largest African-American online political organization, spoke to The Root about the importance of continuing the cause. His group led a campaign to save Troy Davis' life, arguing that seven of the nine witnesses had changed their stories and no physical evidence linked Davis to the crime.
He remembers being outside the prison when the last-minute news came that the Supreme Court was going to review Davis' case. "Now, I'm 33 years old, and I grew up in the era of court TV shows where lawyers swoop in and save a person's life," he told The Root. "The human being in me that wanted to be [the] optimist believed that they couldn't possibly kill Troy Davis. And then he was executed. But we haven't given up on our fight against the death penalty."
Lynette Holloway is The Root's Midwest bureau chief.
Like The Root on Facebook. Follow us on Twitter.