Growing up in the 1930s in Washington, D.C., Roscoe Brown made model airplanes and dreamed of flying like the pilots he saw during air races that his parents treated him to on weekends, he recalled recently.
"Many of us as young African Americans wanted to fly but couldn't because of segregation," he told The Root during a telephone interview. But he finally got his chance, serving as one of the Tuskegee Airmen.
During World War II, Brown, now 89, served as a squadron commander and received the Distinguished Flying Cross.
His story, along with those of six other airmen, has been brought to the big screen in Double Victory, a documentary produced by George Lucas. Narrated by Academy Award-winning actor Cuba Gooding Jr., the movie is being screened in major cities to promote Red Tails, a theatrical film also by Lucas and starring Gooding and Terrence Howard, about African-American fighter pilots. Red Tails — the term refers to an aircraft paint scheme — is scheduled for release in January.
"It tells the story of how blacks were excluded from the military because of segregation to how they were included in World War II because of protests in the black community," Brown, who is director of the Center for Urban Education Policy at the Graduate School and University Center of CUNY, said of the documentary. "It talks about our training at Tuskegee and the trials and tribulations we faced there. It talks about our combat activity first in North Africa and Italy. It also talks about the combat we faced in the States while we were getting our training."
G/O Media may get a commission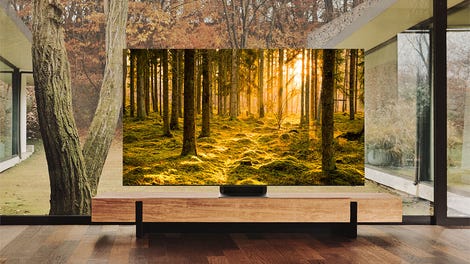 Up to 40% off
Samsung Smart TVs
Brown said that before joining the military, he had long admired pilots, but flying was just a dream because of racial barriers. But his parents encouraged their two children — Brown was the younger child — to aspire to do great things. His father was a public health specialist, and his mother was a teacher.
And there were black pilots to look up to, he recalls, including Bessie Coleman, who learned to fly in France and became a great stunt pilot. Before that, there was Julian Boyd, who flew for the Canadian air force in World War I. There was also Albert E. Forsythe, who flew across the country in 1933.
But during World War II, the NAACP, the Pullman Car Porters Union and other civil rights groups forced the U.S. military to create an experimental group called the 99th Fighter Squadron, which was trained at an airfield in Tuskegee, Ala., Brown said. Eventually the military built a $1 million airfield to train blacks under segregated circumstances. An estimated 1,000 pilots were trained, and about 12,000 workers received technical training, Brown said.
"Finally, pilots had a chance to go overseas," he recalled. "First the 99th Squadron went to North Africa. We had trouble getting into combat because the flight commander didn't give us good assignments. Then we went to Italy. We were finally assigned to fly escorts for the bombers over Germany, and we flew over 200 missions escorting bombers.
"It's reputed that we never lost any, but we lost four or five, we found out later," he continued. "That is why they named the film Double Victory: We overcame the Nazis in Germany, and we overcame segregation in the States. It was a trying time, but we overcame it."
Lynette Holloway is a contributing editor to The Root.