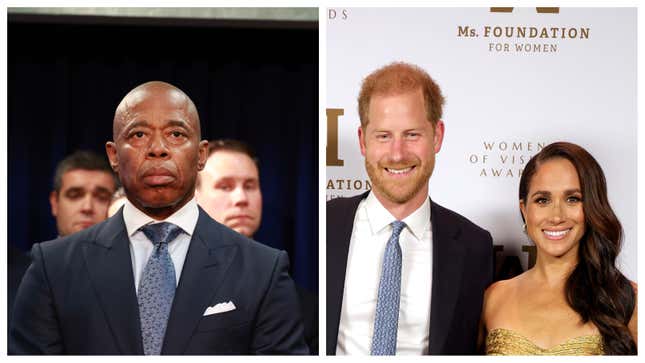 Following the shocking news that Prince Harry and Meghan Markle were involved in a "near catastrophic" car chase with the paparazzi while leaving an event in New York City on Tuesday that lasted over two hours—NYC Mayor Eric Adams spoke out about the unfortunate ordeal.
Rings of Power's Queen Miriel, Cynthia Addai-Robinson, Plays That's So Random
Per Access Online, the mayor gave initial remarks about the incident during a press conference on Wednesday, where he pointed the sad irony of what happened and how it called back to the way the prince's mother died. He also expressed his displeasure in how things transpired, calling the situation "reckless and irresponsible."
"I think all of us—I don't think there's many of us who don't recall how his [Prince Harry] mom died," the mayor began. "And it would be horrific to lose an innocent bystander during a chase like this and something to have happened to them as well. So I think we have to be extremely responsible. I thought that was a bit reckless and irresponsible."
Then Adams threw a wrench, later expressing how he found the chase "hard to believe" and that even a 10-minute car chase in a city as dense as Manhattan is extremely dangerous. Others New Yorkers like Whoopie expressed the same doubt.
The Cab Driver's POV
The alleged cab driver who was in the car with the Duke and Duchess of Sussex and Meghan's mother for 10 minutes has also spoken out following the chase in a new interview with the Washington Post published on Wednesday. Sukhcharn Singh said that they all were followed by two cars and were being photographed and recorded whenever they stopped. The security detail assigned to the family eventually asked him to drop them off at a police station before returning them to the place he originally picked them up.
"I don't think I would call it a chase. I never felt like I was in danger. It wasn't like a car chase in a movie. They were quiet and seemed scared but it's New York—it's safe," Singh said, later adding in another interview with Piers Morgan: "As we went a block, we were blocked by a trash truck, and then all of a sudden, paparazzi just came out of nowhere and flashes just went off." The driver also said in comparison to other celebrities he's driven around, the photographers "surrounded the car" and were going "crazy with the camera."
The Paparazzi's POV
What's more is that a couple of unnamed photographers who were allegedly onsite claim that the whole situation has been sensationalized and called the descriptor of the chase being "near catastrophic" a "crazy hyperbole," according to People. Backgrid USA Inc., a celebrity photography agency who also had freelancers there on the night of the ordeal has since released a statement about their level of involvement which appears to downplay the incident in its entirety:
At BACKGRID USA Inc., we value transparency and ethics in journalism, which include providing fair and factual responses to claims. We are aware of Prince Harry's statement regarding an alleged 'near catastrophic car chase' involving himself, Meghan Markle, and her mother, in New York City on Tuesday night.

We want to clarify that we have received photos and videos of last night's events from four freelance photographers, three of whom were in cars and one of whom was riding a bicycle. It is important to note that these photographers have a professional responsibility to cover newsworthy events and personalities, including public figures such as Prince Harry and Meghan Markle. According to the accounts given by these freelance contributors, they were covering the couple's stay in New York City, including the possibility of a dinner after an award ceremony. They had no intention of causing any distress or harm, as their only tool was their cameras. A few of the photos even show Meghan Markle smiling inside a cab.

The photographers report that one of the four SUVs from Prince Harry's security escort was driving in a manner that could be perceived as reckless. The vehicle was seen blocking off streets, and in one video, it is shown being pulled over by the police. We understand that Prince Harry and Meghan Markle's security detail had a job to do, and we respect their work. We do, however, want to point out that according to the photographers present, there were no near-collisions or near-crashes during this incident. The photographers have reported feeling that the couple was not in immediate danger at any point. At BACKGRID USA Inc., we do not condone any form of harassment or illegal activity. We are taking Prince Harry's allegations seriously and will be conducting a thorough investigation into the matter.
Then there was the strange and funny New York Times story. The headline screamed, "Paparazzi Speak on Meghan and Harry's Car Chase,but the most we get is a funny exchange beween the Times and a thirsty pap, who wanted money, for his story. Here's the New York Times:
One of the Backgrid photographers involved in the incident was Marvin Patterson, a freelancer known as Blayze. His Facebook page contains numerous pictures of him photo-bombing models, rap queens and reality divas around town. He was contacted by The Times late Thursday evening by text message. Mr. Patterson said he would soon be releasing a statement but would consider revealing more were an "aggressive offer" to come his way.

After being told that The Times does not permit paying sources and subjects, Mr. Patterson said the footage on TMZ pretty much summed up how tame the whole thing actually was. "There is nothing for the public or the police to actually be concerned about," he said. "The facts are out there. Exactly what you see is what is there."

Then he hung up, only to explain in a subsequent text message that there was simply no incentive to speak.

"Yes," he said. "There was silence because there was no offer of money for my story."
It should also be noted that Buckingham Palace has yet to put out a statement concerning the incident and this comes just one day after an alleged stalker was found outside the royal couple's Montecito, Calif. home on Monday. He was arrested onsite and later released on $2,500 bail, as noted by the LA Times.