Welcome to the life of a recent college grad who is interning in New York for the first time. I'm going to spill the real tea on how we millennials spend our hard-earned money, because let one marketing intern tell it, she's living the life working in HR and making $25/hour.
The intern recently talked to Refinery 29 about her spending habits and at first everyone laughed and thought it had to be satire, but alas, no. I then realized that we live very, very different lives.

I'm going to share way too much information with you about how my life is going—and best believe it's nothing like Ms. Marketing Intern.
Occupation: Editorial Intern
Industry: Media
Age: 22
Location: New York City, NY
Income: $18.75/hr
Paycheck Amount (Weekly): It should be $750 but taxes steal it all. SSI? Yeah, what good will that do me, when I'll probably never get to use it?
G/O Media may get a commission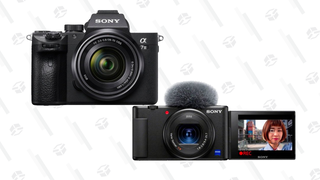 Cyber Monday Deals
Sony Camera Sale
Additional Income: $0. It's hard out here in these streets. Maybe I should see if I can get a marketing internship along with this one. Unfortunately, unlike Ms. Marketing, my parents don't give me $800 a month as an allowance. I think the last time my parents gave me an allowance, Drake was still in his wheelchair.
Monthly Expenses
Rent: I don't pay rent because I sleep on my cousin's couch. Lucky Ms. Marketing's parents pay her $2,100 rent.
Student Loan Payment: I don't pay any (yet) because it hasn't been six months or whatever the time frame is. Is loan deference still a thing? They haven't taken that away yet, have they?
Health Insurance: $0 (I'm on my parents' plan and probably will be until I'm 25.)
Phone Bill: $0 (I'm on the family plan until my family realizes I need to pay for myself. One of life's luxuries.)
Netflix: $10.99 because I pay for two screens to show at once (My mom said this is the least I could do for her. Wait ... should my parents also be paying for this?)
Tidal: $4.99. I have the student discount (Jay-Z's people are probably about to snatch that from me now. Eff that, as long I have still have this .edu email address, I'm still a student. Amirite?)
Day One
8 a.m. -My alarm has been going off every five minutes and I'm wondering why it isn't Friday yet; instead it's Wednesday.
8:15 a.m.-I finally get out of my bed—I mean the couch—and make my way into the bathroom.
8:30 a.m.-I've finished showering and now I'm trying to hurry and get dressed because I should be out the house by 9 a.m.
8:40 a.m.-Struggling to put my contacts in.
8:55 a.m.-I did my eyebrows because I want to be on fleek at work but now I'm rushing because I don't want to be late.
9:05 a.m.-Finally leave and am swiftly walking to the train because if I get there and see the train ride off, I'll be pissed.
9:08 a.m.-Swipe MetroCard and realize that my card has a balance of zero and I miss my train because I have to refill it. $33
9:45 a.m.-Finally, I've made it off the train and am walking to work.
9:50 a.m.-Mobile order a vanilla chai tea from Starbucks when I should be getting my ass to this internship by 10 a.m. $4.25
10 a.m.-Finally make it to the office on time after basically running and no one is at their desk to see that I'm on time.
10:30 a.m.-After laughing at the different Slack messages I missed from hours before, I finally decide to get to work.
10:50 a.m.-News editor Breanna and I go back and forth through Slack about why I shouldn't write about Love and Hip Hop while simultaneously slacking Maiysha (managing editor of The Glow Up) about Pat McGrath.
11 a.m.-Thankfully, by this time I am either writing a story about a black person doing something amazing or a white person doing something outrageous. White people are forever being amazingly outrageous.
12:30 p.m.-On Wednesdays we get free lunch at my job, but if you work here then you know it's literally the Hunger Games trying to get from the third floor to the second. I'm running down the steps because if I get in line and they run out of taco meat for the tacos, I'm going to be pissed. Because why would I want to buy lunch?
12:40 p.m.-I briefly wait in line and now I'm walking away with three tacos— two steak and one chicken. Also, I went back to snatch one or two for dinner because #poor.
1:00 p.m.-I finish up my lunch and now I'm exhausted so I head to the stairs, where we have large pillows and I can stretch out.
1:15 p.m.-I've scrolled through Twitter long enough and have something new to pitch.
3 p.m.-After writing my life away I receive a message from one of the other interns asking if I want to go out for a snack—of course I do. I got a brownie. I saved half for dessert, to go along with my taco from lunch that I'll have for dinner.
3:30 p.m.-By now I'm ready for the day to wrap up and am trying to keep myself busy by reading things on the internet.
5 p.m.-Still counting down the minutes but I decided to squeeze in a story about Chance the Rapper at the last minute.
6 p.m.-Finally it's time to roll out and face the random and weird New Yorkers on my commute home.
6:45 p.m.-I stood my whole way home, which wasn't a surprise, and thankfully I've made it back to Brooklyn.
8:00 p.m.-Unlike the marketing intern who spends her free time at Equinox, I've been laying down on the couch for around an hour and am getting hungry. So you know I had to whip out my stolen tacos and half a brownie.
9:45 p.m.-I really don't do anything else for the rest of the night except watch TV shows until my cousin gets out of the living room so I can sleep.
Daily Total: $37.25
Day 2
8 a.m.-I hear a faint sound in the background which is the deadly alarm but I also hear my cousin in the shower so I close my eyes for another 15 minutes.
8:30 a.m.-I've been up waiting to go in the bathroom but she wanted to take her time so now I'm forced to rush, because who wants to be the late intern?
9:15 a.m.-How does the rich marketing intern have enough time to make her avocado toast? I can't even remember to get my frozen pizza from the freezer for lunch. By the way, I'm at the train station.
10 a.m.-I'm at work and Thursday morning is free quiche day at work. I don't really like quiche but imma eat it anyway. Also, I grabbed a glass of cold brew (taking advantage of everything I don't have to buy). The way things are going around Gizmodo, I wonder how long this free food will last?
12 p.m.-I've been blogging, cause that's what I do all day.
1 p.m.-My vegetarian intern friend (who sometimes eats meat) asked if I wanted to join her for lunch so we went to Chipotle. I got a steak bowl and a free water cup (filled with lemonade). $9
4 p.m.-I decided not to bore you all with a play-by-play of my daily blogging, but that's what I've been doing while listening to my "calm" playlist on Tidal. The calm playlist consists of slow Drake songs and Jhené Aiko if you were wondering.
6 p.m.-Woohoo! Time to clock out. Today I'm meeting with a few friends to go to happy hour in the area. I'll probably get like two drinks before the happy hour price is gone. $12
8:45 p.m.-I'm back in Brooklyn from my happy hour adventure and I also ate wings there so I'm not really hungry for dinner. $7.57
11 pm.-Since I've been home I've been on FaceTime with my best friend and also scrolling through Nordstrom's website for their anniversary sale. I didn't buy anything today but have things in my cart. I think it's about time for bed, I've been looking at a screen all day.
Daily Total: $28.57
Day 3
7:45 a.m.-I woke up rather early today and beat my cousin to the bathroom. With this added time I decided to actually put more thought into my outfit and iron a dress I don't usually wear because I never have time to iron.
9:45 a.m.-I've made it into the city and am going to stop for a bacon, egg and cheese at one of these carts. $4.50
10:30 a.m.-No one is in my pod from The Root, the only people in here are the art department and they're currently talking about Nintendo games, so I guess I'll turn on a Tidal playlist and find something to write.
1:30 p.m.-Today for lunch I kind of want something light since I had my breakfast sandwich earlier. I think I'll get salad. $11
3:15 p.m.-My chicken Caesar salad was deliciously overpriced but it gave me some energy, so I've been writing for a good while now.
5:30 p.m.-Now after writing consistently until my hand cramps, I've moved onto the stairs so I can privately look at Fashion Nova. But I do have Kinja opened in a separate tab where I occasionally add a few sentences to a blog about some racist white person. Yet another day that ends in "Why the hell are white people so racist?" Oops. I mean, "some white people." My bad.
7 p.m.-Thank God it's Friday and I'm home. I'm not in the mood to cook anything so I guess I'm having ramen noodles for dinner. Also, I'm going to Atlantic City tomorrow morning with friends from high school so I should probably save my money.
10 p.m.-I'm going to sleep fairly early because I have to wake up early to meet them and drive to AC.
Daily Total: $15.50
Day 4
7 a.m.-I'm up kind of early for a Saturday which I wish I wasn't because I'm taking the train to New Jersey and meeting with my friends to go to AC. I also toasted a bagel so I don't completely starve on the way there.
10 a.m.-After a quick train/car ride ride with my friends, we've made it to AC. Unlike ole girl from the Refinery post, my friends and I don't have a house in the Hamptons. We're staying at the Sheraton and it's six of us sharing two beds so we could cut the cost of the hotel. $25
12:30 p.m.-We are finally starting our day and go looking for a liquor store. I'm a tequila drinker and we split the cost of a bottle of Jose Cuervo. Also, we took this trip to celebrate a birthday, so don't think I'm crazy for drinking so early. $12
2:30 p.m.-We've been drinking in the room for quite some time and now are making our way to the boardwalk, which is a 20 minute walk from the hotel.
3 p.m.-Our trip to the boardwalk turned into a walk on the beach, which turned into a photoshoot. We all think we're Instagram famous so this will probably take some time.
4:15 p.m.-Our random photoshoot took long enough so now we're getting some lunch/dinner at Johnny Rockets. I don't think I've ever been there but I get a burger and fries. $15
8 p.m.-Johnny Rockets wasn't a five-star restaurant but I'm definitely full and also have more drank in the hotel. We're now getting ready for our night out.
10:30 p.m.-With six people in a room, we still made good timing and are finally going out, but I feel like as soon as I got in the shower they were screaming at me to get out. I'm not requesting the Uber because I know how these black people operate and everyone will act like they didn't get the notification to split the cost.
11:30 p.m.-After waiting in line forever to get in the club and paying the entry fee, we're in and this is how I'll be spending the rest of the night. $20
Daily Total: $72
Day 5
10:15 a.m.-We got in around 4 a.m. and I'm surprised I'm up this early but we have to check out of the hotel at 12 p.m. so we're going to spend that time packing up and getting dressed.
12 p.m.-Our quick trip has come to an end and I'm going back to my hometown of Philly with my friends because I need a break from New York.
1:45 p.m.-My friend drops me off at my family's cookout in the park because my dad kept calling me all morning saying I need to hang out with my family.
4 p.m.-The cookout is fine but I'm trapped because I didn't drive and my dad, the social butterfly, isn't ready to leave and can't because he's the one who brought the grill. So I just eat my life away in hotdogs and seafood salad until he's ready to roll out.
8 p.m.-After being home for around 15 minutes I've decided that I don't actually want to do anything else with the rest of my day because I stayed up way too late in AC and am stuffed from the cookout, so I'm calling it a night.
Daily Total: $0
Day 6
5:30 a.m.-I'm up early as hell because I'm taking the Megabus back to New York from Philly and am rushing because my bus leaves at 6:30 a.m. and I live at least 30 minutes from where the pick up location is.
6:10 a.m.-My dad is driving like a maniac to get me to this bus stop. The bus is cheap so that's why I take it instead of Amtrak. $15
6:35 a.m.-I made it on the bus and would like to take a nap but the person next to me is on the phone (I put on my calm playlist).
9 a.m.-I'm back in the city and am requesting an Uber from the bus stop since I still have an overnight bag and am going to my job. $7
9:20 a.m.-Since I'm here so early, I finally have first dibs on the bagels and lox. I usually get to work closer to 10 and there's usually bagels but no lox.
12 p.m.-There's only one person in The Root pod (Anne) today and we've been laughing at the #inmyfeelings challenge videos. I've also written a post.
2:30 p.m.-I've been writing a post while looking at pictures on Getty Images because I enjoy looking at Beyoncé side eye Blue.
4:15 p.m.-Waking up early today truly killed my spirits and there's no cold brew at work so I'm going to drink a hot coffee.
5 p.m.-For the rest of the day I sit on the roof with one of the interns and we took some pictures.
7:45 p.m.-Today my cousin decided she wanted to order sushi for dinner so I ordered a spicy salmon roll and edamame. $15
10 p.m.-I kicked my cousin out the living room and went to sleep early after waking up at the crack of dawn.
Daily Total: $37
Day 7
8:15 a.m.-Halfway off the couch, I decide to get up and get ready for my day since I'm the intern of the year and don't want to be late.
9:10 a.m.-It wouldn't be a day in New York if something wasn't going on with the subway; there's a delay. I text my boss Danielle but she's pretty laid back so she doesn't mind that I'll be a few minutes late.
10:20 a.m.-Finally at work and Danielle's in a meeting. I usually listen to music while I'm working and one of the art people in my pod has a bandaid on her face. Sam in the art department is talking loud and I overhear that she fell off a bike.
12:45 p.m.-I've been working on this product diary for Jezebel in between my work for The Root but my mentor Koa (editor-in-chief of Jezebel) and I are going out for our weekly company-sponsored lunch so that's always great. We got Thai food. I took a few bites of my chicken pad thai and wrapped it up to go so I don't have to buy or cook dinner.
3:30 p.m.-Writing about the Clermont Twins today; one of them stole from a dead person.
5:15 p.m.-I'm kind of hungry so I'm going to get some Smart Pop from the kitchen and some lemonade.
6 p.m.-My mom called me as soon I got out of work to tell me about how she tried a new hair salon and now her gray hair looks yellow. I'll call her back.
8:25 p.m.-It's dinner time and I'm heating up my pad thai and I'm going to watch a documentary on life in prison on Netflix (I'm into that).
10:15 p.m.-I pretty much watch a bunch of things on my computer when I come home from work because my cousin likes to watch things like Jersey Shore and I just can't get into it.
11 p.m.-My friends have been blowing up my phone in the group chat and I'm finally putting them on do not disturb and going to sleep.
Daily Total: $0
Weekly Total Spent: $190.32
As a young adult I try to save as much money as I can so I can get my own apartment and prepare myself for student loans. The marketing intern spent $373.53 but we clearly have very different lives. She eats avocado toast and goes to Equinox while I steal tacos from work and occasionally order food with my cousin.
The majority of my money goes to food and the occasional adventure with my friends. Online shopping is my guilty pleasure but I've also been holding off on that; instead I save things to my cart and they eventually go out of stock.
Do you think I've been using my money wisely?