It was a stormy night in Memphis, Tenn., at the Lorraine Hotel on April 3, 1968, when civil rights icon Martin Luther King Jr. was gearing up for what would be his last speech, "I've Been to the Mountaintop." All of a sudden a mysterious hotel maid named Camae, who seems harmless, delivers King a pot of coffee. We quickly find out that she is not what she seems. The interaction and tension between these polar opposites would make MLK's last night on Earth before being assassinated exhilarating yet utterly devastating.
This is the fictional premise behind the eye-opening and much hyped play The Mountaintop, which debuted in London's West End last year and debuted on Broadway last month. Written by 30-year-old playwright Katori Hall, The Mountaintop won the prestigious Laurence Olivier Award for best new play last September, a first for any black female playwright.
The Root sat down with Hall to talk about what inspired this work, what she would have said to King on his last night and how magic and the supernatural can be used to tell a story on Broadway.
The Root: Why did you want to write about MLK's last days, and why add a fictional maid?
Katori Hall: When my mother was 15 years old, Dr. King came to speak at Mason Temple in Memphis, and she wanted to go and see him. She lived around the corner of the Lorraine Hotel and had seen King speak before. But this time, Big Momma told her no because she had heard through the grapevine that someone was going to bomb the church.
G/O Media may get a commission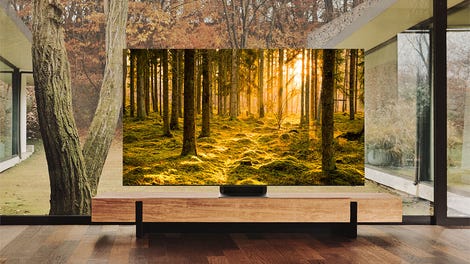 Up to 40% off
Samsung Smart TVs
Even a friend of hers had overheard the mayor say that if Dr. King came back to town, he wasn't going to leave alive. And so this play comes out of my mother's missed opportunity, and Camae is partially based on my mother as well.
Having the character of Camae, the maid, also gave me an opportunity to show the clash of great opposites. Camae is just the antithesis of King: working-class, mouthy woman; honorary Black Panther Party angel who doesn't always believe that nonviolence is the answer.
But it was also really important for me to show the human side of King and articulate the tone of his life, especially toward the end of his life. During this time, he was dealing with the heightened threat of violence, he was tackling issues beyond civil rights — economic issues — and was denouncing the Vietnam War. So I wanted to explore the emotional toll and the stress of that.
King changed the world, but he was not a deity. He was a man, a human being like me and you. So it was important to show him as such: vulnerable.
TR: How much interaction did you have with Samuel L. Jackson (King) and Angela Bassett (Camae)?
KH: A lot. The play's director, Kenny Leon, created a family, and it was a life-changing experience for me.  I was at almost every rehearsal, and during this time, they would ask me questions, we would talk and hang out. It's funny because you grow up seeing these people on the silver screen, and you never think that you are going to meet them, let alone work with them on something. I learned that they are real people, too, and it changes your perception, which is what this whole play is about. King was an icon and he was just like us.
TR: What more would you have said to King on his last night alive, especially in terms of how his baton would have been passed on? 
KH: Camae is an extension of my mother, but my alter ego as well. So there's not much more I would have said. But I would have talked to King about the pros and cons of integration, and I would have warned him that what his dream was hasn't yet been achieved when you really look at how fragmented the black community still is. I would have told him that social integration hasn't panned out the way he would have wanted it to. I also would have told him about Troy Davis and our justice system — or injustice system.
TR: Have any civil rights leaders or King family members reached out to you to express their thoughts about your portrayal of King? 
KH: We reached out to the King family, but it was the same time the memorial [in Washington, D.C.] was being held, so they couldn't come. On opening night of the play on Oct. 13, Harry Belafonte, Julian Bond, Cory Booker and other leaders were in attendance, but because I was working and being interviewed, I didn't get a chance to speak to them. But my goal is to track them down and have face-to-face time to find out what they think.
However, Andrew Young [former executive director of the Southern Christian Leadership Conference] read the play, and at the end of it he said he was weeping.  
TR: How has the response differed in London and in the U.S.?
KH: In terms of critical response, in London The Mountaintop had instant universal acclaim, and King's humanization was accepted and even called "magical." But here in the U.S., there are some critics who have had problems with the play, calling it "flawed," and have been dismissive, as opposed to embracing that my play incorporates magic. And it's unfortunate, because there is more than one way of telling a story.
In terms of audience response, it's been pretty much the same. People laugh and cry at the same moments, and they have immediate standing ovations at the end. I will say that London audiences were more reserved. But overall, they have been the same. And it's great to see just how extremely diverse the audiences are, which was Dr. King's dream, to see all these different people side by side, being moved by this story.
Kellee Terrell is an award-winning, Brooklyn, N.Y.-based freelance writer who writes about race, gender, health and pop culture. Terrell is also the news editor for thebody.com, a website about HIV/AIDS. She blogs about health for BET.com. Follow her on Twitter.