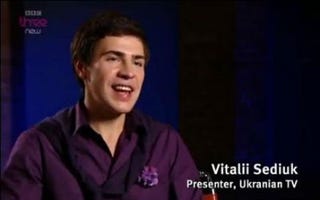 Over the weekend, Will Smith slapped Ukrainian television reporter Vitali Sediuk, who he said tried to kiss him on the lips as he walked down the red carpet for the Moscow premiere of Men in Black III. While there's always the possibility that the whole thing was a cheek kiss gone wrong, that seems less likely given that Sediuk is a self-proclaimed prankster who has made a career out of a lighthearted approach to news that includes efforts to get a rise out of members of Hollywood's elite.
Last year, Vibe reports, he gave pop icon Madonna a bouquet of hydrangeas during the premiere of her directorial effort W.E. at the 2011 Venice Film Festival. The catch was that her fans know that the singer hates (in her words, "loathes") the flowers.
His coy explanation for the gift in the video below: "She should be grateful for any attention she receives." Perhaps he used the same rationale for the alleged Smith kiss, but it's one thing to get an unwanted gift and another thing altogether to get unwanted bodily contact … on the lips. We suggest he stick to ambushing celebs with flowers.
Read more at Vibe.