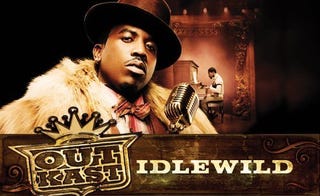 I've been a movie junkie all my life. Reruns of Chitty Chitty Bang Bang, The Wizard of Oz and the original Willy Wonka & the Chocolate Factory ruled my elementary school world. And I spent most of the '00s watching movies, reviewing them, writing about them, interviewing the folks in them and talking to the people who make them. When I wasn't doing that, I was hitting up the multiplex for fun. I love movies, and trust me; I've seen a lot of crap in the past 10 years. (This means you, Ice Cube, Michael Bay and Tyler Perry.)
Which is to say, when I see a movie that brings the magic, I'll forgive it all sorts of sins. Because ultimately, that's what movies should be about—bringing the magic, successfully suspending disbelief and carrying you away for a couple hours to another world.
So that's how I came up with my list of the 10 best movies of the '00s. You're not going to agree with me about this list. In fact, I expect—and want—you to argue with me about this list. Rather, this is a highly subjective list of my personal favorites, the movies that moved me, made my jaw drop, made me cry, laugh—or both—haunting me long after I'd left the theater. Just thinking about them now makes me smile—and want to see them all over again.
So here, in no particular order are my absolute favorites of the past decade. (With honorable mentions at the end.) Please do chime in via the comments section and tell me all about yours:
1. Amores Perros (Love's A Bitch) 2000, directed by Alejandro González Iñárritu. Intricately interlocking story lines, a Mexico City backdrop, blood-pumping soundtrack, sex, love, death, betrayal, Gael Garcia Bernal. Two-and-a-half-hours of total head rush.
2. Y Tu Mamá, También (And Your Mama, Too.) 2001, directed by Alfonso Cuarón (one of Iñárritu's BFFs). Lushly beautiful coming-of-age story set in Mexico. Fabulous music, Gael Garcia Bernal. (Detect a theme here?) Funny as hell and at the same time, filled with achingly lovely yearning. Sigh.
3. El Laberinto del Fauno (Pan's Labyrinth), 2006, directed by Guillermo del Toro (the BFF of Cuarón and Iñárritu). Richly imaginative, beautiful, thrilling, edge-of-your-seat scary. Set in fascist Spain, where a young girl escapes the ugly gray reality of her world into another world filled with fairies, princesses and strange creatures with eyes in their hands. Is this other world real—or a product of her imagination? I'm still trying to figure that one out.
4. Monsoon Wedding, 2001, directed by Mira Nair. Romantic comedy-musical-trenchant social commentary about 21st-century India. Loved it then; love it still.
5. Idlewild, 2006, directed by Brian Barber. Yeah, I know. Idlewild, starring Big Boi and Andre 3000 of Outkast, is majorly flawed, skimpy script, oft-times stilted acting, Wile E. Coyote-level violence. BUT, it's startlingly original, filled with breathtaking moments of whimsy: Musical notes that literally leap off the page; dancing cuckoo clocks that sing about the vagaries of time; and stand-out song-and- dance numbers that take the conventional musical and stand it on its head. Rapping Prohibition-era gangster movie? Reader, I was enchanted.
6. When The Levees Broke: A Requiem in Four Acts, 2006, directed by Spike Lee. New Orleans, Katrina, Spike, documentary, tears and rage.
7. Once, 2006, directed by John Carney. This story of unlikely would-be lovers, street musicians in Dublin, is so not your typical love story. It's a little movie made with the teeniest of budgets, acted by non-actors. (Real musicians!) It sneaks up on you, in the best of ways, walloping you in the solar plexus by the end. I walked out of the movie theater and immediately bought the soundtrack and commenced playing it almost every single day for the next two years. I wasn't surprised—not in the least bit—when this little movie with its non-actors won the Oscar for Best Song.
8. 4 Months, 3 Weeks & 2 Days, 2007, directed by Christian Mingui. Harrowing chronicle of an illegal abortion in 1980s Romania. Three words: Oh. My. God. Brutal, bloody, chillingly matter-of-fact.
9. Children of Men, 2006, directed by Alfonso Cuarón. Relentlessly apocalyptic, yet ultimately hopeful, sci-fi thriller. You've got to admire a film where the director isn't afraid to kill off its biggest star within the first 30 minutes.
10. Before Night Falls, 2000, directed by Julian Schnabel. Starring Javier Bardem as the real-life Cuban poet and writer Reinaldo Arenas, who was persecuted for his homosexuality. Johnny Depp plays multiple characters here, including a beautiful transvestite with an, uh, unique method of smuggling contraband (Arenas' writings) out of prison. Lyrical, lovely, unfolds like a poem—or a painting, since Schnabel is an artist—on the screen.
Honorable Mention: High Fidelity (2000); The Departed (2006); In America (2002); The Diving Bell and the Butterfly (2007); City of God (2002); Precious (2009).
Teresa Wiltz is The Root's senior culture writer. Follow her on Twitter.