Last week, Marvel unveiled a line of Black Panther character posters that snatched the souls out of every living melanated human being. Black Panther (1966) was the first black superhero in mainstream American comics, later followed by characters such as Luke Cage (1972) and Black Lightning (1977).
Although Marvel's comics feature myriad characters varying in gender, race and sexuality, since the launch of Marvel's Cinematic Universe nearly a decade ago, its first 17 movies have centered on white men. Wakanda and its inhabitants are the bliggity blackness we have been waiting on to arrive at center stage, impatiently tapping our watches like, "What's good, Marvel?"
While representation and the expression of our narratives' well-known franchises are significant, is is equally important to support the wealth of fantasy and sci-fi literature, comic books, graphic novels, TV and web series, movies, platforms and events created for black people, by black people.
G/O Media may get a commission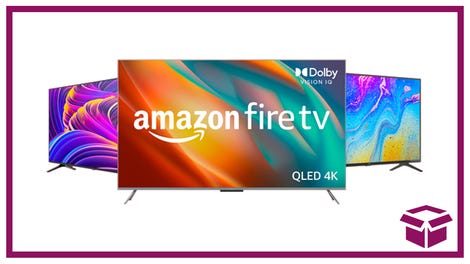 Ooh. stunning.
New Amazon Fire TVs
Since the beginning of time, when we have not been included, we have created our own. HBCUs, black-owned businesses, black houses of worship, black social organizations and The Root itself are fruits of our resilience and creativity in the face of adversity. The books Afrofuturism: The World of Black Sci-fi and Fantasy Culture and The Encyclopedia of Black Comics are fantastic evidence of this rich hub of black art. To further elaborate, here is an inclusive (and intersectional) guide to black art and artists in the genre to support, ranging from emerging to longtime favorites.

TV/Films
The Forever Tree
The Forever Tree is a short film described by its creators as "an Indiana Jones like female driven adventure story, steeped in black history, about family, love and the pursuit of legends." The 18-minute-long film follows Tawny Bennett, an antiquarian's apprentice in the midst of the Harlem Renaissance. The black historical fantasy, which can be viewed in its entirety here, features huge Hollywood names, including Wendell Pierce, Olivia Washington and Natalie Carter.
Pumzi
Pumzi, a Kenyan science fiction short film written and directed by Wanuri Kahiu, "imagines a dystopian future 35 years after water wars have torn the world apart." It was originally screened at the 2010 Sundance Film Festival as part of a New African Cinema program. Sharing a producer with the film that District 9 was based on, Pumzi centers a young woman who discovers a germinating seed and must convince her restrictive community to journey to Earth's surface to scout for signs of life.
To Catch a Dream
Written and directed by Jim ChuChu, To Catch a Dream combines fashion, storytelling and stunning landscapes of Kenya. This standout short film features a grieving widow, Ajuma, whose recurring nightmares of her dead husband drive her to explore a mystical remedy, opening her to a new world with curious strangers, magic and self-discovery.
An Oversimplification of Her Beauty
Terence Nance's An Oversimplification of Her Beauty blends animation with live action to examine the singular moment of time when a beautiful woman stood Nance up. The film, which was executive-produced by Jay-Z, dream hampton and Wyatt Cenac, premiered at the 2012 Sundance Film Festival as part of its New Frontier section.
Raising Dion
Raising Dion focuses on single mother Nicole Reese, who is raising her 7-year-old son, Dion, after the death of her husband. However, things get complicated as Dion begins to develop powers like invisibility and telekinesis. Nicole must steer Dion as his powers evolve while simultaneously shielding him from detection. The first and last issue of the comic Raising Dion was published in 2015. Recently, however, Netflix ordered a 10-episode series based on the comic. The writer, Dennis Liu, is a Taiwanese American, but the Netflix series will be produced by Michael B. Jordan.
Also worth mentioning: The Afronauts, Crumbs.
Books
Redemption in Indigo
Barbadian author Karen Lord tells the hilarious tale of a woman who leaves her gluttonous husband and shortly after is presented with a Chaos Stick that allows her to manipulate forces in the world. Drawing on a Senegalese folktale, Redemption in Indigo is a charming novel that is fresh and original.

Dark Matter
Including writing from trailblazers such as W.E.B. Du Bois, Octavia Butler and Charles Saunders, the comprehensive series Dark Matter is an anthology of fantasy, horror and science fiction penned by black authors.
Everfair
What if the native populations of Congo had learned about steam technology and developed defense mechanisms against Belgian colonizers? Everfair explores an alternate history in which a mass genocide is reimagined as a multitude of powerful and inspiring possibilities.

Brown Girl in the Ring
Jamaican-Canadian author Nalo Hopkinson illustrates a futuristic, dystopian Toronto that is in ruins because of crime and poverty. Though the protagonist, Ti-Jeanne, in Brown Girl in the Ring originally rejected the inheritance of her grandmother's voodoo-priestess gifts, she must now employ this magic to take down the city's drug lord.
Mulogo and His Quintuple of Trouble
In Martin Reese's Mulogo and His Quintuple of Trouble, Mulogo, an inhabitant of the ancient African kingdom of Kush, discovers that he has the magical talent of being able to tap into the world's ley-lines (grids of magical energy). Since magic has been outlawed, Mulogo hides his abilities and travels across the sea to be trained as a Master Wizard, where he soon finds out that he will have to defeat a five-headed dragon.

Also worth mentioning: Tides in Time: Black to the Future, Dhalgren, Imaro, The Conjure Woman, Mumbo Jumbo, My Life in the Bush of Ghosts, Futureland and literally any and every book by Octavia Butler, Nnedi Okorafor and N.K. Jemisin.

Graphic Novels 
Black 
What if only black people got superpowers? The graphic novel Black depicts just that scenario. After being gunned down by the police, Kareem Jenkins discovers not only that he has powers but also that a government operation is suppressing the fact that other black people have powers, too. Does he keep the secret of the true power that lies within the black community, or unleash the truth? This graphic novel will soon be coming to the big screen.

Concrete Park
This brilliant graphic novel brings to life Oasis, a distant prison planet where Earth's outcasts are exiled. The characters of Concrete Park must make a choice: Will they destroy one another in the competition for resources on this planet, or take a new, alternative path?

Bingo Love
Hazel and Mari are two adolescents who find love at a bingo hall, but their families disapprove of their relationship. Forbidden to see each other, they live separate lives and marry men. Divorced years later, they find each other again. Bingo Love is an LGBTQIA+ love story that warms the heart.

Legend of the Mantamaji
Television director Eric Dean Seaton takes his talents to a different world with Legend of the Mantamaji. The graphic novel, which has been featured on MSNBC and NBC and in Forbes, traces Elijah Alexander, an assistant district attorney in New York who discovers that he is the last of the Mantamaji, a race of warrior-knights who protect humanity from evil.

Comic Books 
Malice in Ovenland
Move over, Alice in Wonderland, because here comes Lily, a young girl from Queens, N.Y. Forced to stay home during the summer and do chores, Lily discovers a world of adventure right inside her oven.

Watson and Holmes: A Study in Black
This comic book reimagines Sherlock Holmes and John Watson as black men living in Harlem. The pair work in tandem to solve unusual cases in this evolved version of a classic staple.

Superb
In Youngstown, Ohio, teenagers gain superpowers when a meteor shower strikes their small town. In Superb, two of the teens, Kayla and Jonah, team up to uncover the good and evil forces that lurk around their community.

Heroes of Homeroom C
In many comic books, ordinary people acquire superpowers and become superheroes. In Heroes of Homeroom C, it is actually the reverse: Twins Nicola and Albert lose their powers and are sent to public school to lead normal lives. However, these trouble-fighting twins still can't resist managing to save the day!

Web Series
MisSpelled
Charmed has nothing on MisSpelled, a web series about a coven of five teen witches of color. Murder, mystery and magic collide in this series led by a young, stellar cast.
Surviving
Surviving centers the story of a black family who prevail during a zombie apocalypse. In this web series by Reagan Gomez, the family must search for their missing father while dodging walking corpses. Yikes.
Conventions and Expos 
Game Devs of Color Expo
Game Devs of Color aims to explore the diversity of the video game industry. Attendees can expect to participate in lively discussions about the game-development process and representation in games, learn about the game industry from people of various backgrounds, and play games made by people of color.
BlerDCon
BlerDCon is a three-day comic book, cosplay, anime and pop-culture convention like no other. Its events include panels, workshops, gaming tournaments, cosplay contests, anime screenings and more. Inclusive of LGBTQIA+, differently abled and international individuals, this intersectional convention delivers on celebrating blerd (black nerd) culture.
Sõl-Con
African Americans as well as Latinx communities have been erased in mainstream comic culture. The Ohio State University founded Sõl-Con as the Brown and Black Comix Expo to combat this erasure, showcase brown and black creativity, feature artists, and open workshops for local high school and middle school students.
East Coast Black Age of Comics Convention
ECBACC, founded in Philadelphia, is one of the oldest comic book conventions. It is "an annual gathering of comic book artists, writers, their fans, and retailers who are interested in discussing, buying, and selling comic books, sci-fi, action figures and related material by and/or about Black superheroes, characters, and adventures."
Comic Book and Merchandise Stores 
Africomics
Self-described as a black comic book portal, Africomics is a nexus of resources for the black comic book lover. It highlights how to access digital comics as well as where to buy independently distributed comics.
Black Action Tees
Black Action Tees creates dope T-shirts and action figures based on black superheroes, comics, movies and television. Fan-favorite shirts have featured Storm, Mr. Glass, Static Shock, the Obamas depicted as the Incredibles and a black superhero version of Mount Rushmore.
Venus's Comic Shop
Debuting as the only black-owned comic book store in the Washington, D.C., area, Venus's Comic Shop hosts events, showcases independent local art, and sells comic books, graphic novels and paraphernalia.
Amalgam Comics & Coffeehouse
Arielle Johnson took the world by storm when she opened the first comic book store owned by a black woman on the East Coast. Amalgam Comics & Coffeehouse specializes in comics, toys and figurines, games, comic-related magazines, apparel and espresso! Amalgam is special because it sells self-published works, which have a hard time finding a home in retail. A new grant will allow Johnson, who has appeared on the cover of Marvel's Invincible Iron Man, to expand the store to include "Amalgam University," where writers and illustrators can learn about drawing, writing, pitching and publishing.
Platforms 
Black Girl Nerds
Black Girl Nerds, named to defy the misconception that black girls cannot be interested in fantasy or sci-fi, is a community for women of color to come together and talk about their fandoms. The creator, Jamie Broadnax, asserts that the site is inclusive: "It's for ALL women who are just as nerdy as we are, and the men who love and appreciate us." BGN creates a space for bloggers, creators and fans to share content and empower one another.
Black Nerd Problems
In 2007 Omar Holmon and William Evans set out to create an editorial and informative website that focused on popular, nerd and geek culture from the perspective of people of color. In 2014 they launched Black Nerd Problems.
Shadow and Act
This web portal features daily news, interviews and in-depth investigations into the audiovisual industry. Shadow and Act's collection of writers, directors, critics, editors and enthusiasts highlight cinema, television and web content as it relates to the black community and the global African Diaspora.
Do you have (or are you) a creator of science and fantasy fiction that is not listed? Share their (or your) work in the comments!

---
Ashley Nkadi loves God, her mama, being black, Gucci Mane, cheese, potatoes and eyebrow maintenance. In that order. Read more about her here.