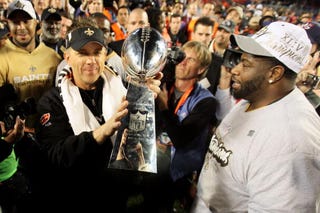 The city of New Orleans scored a double victory over a single weekend; it elected a mayor who could be a unifying force and its NFL team won the Super Bowl. Almost five years after Hurricane Katrina destroyed much of New Orleans, the two events portend better times for a town that has struggled to recover its traditional panache.

Lt. Gov. Mitch Landrieu drew strong black support to rout five major challengers in the mayoral primary, including several African-American candidates. When sworn in on May 6, he will become New Orleans' first white mayor since his own father, Moon Landrieu, completed his last term of office in 1978. Landrieu won 66 percent of the vote, avoiding an expected runoff after entering the crowded race late during the campaign. "The people of the city of New Orleans did an extraordinary thing today. They decided to stick a pole in the ground," he said in his victory speech Saturday night. "We took a huge leap forward today, and we showed America what it takes to rebuild."

One night later, the city's beloved New Orleans Saints rallied to beat the Indianapolis Colts 31-17 in Miami. It is the first Super Bowl victory first for the local team, which has hosted the event in its own Superdome, but never had a team in the NFL's final game. Quarterback Drew Brees led his team from behind three times and tied a Super Bowl record by throwing 32 completions. His last throw was a 2-yard slant to Jeremy Shockey with 5:42 remaining. An interception and 74-yard return by the Saints Tracy Porter sealed the victory.

The championship came 4 1/2 years after Hurricane Katrina ravaged New Orleans, sending the Saints into exile for the 2005 season. There was some question about whether the team would return, but the NFL refused to abandon the Big Easy. The Superdome was rebuilt and the Saints won the NFC South in '06, their first season with Brees and Coach Sean Payton.

The streets of the French Quarter and Metairie erupted in a frenzy of celebration reminiscent of Mardi Gras as the last few minutes of the game wound down and fans realized that the team, which has long been maligned as an under-achiever, was bringing home professional football's championship trophy. On the Times-Picayune site, one fan declared, "Words can't express what this means to me," Paul Kirkpatrick screamed. "The Saints have been my father's life, my life, my son's life. We are world champions baby!"
One can only hope that the cooperation across racial lines that has become routine in sports will gain traction in the city's politics and reduce the tensions that have built since Katrina. At least, that seems to be the promise from Landrieu's election and it would truly make New Orleans a champion again.