Four decades ago, when your parents placed a needle on the vinyl grooves that sounded out the chords of Al Green's "Let's Stay Together" at a basement blue light party, it was unlikely that anyone dancing to the song in an applejack hat or platform boots would have imagined that this same tune would be sung by a black president.
Here we are in 2012 and Barack Obama gave a two-second cover that sounded so smoothly close to Green's version that not only did it make us nostalgic, it was good enough to be a campaign theme. But why stop there? Obama's not just our first black president; he's also clearly our first soul president. So he should have soul themes with which to campaign. And since we seem to live our lives by downloads and playlists, here are five songs Obama could use to garner attention from the body politic. 
"Let's Stay Together" by Al Green           
In 2008, Obama won as he touted the familiar "Yes We Can" slogan all over the nation and everyone's email. Now, he needs a new catchphrase to bring cynical voters back. Green's "Let's Stay Together" (even though it's essentially a marriage proposal) is the perfect tune to remind people that despite a horrendous recession, a foreclosure crisis and high unemployment (14 percent among African Americans), what a family does is stay the course, and its members pledge they'll be "lovin' you whether, whether/times are good or bad, happy or sad."
"Second Time Around" by Shalamar           
Of course Obama's looking for a second chance to place America on the right course. There's no shortage of "one more chance" songs out there, but in 1979, Shalamar promised the "Second Time Around" would be better than the first. And if Howard Hewett's crooning is right, then maybe getting rid of Osama bin Laden, ending the Iraq War and unemployment dropping to 8.3 percent is a clue that another chance will be worth it because "the second time is so much better, baby/and I'll make it better than the first time" (as long as the POTUS doesn't wear a sequined disco outfit).
G/O Media may get a commission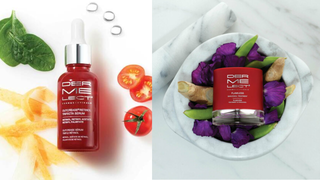 Save $19
Retinol Renewal Kit
Hip-hop should get a turn to say what it thinks of Obama. After all, Grandmaster Flash's "The Message" spoke directly to the Reagan administration. In fact, despite criticisms, rappers have a long history of speaking truth to power and to the people at the same time, no matter how abrasive their lyrics. So why not let Tupac Shakur warn us that we "gotta start makin' changes/learn to see me as a brother instead of two distant strangers."
"One Nation Under a Groove" by Funkadelic
When I was a kid in grade school, we would deliberately skew the lines to the Pledge of Allegiance, replacing them with the lyrics to this song. It would infuriate our teacher and get us in trouble every day, but we didn't care. We thought it was funny then, but now Funkadelic seems to make a hell of a point by offering "a chance to dance my way/out of my constrictions." If the Obama campaign understands that's what we Americans are looking for, then they'll "give you more of what you're funkin' for." All we really want is to be "One Nation Under a Groove."
R.I.P. Glen Goins.
"Higher Ground" by Stevie Wonder
Obama actually used this song at his inauguration in 2009. That's because this song rocks so hard that it's perfect to inspire people, motivate them and get them to believe that better times are ahead. Wonder's message is simple: "Teachers keep on teaching/Preachers keep on preaching/World keep on turning/Cause it won't be too long." If you hear this one at a Democratic campaign rally this summer, don't be surprised. And get ready to rock!
Madison Gray is a Brooklyn, N.Y.-based writer and Web journalist. Follow him on Twitter.